Baking? Who's got time for that, or an oven?
Another good reason to turn to the no-bake option is when it's summertime and the livin' ain't easy.
In any case, I am thrilled to be sharing one of my favorite topics with you today: desserts.
And who's to say that not baking means something that doesn't turn out impressively? Look at that picture. Yes, you can drool.
That, my friends, is a cookie dough lasagna. This particular recipe has a cookie dough without eggs, in case you're worried about salmonella.
Said dough is layered between graham crackers, chocolate sauce, and Cool Whip. I'm telling you: this is one of the best party desserts for a crowd -or for yourself when your cravings are the size of a crowd.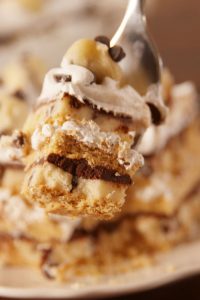 On the topic of layering, what about parfaits? They are super easy, and look lovely when stacked in fancy cups.
These perfect beauties are crushed graham crackers, a cream cheese mixture, strawberries, and whipped cream on top.
So, it's like you're eating a cheesecake in a cup.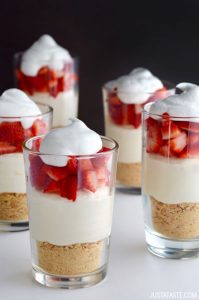 Although you're going to need a microwave for these no-bake Reese's peanut butter bars, they are so worth it!
Butter, crushed graham crackers, powdered (confectioner's) sugar, and peanut butter are mixed together and spread in a pan. Some melted chocolate chips are mixed with a little more peanut butter, and that's spread on top.
You are mere minutes away from the peanut butter taste of your school lunch childhood.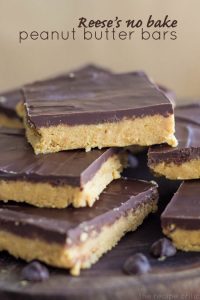 One of the best party food ideas I came across was this cake dip. It's a way easy party dessert because it's a dip, and only has four ingredients.
Run over to the store for Funfetti cake mix, 2 cups of plain yogurt, Cool Whip, and animal crackers. The first three ingredients all need to be combined, then chilled for a few hours. The animal crackers are for dipping, so you're welcome to change out for whatever else you like instead.
I think you're going to need a cute dish to serve in. Check this one out, especially if you go with animal cookies after all.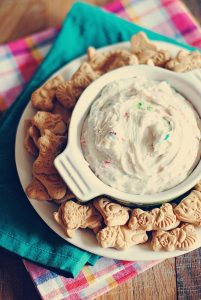 Don't worry, we are not done with cheesecake (or graham crackers). In fact, I'm bringing in everyone's favorite fall craving: pumpkin.
Pumpkin purée, cream cheese, Cool Whip, and pumpkin pie-type spices like cloves and cinnamon are blended together for the main part. The crust, of course, is our standard butter with crushed grahams.
The whole deal needs a few hours refrigeration, then you're clear to gourdge yourself.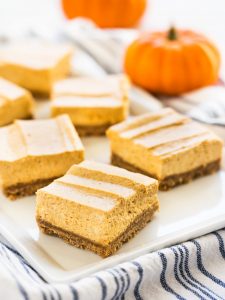 Most people picture the standard oats, peanut butter, and chocolate no-bake cookie when these sorts of desserts are discussed.
For those who don't, or those who came looking for just that standard, I've included it here. It's an oldie but a goodie, after all.
Butter, sugar, brown sugar, milk, and cocoa are heated in a saucepan. Next, the peanut butter is stirred and cooked in. Finally, salt and vanilla are added with some quick-cooking oats.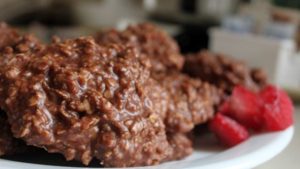 I feel for people out there who are on a vegan diet, or not eating gluten. Everyone deserves desserts.
These cute little balls of sweetness satisfy both groups (vegan and gluten-free). They have coconut oil instead of butter and maple syrup as a sugar replacement. Thank heavens for vegan chocolate chips!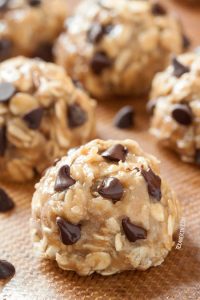 Although Girl Scout Thin Mints are not my personal favorite cookie, they are a close second. I can't tell you how often I get a craving for them and it's still eleven more months till Cookie Season.
Before I start turning to drastic measures like self-control, I think I'm going to try these Thin Mint Cookie Truffles.
That green outside is made with green mint chips, and the inside is cream cheese mixed with crushed mint cookies (like Keebler Grasshoppers).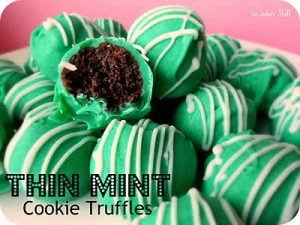 Now that we're discussing cookies, what about Oreos? Fortunately, Oreos are available year-round.
If you have a serious hankering for these, this recipe was made for you. ALL THREE layers have crushed Oreos. The crust is melted butter mixed with them, the middle is cream cheese and white chocolate mixed with them, and the top is melted dark chocolate mixed with them.
I think I need to go make some. Be right back.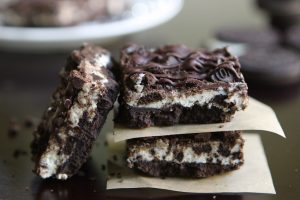 That recipe might have to wait, just so I can make sure I mention our last idea first.
In fact, I may forget my chocolate-overload idea in favor of whipping up these Raspberry Chocolate Cheesecakes.
Head over to Dollar Tree for cupcake liners, then get set for a surprisingly rich recipe. They look simple, but the resulting mix is going to taste exactly as delectable as the details put into mixing it all together.
You'll need raspberries, cream cheese, caster sugar, an egg white, Madeira cake, and white chocolate.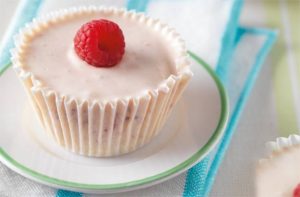 What are you waiting for? Click below and get mixing:
1. Delish
2. Just a Taste
4. Eat Yourself Skinny, Amazon
5. If You Give a Blonde a Kitchen
7. Texanerin
10. Good to Know, Dollar Tree