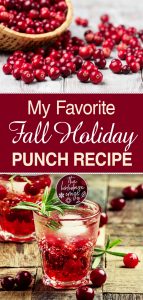 Fall is a fantastic season! There is nothing quite like colorful, crunchy leaves, crisp breezes, and the anticipation of the holiday season. The flavors of fall are quintessentially comfort: cinnamon, cardamon, chai, cranberry, pumpkin, you get the idea. So when you're trying to find a good punch to serve at your holiday gathering, look no further than this festive fall holiday punch recipe! Before you start on the holiday punch recipe, there are a couple of things you should have:
Pitchers/Drink Dispenser: There are a couple of things to consider here. Are you going to be serving something like sangria that needs the pieces of fruit to finish the punch, or is it something simpler like lemonade that doesn't need additions. If you're looking for a dispenser, this one is a beautiful addition to any party. If you're looking for a punch bowl, then this is a great option.
Glassware: If you're looking for something simple, yet festive then these work wonderfully. If you're looking to serve your punch in something more elegant or festive, then these are perfect. Regardless of whether you're looking for something elegant, or modern, serving your punch in the appropriate glassware is important.
Now, on to the punch. The reason why I love this punch is that it's great for those who are looking for a more adult beverage (wink, wink) and for those who aren't of drinking age. This punch has a great blend of flavors that is complex and deep enough without adding any alcohol, but it is also completely complemented by the addition of gin.
Festive Cranberry Fizz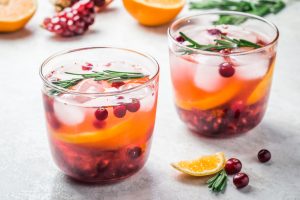 Ingredients:
Cranberry Rosemary Syrup

2 1/2 cups fresh cranberries
2 oz. fresh ginger, skin on and slived
1/2 cup sugar
3 cups cranberry juice cocktail (no sugar added)
2 large sprigs fresh rosemary

Cranberry Punch Mix

1/3 ounce black tea leaves (decaf for littles if needed)
4 cups boiling water
3 cups Cranberry Rosemary Syrup (above)
1/4 cup pomegranate molasses (no sugar added)
1/4 cup non-alcoholic orange bitters (like Fee Brothers

To serve:

4-7 cups tonic water (don't use soda water)
2 cups gin (if you're boozing it up)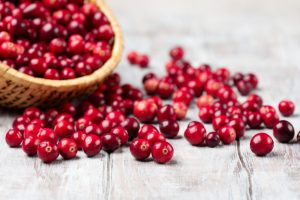 Process: Start by making the syrup. Blitz the cranberries and ginger in a food processor (like this one) until it's roughly chopped. Then mix in the sugar and juice cocktail. Put the whole thing into a pan and bring to a boil. Once you bring it to a boil, add in the rosemary. Turn heat to Low and simmer for about five minutes. Allow the mixture to cool-the longer the better-in the refrigerator. Strain it through a mesh strainer (like this one) and you should have about three cups of the syrup. This can stay in the fridge or freezer for up to one week. Next up, place your tea leaves in a large bowl. Add the boiling water and steep for three minutes. Strain the leaves, and whisk the Cranberry Rosemary Syrup, pomegranate molasses, and orange bitters until well combined. Keep the punch in the fridge for at least four hours, but preferable overnight.  To make the punch complete, stir in 6-7 cups of tonic water and serve over ice. If you'd like to do it boozy, add two cups of gin and 4-5 cups of tonic water. Serve over ice and garnish as desired.
And there you have it, my favorite holiday punch recipe! This recipe is complex with deep flavors that works great for all ages and any celebration. Happy partying!