Moms need to eat, too. Mother's Day is no exception. In fact, breakfast on this holiday is pivotal. It's the first meal of the day and it needs to be fantastic.
You are planning Mother's Day breakfast in bed, aren't you?
If not, you are now. Trust me. And, I'm here to help you out with some absolutely incredible recipes.
Take this muesli, for example. It's a mix of quinoa, apple, pistachio, raisins and yoghurt; with apple juice and cinnamon. Your health-conscious mom will LOVE it.
Just note that this needs some overnight time, so the quinoa can soak up all the delicious flavors.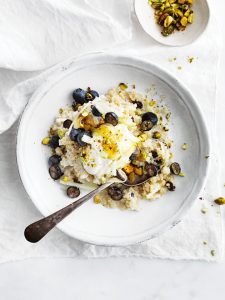 Maybe the store's out of quinoa, or muesli's not really your mother's thing. Would she like a breakfast pie, instead?
These can be made exactly to taste, since the crust is refrigerated puff pastry dough and the toppings are up to you. Some tasty combinations are bacon, Swiss cheese, spinach and egg; or sautéed mushrooms, cooked ham, cheddar cheese, and cherry tomatoes.
Bake the pastries for about 10 minutes before applying toppings. After application, they bake about fifteen more. Breakfast will be ready for eating in a mere half an hour.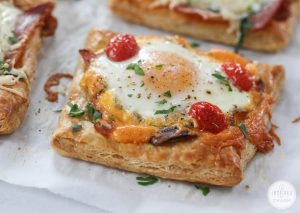 Parfaits may be the most delicious thing on the whole planet. The name actually means "perfect" in French, which might also refer to how quick and easy they are to assemble.
Seriously: run to the store for granola, yogurt, and fruit. Run to Amazon for adorably cute jars.
Layer the three ingredients in the jars and you're done!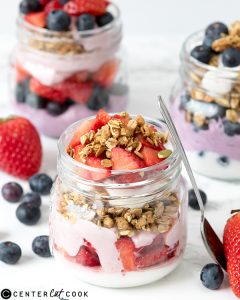 There are a few recipes that get me hungry just when I hear their name. That's the case with these hashbrown nests.
Their full title is Hash Brown Egg Nests with Avocado. Now, that may not sound melodic to you, but I happen to love both hash browns and avocado.
If Mommy's in a similar boat, you have to make these. If not, make some for me.
Please.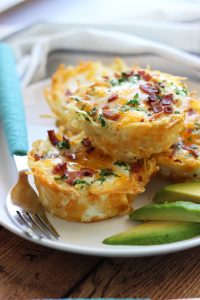 I think it's safe to say these Nutella Berry Crêpes will please just about anyone, mom included.
I mean -I'm all for specific Mother's Day ideas and everything. It's just that Nutella is the heaven-sent food that is okay for anytime, anyone, anywhere.
There's even more reason to make them: you're going to be moved up to number one on her list of favorites if you walk in the door carrying these.
What are you waiting for? Go get some eggs, strawberries, raspberries, and Nutella. Go!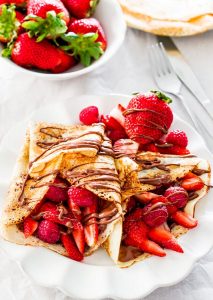 Breakfast doesn't have to be super fancy. I mean, what about pancakes?
Okay, okay -I'll fancy them up a bit by suggesting these lemon and blueberry ones. That, and I'll suggest you get a cute placemat to serve them on from Dollar Tree.
Simple is better, anyway. That way you have less to clean up, right?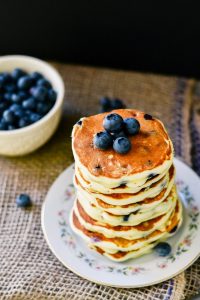 I couldn't help it. I just had to follow up pancakes with a really complicated suggestion. I think it's the mushrooms. Maybe the goat cheese.
This frittata also has shallots, eggs, heavy cream, grated Parmesan cheese, and fresh herbs and spices.
It's beautiful, and just waiting to be made in your artistic, coated, oven-safe pan.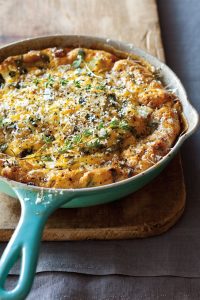 This next one of our breakfast recipes is Vanilla Protein something something with dark chocolate. Yeah -I zoned out until reading the chocolate part.
It's a protein smoothie, served in a darling coconut bowl and topped with blueberries and more of that dark chocolate.
Did I mention there's chocolate?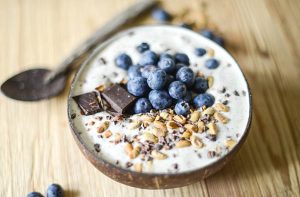 Here's another recipe that's going to get Mom drooling. It's difficult to tell beneath the added egg, pancetta,fried scallions, and toast; but that's polenta.
After mixing up a quick-cooking variety, you mix in some butter and Parmesan cheese.
Then, as I said, the finishing touch is all those delicious garnishes.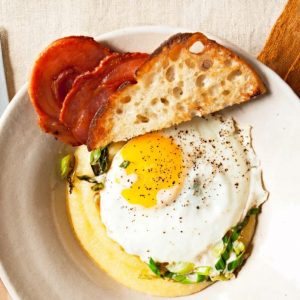 Don't just sit here listening to your stomach growl! Click below for the full recipes and make Mom's day!
1. Donna Hay
5. Jo Cooks
6. The Farmer's Daughter, Dollar Tree
8. Bare Blends