Everyone likes to eat. You might even say people couldn't live without food.
What you serve may make or break guests' attitudes at parties, especially if they need to stay alive.
Besides compulsion for living, most people know guests will also often look to be impressed (or unimpressed) by how fancy you've been able to get with snack dishes.
You may be thinking simple and impressive cannot coexist, at least not if you're putting it together and not picking it up from the store already made.
Well, I am here to help a brother (or sister) out with ideas that are only easy. I wouldn't make them if they're not.
As such, you probably think I just lied in suggesting these Caprese Bruschetta.
They look fancy. They look difficult.
I promise you that they are the result of some cutting and drizzling. Specifically, they are made by cutting up cherry tomatoes, fresh mozarella (cheese sticks are mozarella, you know), and some basil. That's all piled artistically on slices of baguette and drizzled with a bit of balsamic vinegar.
Your own mother would be impressed.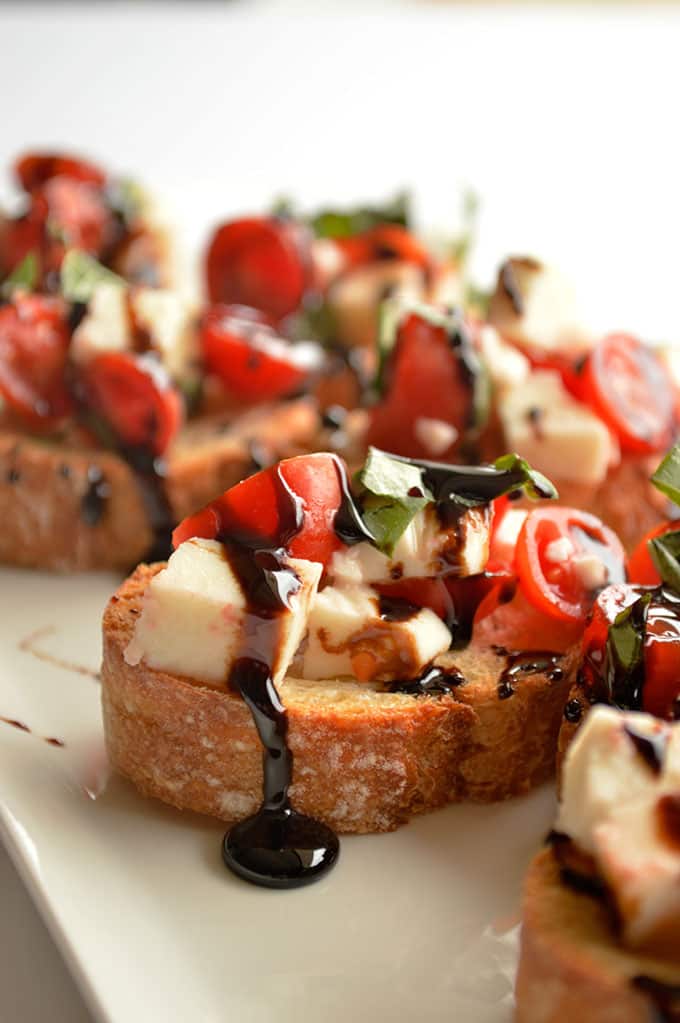 Turning your regular meals into bite-sized portions on toothpicks is the easiest way to class up cheap appetizers.
Take Julie's Eats & Treats' recipe for chicken bites as an example. These are bits of chicken wrapped in bacon, then dipped in brown sugar and spices (chili powder and cayenne pepper, baby!)
Once baked, friends will be popping these in like candied pieces of poultry.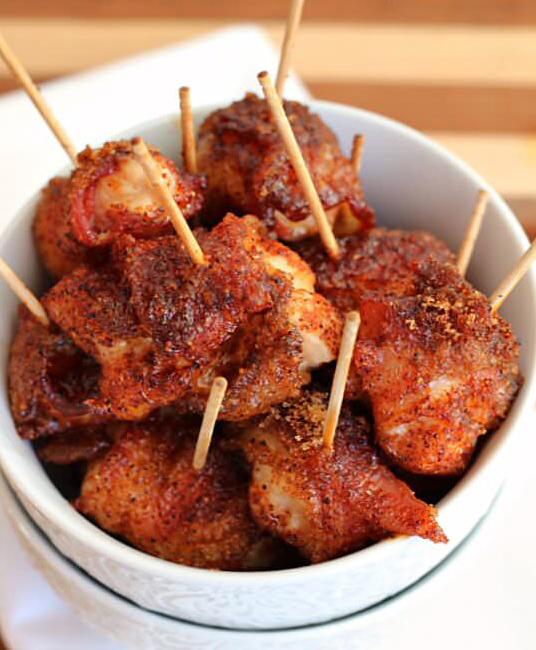 These Baked Twisted Cheese Twists are a meatless food option that tastes awesome!
They are literally mozarella and cheddar cheese sticks, dipped in egg then a flour and corn chip batter, and baked.
Hungry yet?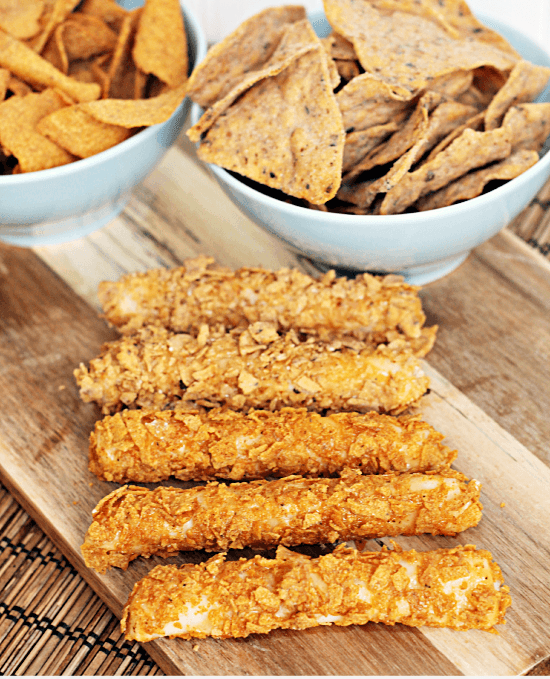 Add some color and complexity to your table, without actually doing that much work.
The Girl Who Ate Everything throws (well, rolls) her Cranberry and Feta Pinwheels together in a little over an hour.
That time's due to needing an hour of refrigeration once you've wrapped the dried cranberries, cream cheese, feta, and green onions into some spinach tortillas.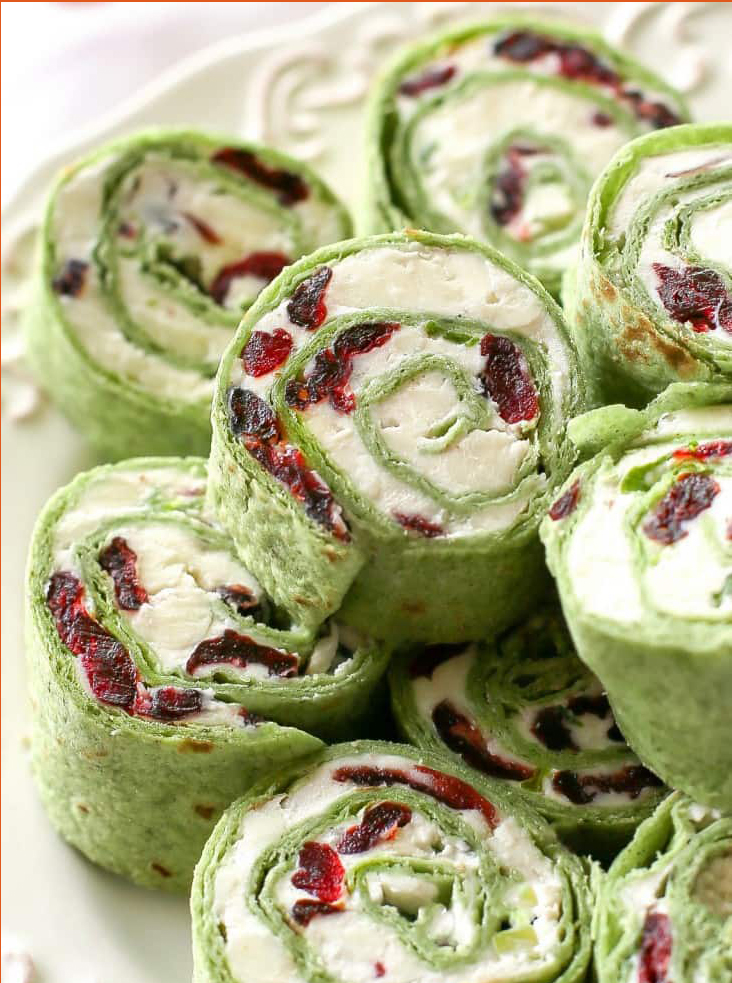 Now we are going to get really swanky by making Shrimp Ceviche.
Some of your friends are not even going to know how to pronounce that, which is great class-cred to you.
If you already know about ceviche, and certainly about a shrimp ceviche, then you will appreciate how amazingly easy Lemons for Lulu's recipe is.
Those are Athens Mini Fillo shells, with shrimp (yep), avocado, tomato, red onion, and some juices in them. ¡A comer!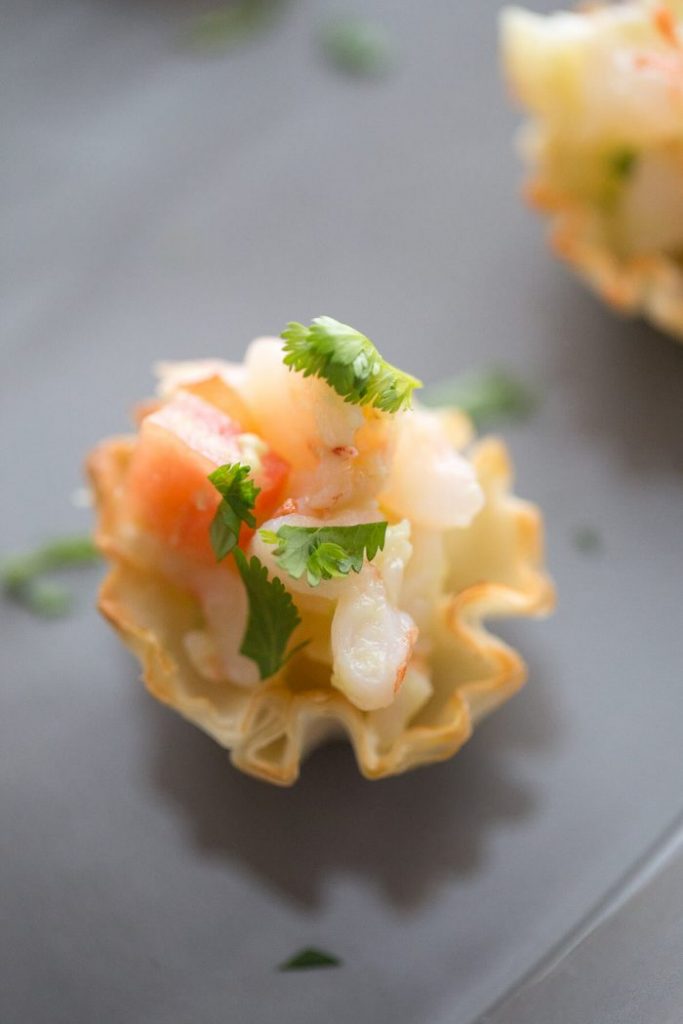 Bacon is the universal wonder-food. Vegans even have meatless versions, for Pete's sake.
But, how can we dress it up and still make it simple to make?
This recipe is literally water chestnuts wrapped with bacon. Her dipping sauce is ketchup mixed with brown sugar.
You may be cringing a bit at the water chestnuts, but they have hardly any taste. Trust me -I've had these, and they only add a crunch.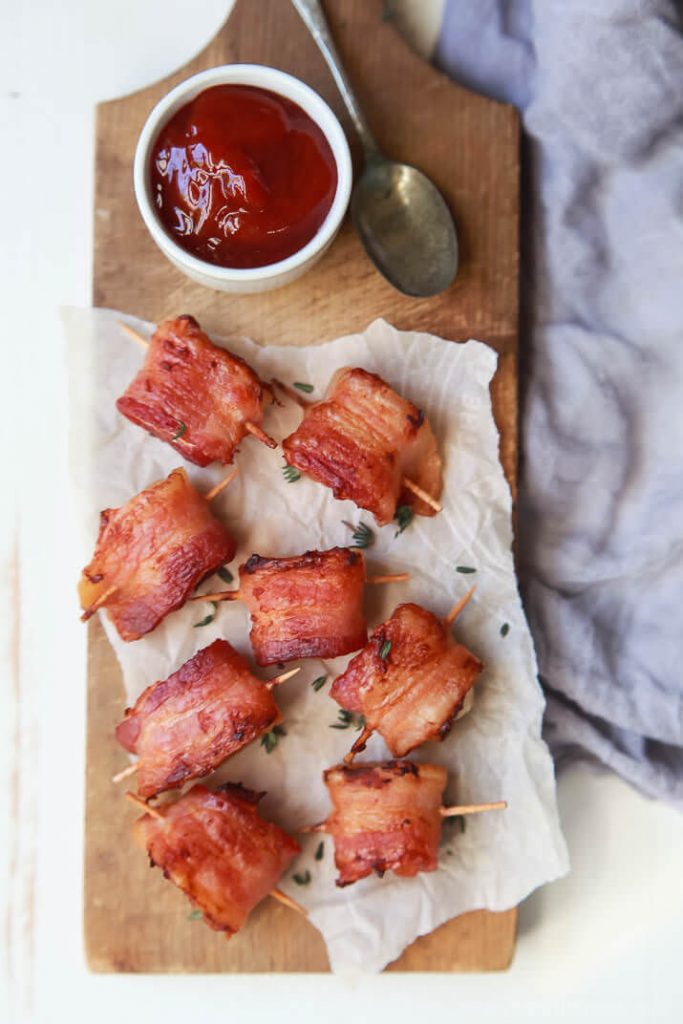 We're going to utilize the existence of pre-made shells once again, this time with those Scoops Tortilla Chips.
Add cooked ground beef mixed with taco seasoning, cheese, and some microwaving. Finish with your favorites: salsa, sour cream, guacamole.
These tiny tacos are a tasty, mini, crunchy snack even kids like.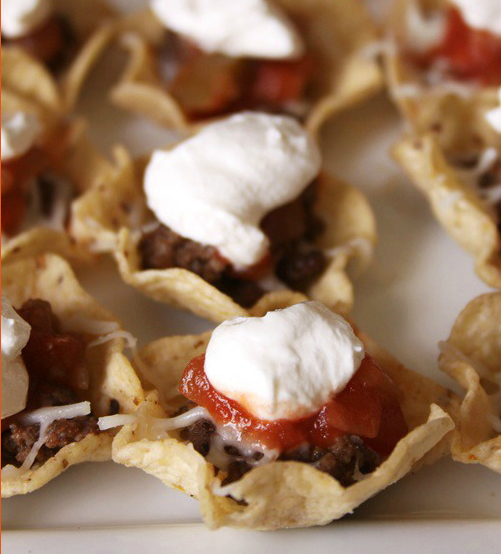 Who here likes stuffed mushrooms? Who also knows they take a lot of time unless you get ToGo from Olive Garden?
Well, I have good news for those who absolutely hate mushrooms, and a colorful substitute for those who can settle for a faster side dish.
Ahem: Stuffed Cherry Tomatoes
No, really. You do need to find some larger-sized tomatoes to get much stuffing in.
The stuffing itself is bacon (our favorite!), mixed with pepper jack cheese, olive oil, and bread crumbs.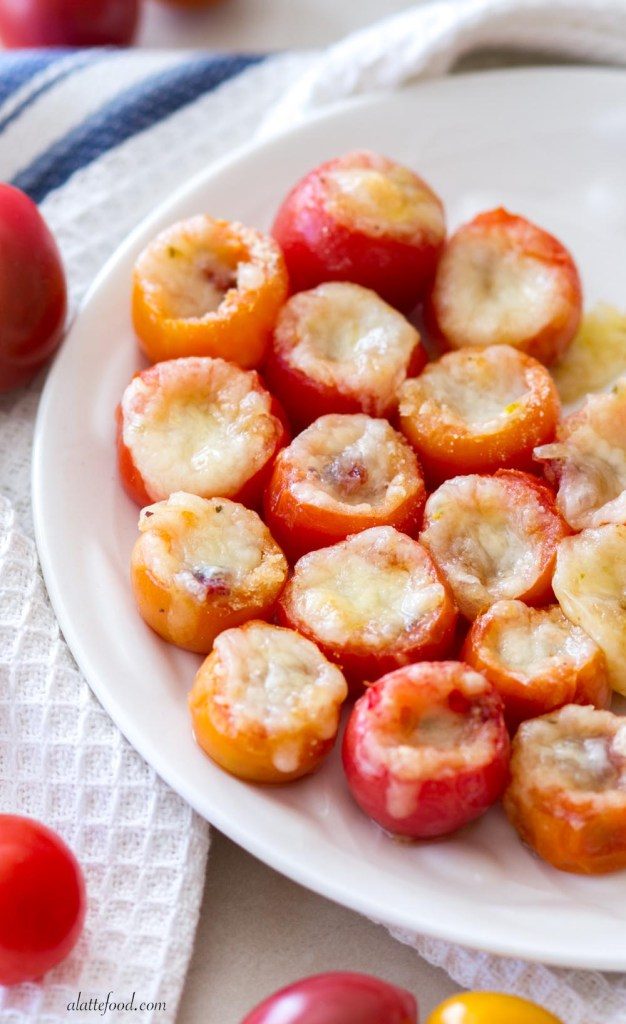 Everything is better fried. Anyone who's been to a county fair can vouch for me on this.
So, mix up some breadcrumbs, Parmesan cheese, garlic, and salt. We're gonna fry some TORTELLINI. No joke.
Buy your favorite tortellini, dip it in egg and milk, then douse it in your breadcrumbs mixture. After frying in hot oil, you won't believe how quickly these puppies will disappear!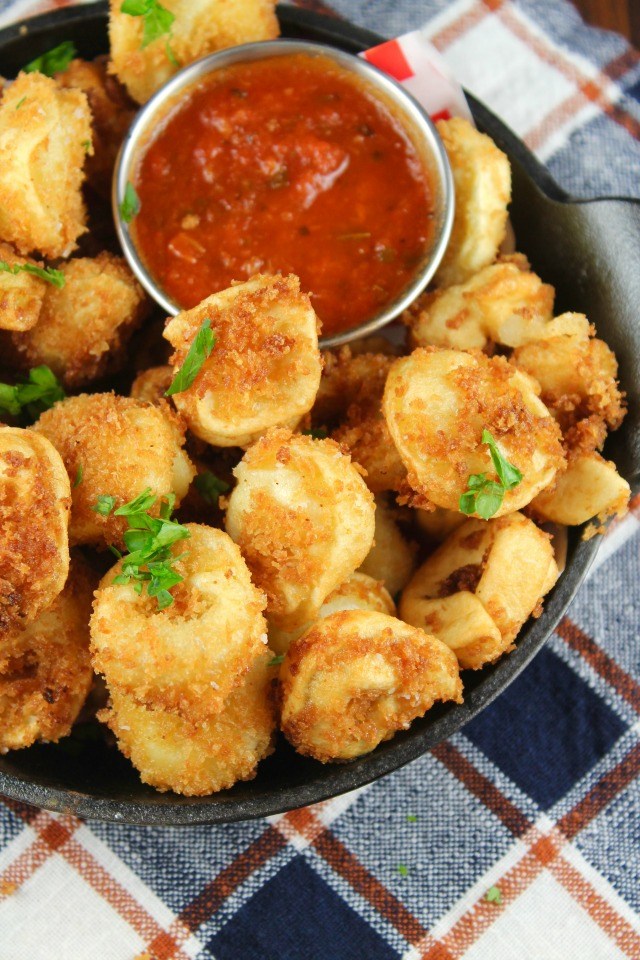 I've got one more idea to raise your taste status with your guests: Prosciutto-Wrapped Asparagus.
Grocery stores (or, fancy health food ones) have thinly-sliced prosciutto. Lay some asparagus spears at an angle on half of one, then roll up.
After brushing them with oil, fry, then serve!
It looks good! I mean: Fresh, green fronds peek coyly from the pleasure of prosciutto blankets amidst appetizing samples of only the most succulent party fare.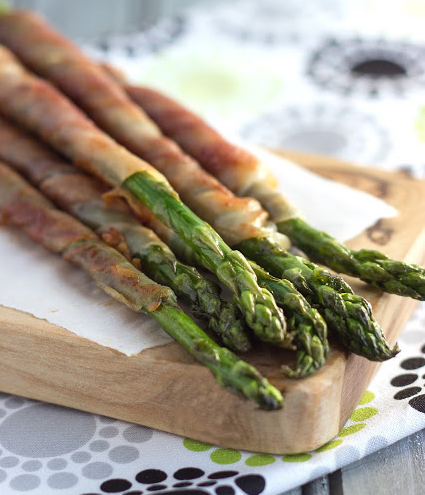 Get more recipes here:
Delicious Treats to Gobble Gobble This Thanksgiving