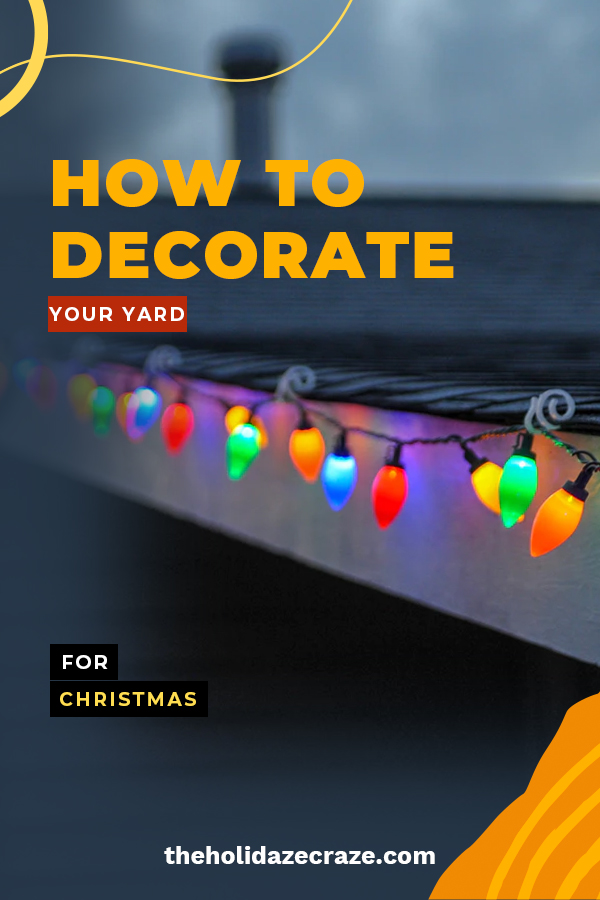 Are you tired of trying to match The Joneses, and their number of Christmas lights? Are you looking for something better than inflatable snow globes or snowmen?
I'm here to give you a few nontraditional ideas to decorate your yard for Christmas that are still cute and clever.
Take these giant ball ornaments, for example. I think they look like so much fun! Problem is, I see them and think I have to use them on a Christmas tree. That, and I don't actually want to buy oversized hangings.
That is why they are such a great idea! They're made by spray-painting a deli container, then pasting it onto a giant play ball.
So, next time your kids raid that mesh bouncy ball area at Wal-Mart, you'll have a use for the ones they guilt you into buying. This is an easy way to decorate your hard for the holidays.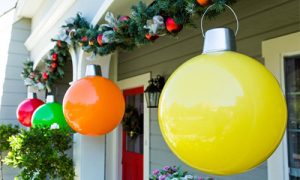 No matter what sort of yard or exterior you have, a small sign can go just about anywhere.
Fynes Designs recommends resting this JOY wreath greeting on a porch. But who's to say you can't hang it from a tree, on a roof, or in front of that fading paint area at the corner of the house?
To make yours like the one pictured, you'll need an old piano cover, a J and Y, and a wreath. You'll also need to attach them on. You're welcome.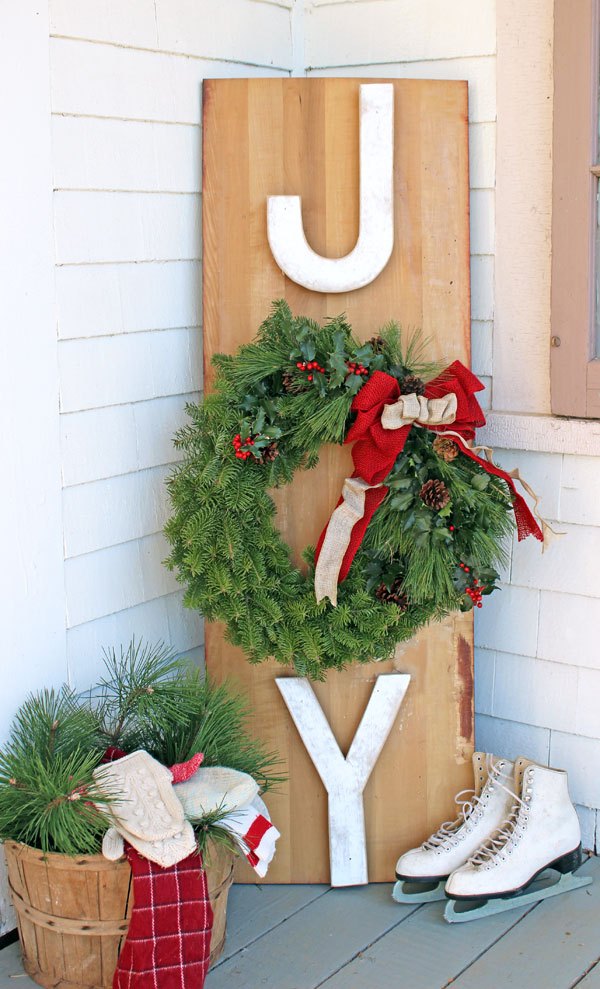 These lollipops are a decoration I found for a springtime party, but I think candy totally works for Christmas. If you're going to be picky, make them red and green.
As you may guess, they are formed with wooden dowels painted white and shoved into styrofoam circles.
Glorious Treats made theirs different colors by wrapping the styrofoam in tissue paper, but I'll bet you could cheat and use spray paint. Heck, use acrylics to paint authentic swirls if you've the time.
Just be sure to wrap those fake sweets in cellophane at the end and secure it with a ribbon for a perfect, easy way to decorate your yard for Christmas.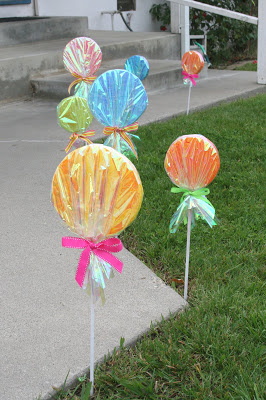 Have you seen those fancy hanging light-up balls in stores? Did you know you can make your own?
Grab some chicken wire, hopefully from a legitimate source. Be ready to cut it to size, and smash it into an open ball shape. You'll want gloves.
After the elaborate smashing, simply wrap a string of lights around and around. Voilà! You're an artist!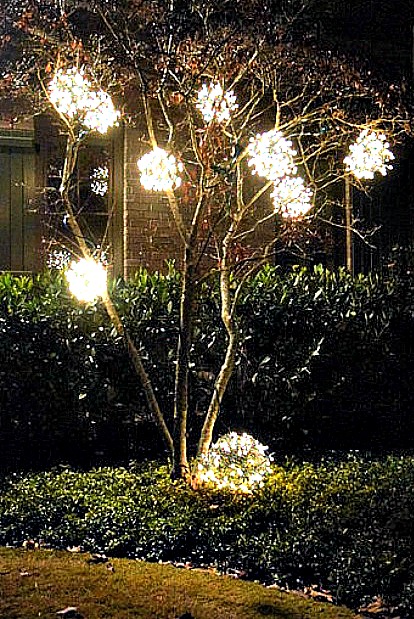 Aw, look at the sweet Santas! I have logs; let's make them!
Looks like I'll need noses and paint, plus a ribbon.
He'll be seasoned, for the holiday season (and he is the perfect addition to successfully decorate your yard)!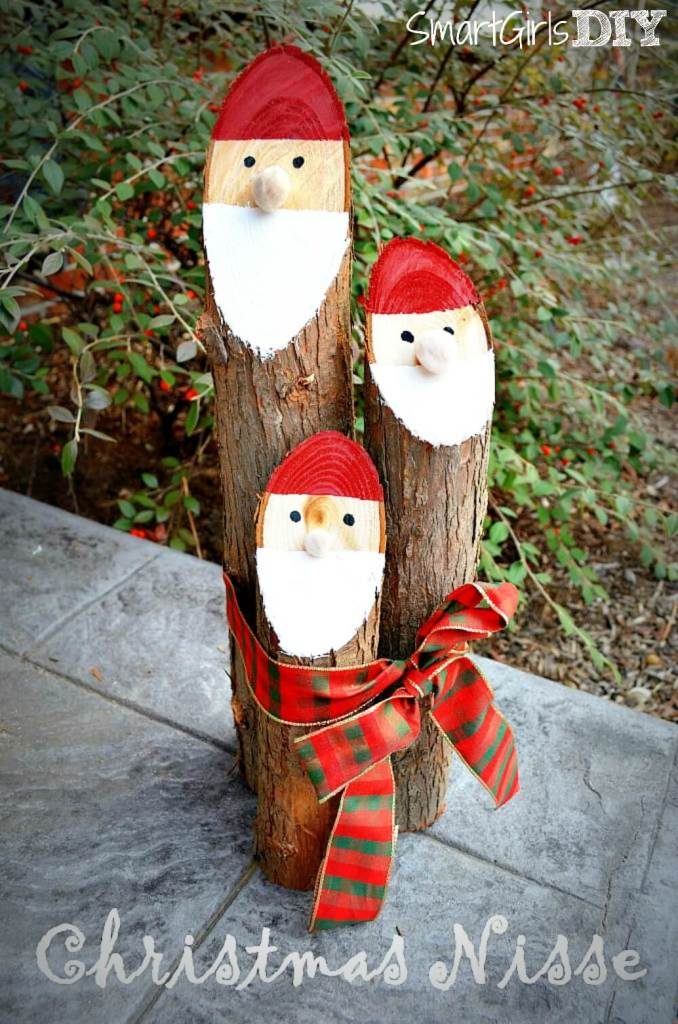 O, Pallet Tree! O, Pallet Tree! How lovely are your splinters!
Hopefully, you won't find too many of those when cutting this one out for your yard.
Decorate with your favorite ornaments, shove it in the ground, and it's finished. A perfect way to reuse old materials to decorate your yard.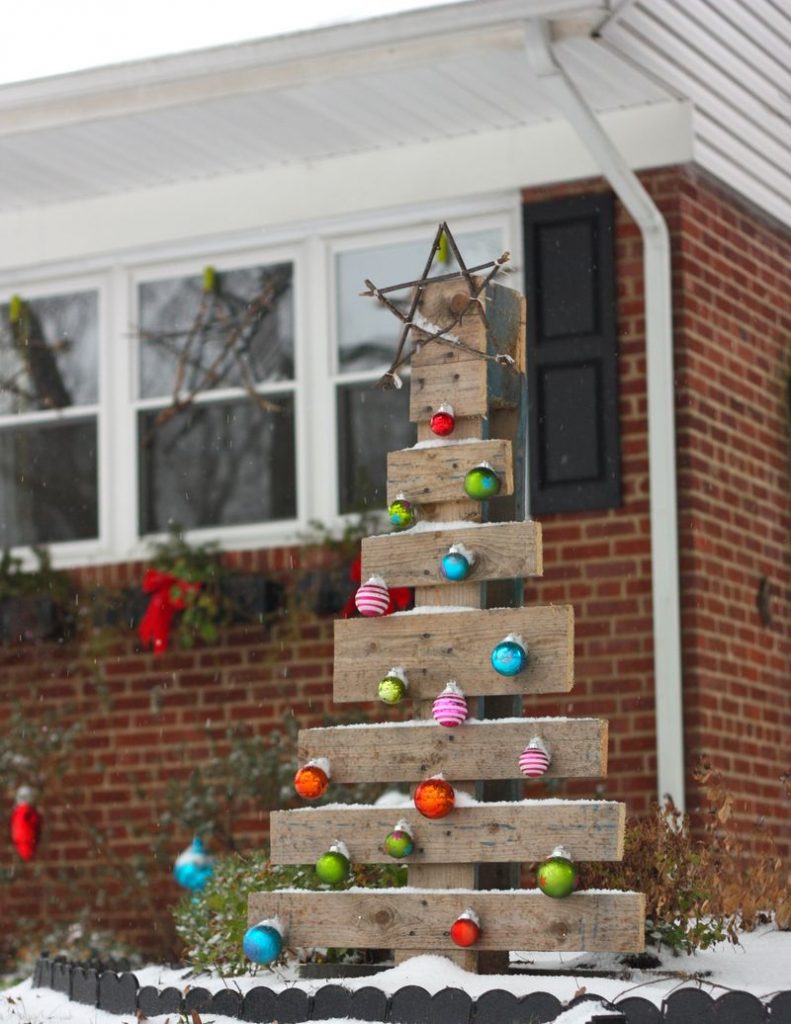 Okay -get this! Remember how I said those lollipops earlier were from springtime? Well, now we've got a bona fide summer decoration. Right?
Actually, these candy canes are more like a craft you can make now that the stores have put summer on clearance.
So pick up a few discounted pool noodles, some fishing line, and white tape. Using your serious I Spy skills, you'll notice that crook was made by tying the noodle at a bend with the line. Don't worry -no one will see it unless they look closely.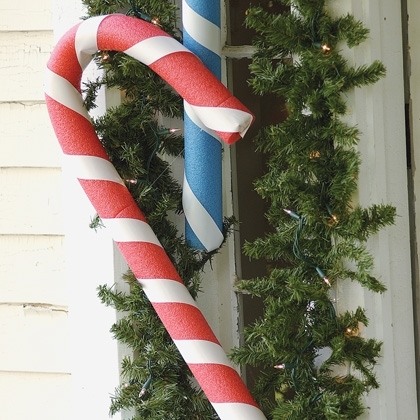 What did I tell you about signs? So versatile, so cute -I want a few.
I'm fairly certain The Happy Scraps used existing wood arrows, painted white. The words were done by painting over vinyl letters in green, red, and brown. Once the paint dried, they peeled off the vinyl.
The snow is some stuff called True Snow. You can also Mod Podge a few spots and sprinkle salt and glitter on it.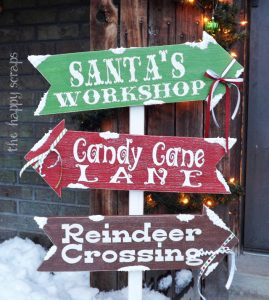 Maybe, instead of logs, you have a few cedar posts laying around. I have a few from my neighbor's house construction.
Add some paint for a snowman lustre, plus carrot and eyes. Dress them in fabric hats and scarves, so they don't get cold.
Do you want to paint some snowmen?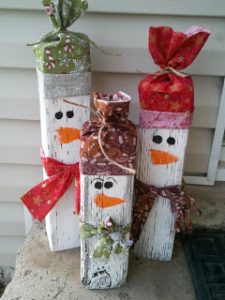 If you have window boxes on your house, please tell me you'll try this festive idea. I almost want to hang a few at my windows just so I can try this.
You probably already have artificial pine boughs and glass ornaments, though you may have to purchase some larger ones. You'll want people to be able to see them from the street.