You do not know how lucky you are! History is chock-full of stories about The Little People, and people's attempts to finally catch just one and steal his treasures.
All you had to do was click here, to this page, and I will tell you The Secret.
First, as everyone knows, leprechauns LOVE gold. As such, gold (or, the appearance of it) makes excellent bait.
You may not be able to tell from the picture, but this cake is actually a bundt. As Akbar would say, "It's a trap!" Beneath that pile of chocolate coins is a hole for our little friend to fall into.
The sweet surprise your littles will find, however, is a cake filled with rainbows. "Oh, no!" You'll say, "he escaped! But, his passing left a rainbow behind!"
They'll also get to have the chocolate coins. It's a win-win.
You can't go wrong with the old classic bait-under-a-hat trick, especially if the hat is a St. Patrick's Day one.
Gold's the bait here, though it's chocolate at heart; and our stick's really a pretzel one in a marshmallow stand. Leprechauns like marshmallows too, right?
Set up the trap with your family the night before; let them help make it. In the morning, the hat will be sprung -with a note and treat beneath for his would-be captors.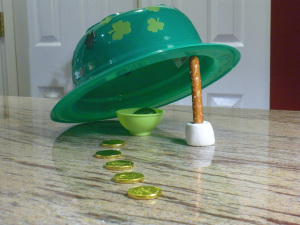 I like this idea, for those times when I decide to be crafty and we don't have much time.
This is a leprechaun trap based on a tissue box. If you've some black chalk paint handy (or, a neighbor with some), quickly cover the surface of the box.
Versatility's the name, here, as you can decorate the outside with whatever enticing chalk-art your kids can think of.
Fill the inside with the bait, and make a few signs pointing toward it. Sneaky Mommy can swap out for kid-friendly "bait" later.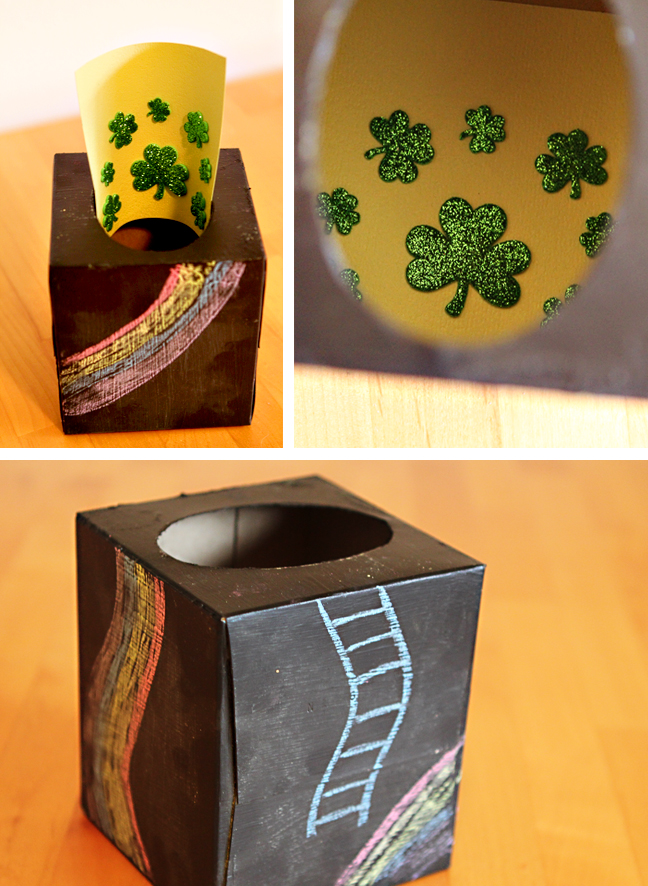 If, instead, you have a bit more time or materials on hand, you might want to consider this stovepipe hat trap.
This little beauty's made with love, and a looped piece of paper. The outside is all green felt, a material I know I've seen over at Michael's.
A brave Irishman/woman like yerself could wrap up an old oatmeal container, too. It's all in the glue-gunning skills.
Besides the cuteness of the hat itself, your leprechaun will appreciate the natural-made stick ladder (and, of course, the tempting treats above the hole in the top).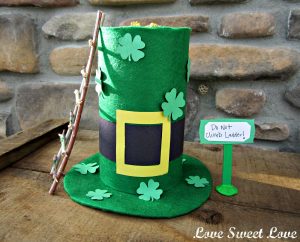 Back to the drawing board -or, at least, back to the stick and fall trap.
Grab one of those shoeboxes you have laying around, plus lid. Spray paint the whole mess green, and fill the bottom with craft-store Spanish moss.
We're about simple with this idea, plus the clever idea of hanging a pot where the coins lead to. A tripped trap could reveal that pot of gold to be spilling with other prizes, a note, or a few extra coins he wasn't able to carry away.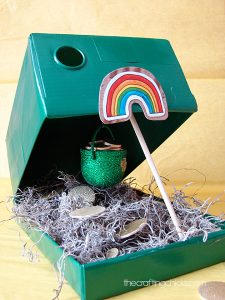 Ah, shoeboxes: so plentiful and so versatile.
We've gone with paper-covered for this model, which is a great canvas for sticker- and paper-decorating by the young 'uns.
You might also notice the attached string, so your imagination-rampant children can try to activate the tricky trap themselves.
Once they bore of it and have turned away, slip your sweet surprises beneath the fallen stick and box.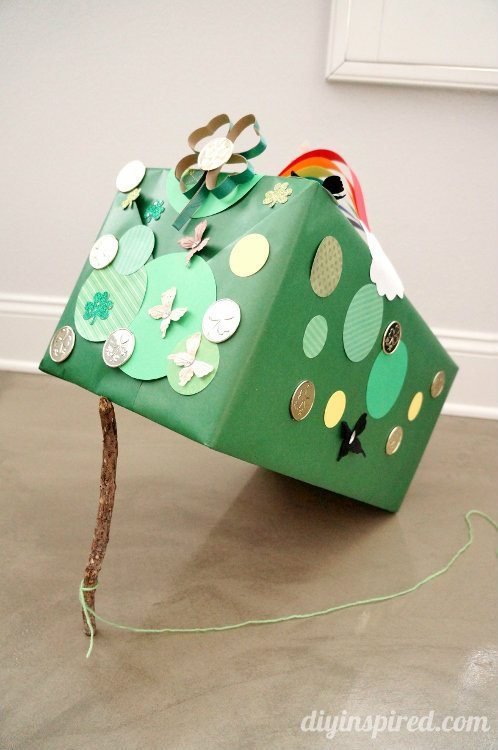 I don't know how many Lego sets may be laying around your house, but I'm sure your kids would love the idea of building a potential leprechaun cage with what they do have.
The pictured model has a crane, elevator-like box ready to fall, and an operator at the controls.
Let your eager builders put together a simple box with their bricks, and suspend it with your own string. They can add in whatever landscape or bait they wish around it all.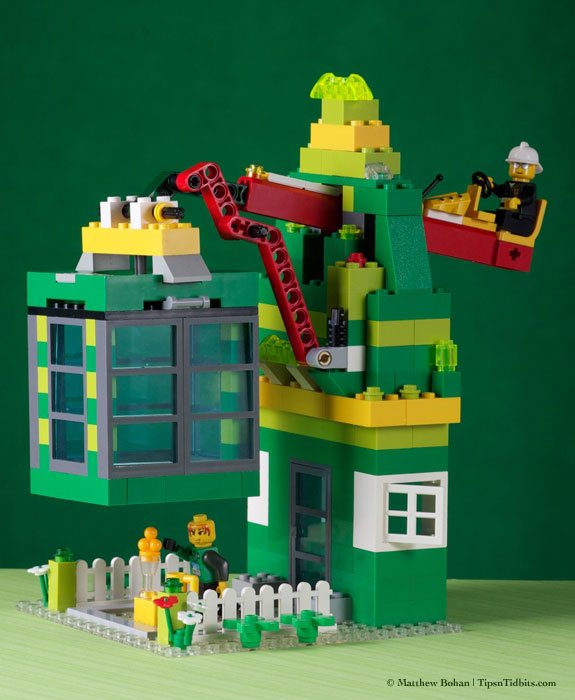 We've incorporated a shoebox into this next design, though with the other ideas of a ladder and pit-hole in the middle.
I like how a child could make this entirely on his own, including that "Free Gold" sign at the edge.
You'll need a shoe box, paper, coins, glue, and sticks. Yes -the ladder is just glued sticks.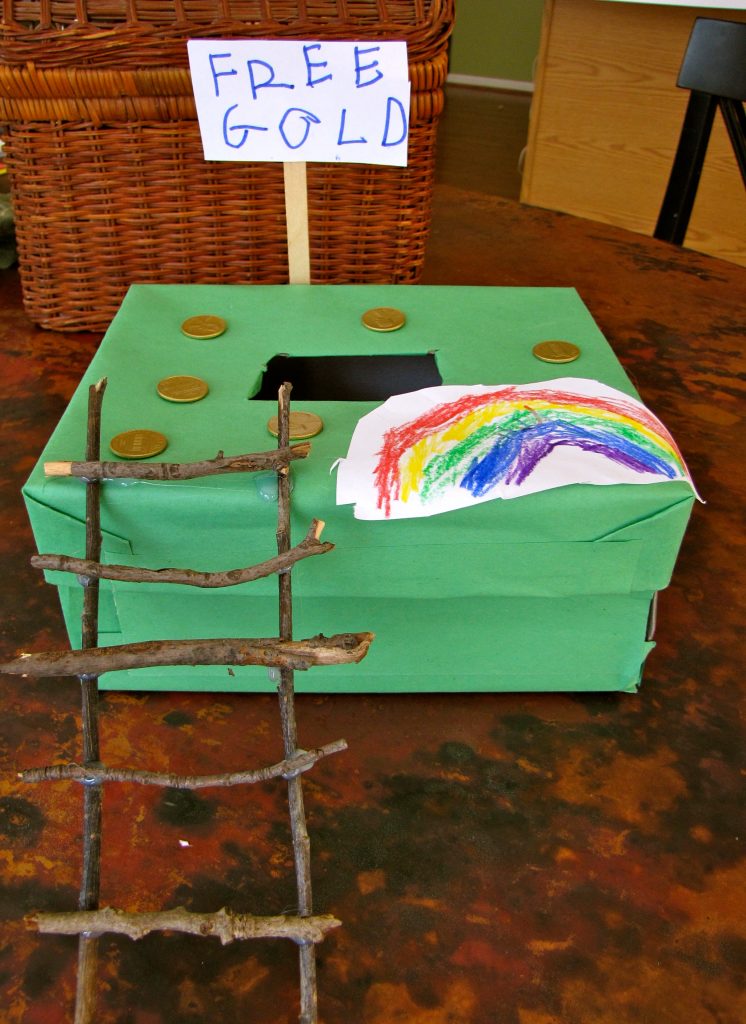 Did you like the look of the Lego trap, but the craftability of the various box ideas?
Well! We have a cage-drop setup with this idea, using a shoe box (or box) and a falling cup.
Paint up your box, build a cup-falling platform, and whip up a rainbow pipe cleaner ladder. Besides a pot of "gold" beneath, note the box of tempting cereal just beyond the clever trap.
Lucky will love it!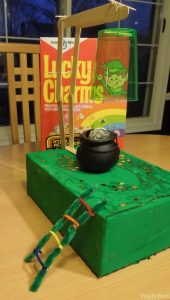 Our final idea brings us back to the tube design. Using a rolled paper or empty canister, the outside will need a tempting rainbow paint (or glued paper) job.
One end is stuffed with tissue; the other with messy paper shreds. Don't forget a treat on the inside, for all your little imps.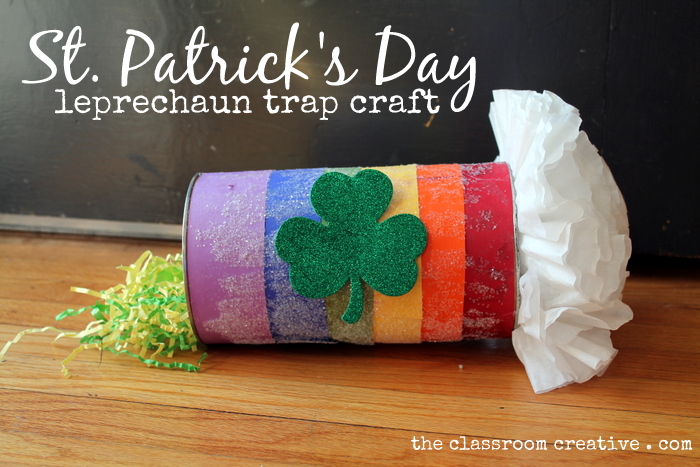 You look ready for leprechaun-hunting! Catch me charms at the following sites:
1. Not Martha
2. A Little Bit of This & That
5. The Crafting Chicks, Michael's
6. DIY Inspired
9. Play Dr. Mom