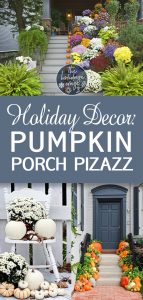 When it comes to decorating your porch for fall, there isn't really a better theme than pumpkins. They are versatile and on point. They also don't have to be related to Halloween, so these decoration ideas are perfect for the entirety of fall.
Having some outdoor pumpkins like these are a great starting point for your pumpkin porch decor.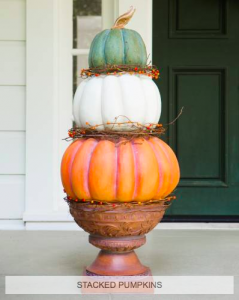 The great thing about these pumpkins is that they won't rot and are made to stack, which makes them really versatile in their uses. You can stack them or artfully arrange them; get creative with them! If you're up for something more intense and have a large amount of pumpkins at your disposal, then you should definitely try something like this: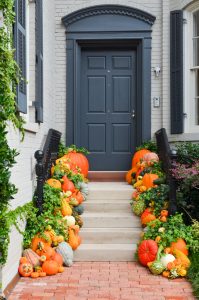 By arranging the pumpkins in varying sizes and adding in some pops of green, you're going to have a beautiful and diverse pumpkin themed porch. If that seems a little intense for you, then going simple can be just as effective.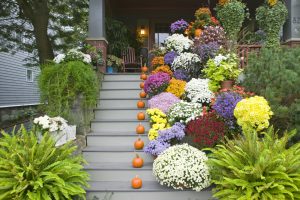 Adding in one pumpkin per step in a really geometric pattern can be very effective. If you want something between the middle of these two, mixing and matching the type of pumpkin will add some variety to your porch. Even adding in some gourds from the pumpkin family make for an interesting and eye-catching porch set-up.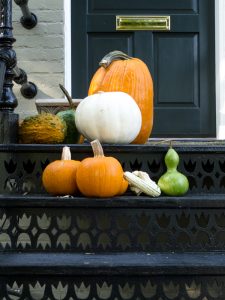 When it comes to adding pumpkin pizazz to your porch, you can think beyond just pumpkins. Try adding some pumpkin colored items. This rug has a beautiful pattern with a pumpkin orange base that isn't too orange.
If orange isn't your thing, then try doing the same thing, but with a color scheme in mostly white. Spray paint your pumpkins, add in some pretty daisies and sprinkle in some orange and brown to round out the color palette.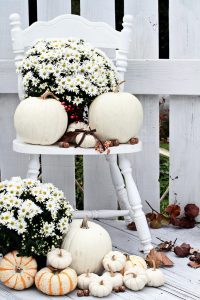 If you've got tiny humans at your house who like to carve pumpkins, let them carve pumpkins for your porch decor. Adding some hay bales will allow you to stagger the pumpkins and create some needed depth.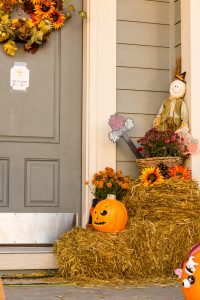 I think it's important if you're decorating with pumpkins to make sure to add in some additional textures like flowers, wheat, or hay. It helps complete the scene and adds textures and depth.
And there you have it! Pumpkin porch decor. Happy fall!