Ah, autumn! My favorite season! Whenever I step outside in the cool air; I see fall leaves changing, I smell apple cider and rain-soaked fields, I hear laughter over pumpkin patch fire pits. I watch children happily skipping off to school as I tearfully wave them goodbye for a full seven-hour day. Fall is what gets me through summer, and it is such a beautiful time of year to decorate for. It's also the time for Halloween! Bats! Pumpkins! Witches! Ghosts! Exclamation Points! If you have a front porch, or even a door, consider the following Halloween porch ideas to share your festive feelings with any visitors or trick-or-treaters.
Our Vintage Home Love started her fall, Halloween porch look with an existing wood screen door and striped rug.
Then, she hung an autumnal wreath from a piece of coffee sacking, a "Boo" banner from an old ladder, and stenciled crow silhouettes on pillows.
The rest is nature: hay bale, corn stalk, gourds. Totally doable and totally adorable.
Looking for more of a front steps idea?
These board ghosts can hang out on whatever "porch" you have, or even inside your house.
They're easy. Literally. Just fabric, Stiffy, Mod Podge Outdoor, and paint. Voila, you have a Halloween porch!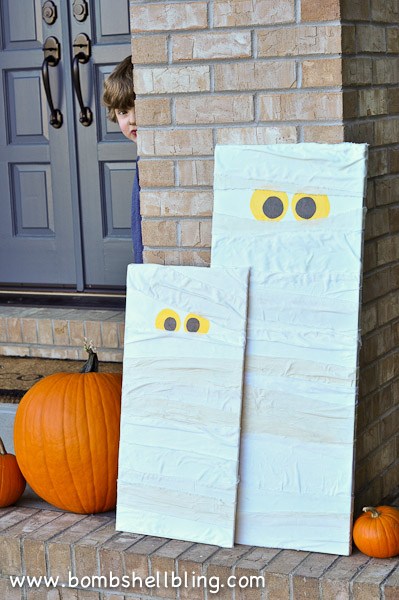 Look! I found you another front steps idea, though this one really does work best outside.
And, if you don't want those white pumpkins to rot around where you nailed the house numbers, just use a strong adhesive.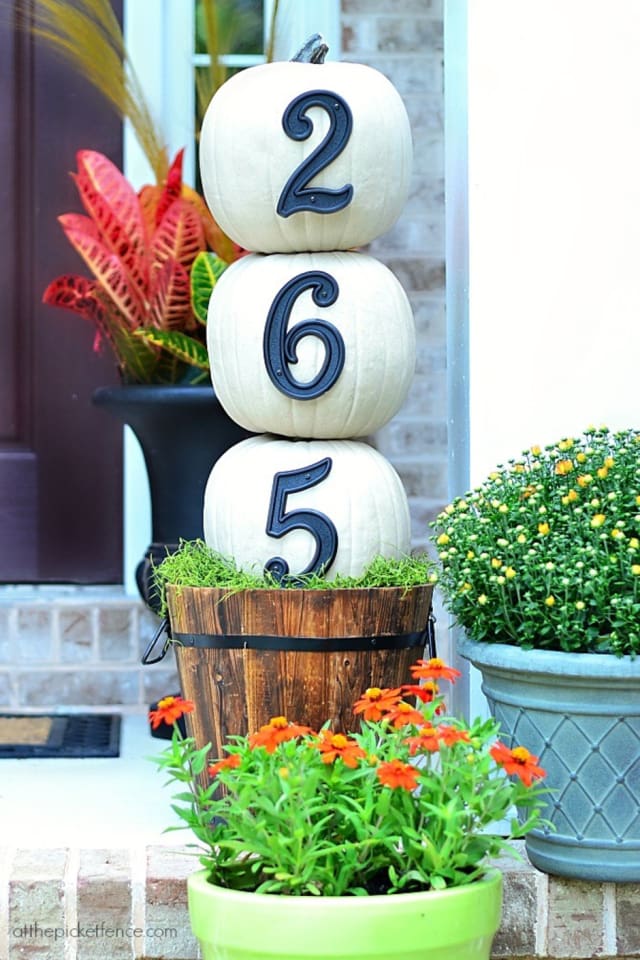 If you are a tad fanatical about Halloween like me, or have kids, you probably want to decorate for it all over the place.
As such, I've grabbed a few Halloween porch ideas. Like these witch hat luminaries.
You'll need witches' hats (that might be obvious), fishing line, and something that lights up without lighting your house on fire -like glow sticks, tea lights, or LED light sticks.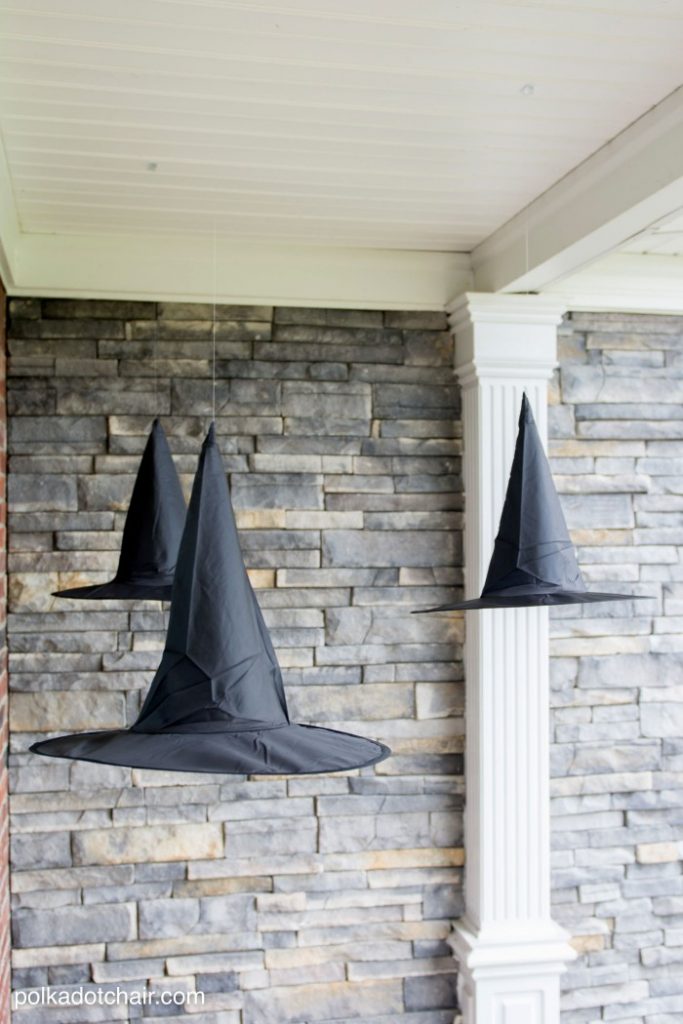 Did you get a kick out of stacking pumpkins for the house number decoration?
Well, you can do it again for a light-up pumpkin topiary!
This project involves some drilling. You'll be drilling a hole in pre-made pumpkins, so someone like me can probably do it.
You'll also need spray paint (primer is recommended first), a dowel, and a planter with soil and plants.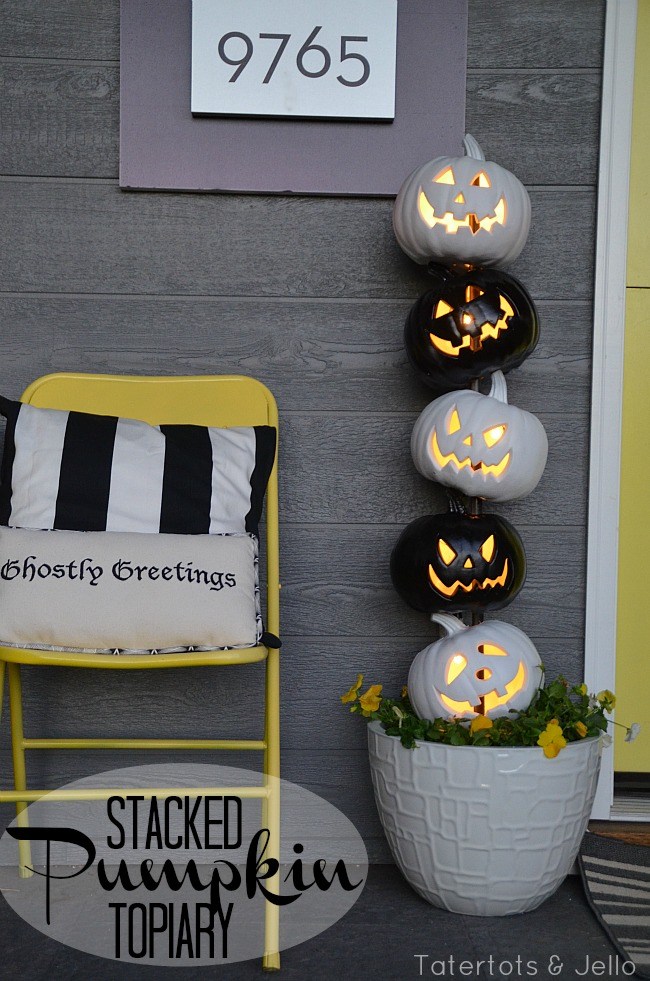 Any Nightmare Before Christmas fans will immediately love and recognize this Halloween porch and front door idea.
Any visitors of similar interests will also appreciate your Jack Skellington touch.
If you've got a white door, you've got to try it at least once.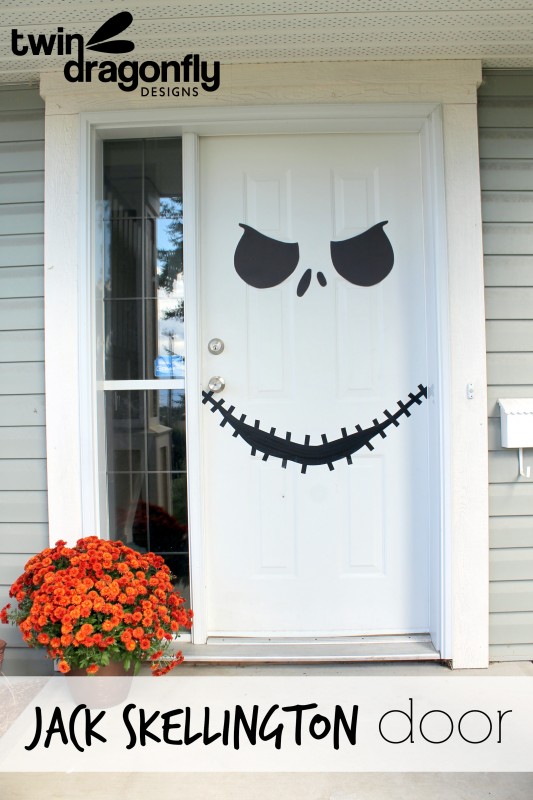 I had to put this one near the end, because it freaks me out.
So cool, but freakishly scary! Perfect for your Halloween porch.
I so want to try this trash bag and packing tape ghost, but also know I probably won't be able to live in my house while it's out there.
Besides instructions on assembly, the designers also suggest a fan and something to light it up!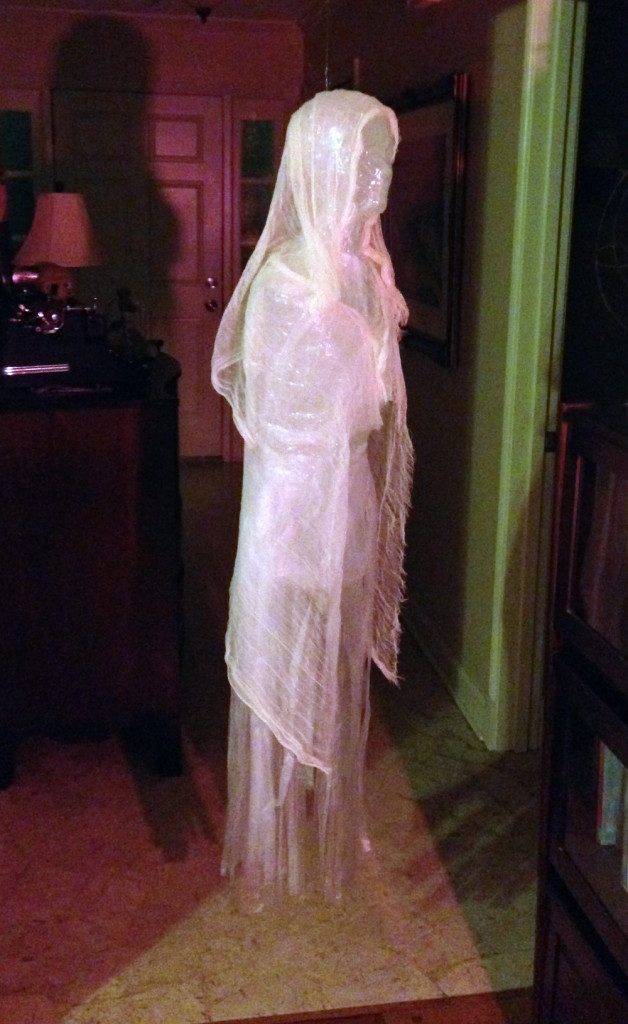 Phew! Nifty Thrifty Thriving saves us from nightmares with an entryway monster face.
Throw this one onto your arch or porch roof for a laugh, or make it spookier to match that hanging ghost idea.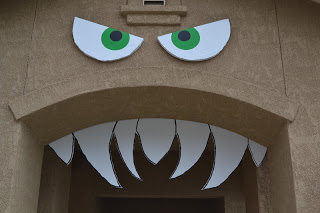 As a parting laugh, how about this witch's legs?
Ding, dong, the witch is dead! -and, under your Halloween porch wall.
If you've got a good display area, this would be slightly funnier right next to your house -but, works just fine with a sign.