Time to throw an end-of-year party! Thank heavens! The school year is finally coming to an end.
Unfortunately, this still isn't the time to hide in the faculty room with contraband Diet Coke.
It's time for planning an End-of-Year Party! Yay!
Sometimes -like, all the time, asking kids to wait can be very difficult. My four-year-old has asked me EVERY DAY all year if it's his birthday.
I'm sure that was the motivation behind paper chains.
Cheap, easy, and quick: make one for each child or one for the classroom. You can count down to the end of the year or to the day of your party.
Michael's is a great site for lots of paper colors, by the way.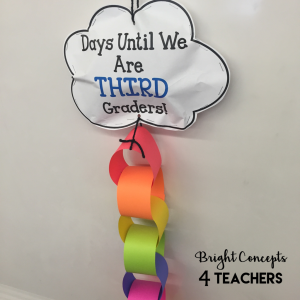 Have you heard of yearbooks? Some schools print out cute versions, even for younger grades.
Whether your students have ordered one or not, check out this beach ball-signing idea for your end-of-year party.
The kids can use the ball during the upcoming summer. They can practice handwriting skills during signing. Finally, they'll all have fun defacing something with permanent markers.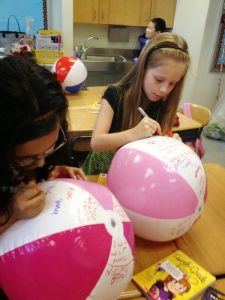 What's looking forward to summer without a reading list?
This is the ultimate in reading lists; with a chart of whom they may read to, questions about what they learned, and coloring pages from the books.
To the teachers or parents putting them together: don't get too print-happy and forget to include a list of good books.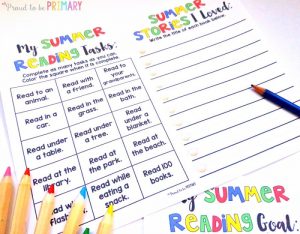 Since we're on the subject of reading and books, let's look at bookmarks.
Any fool can wrap packing tape around a rectangle cut from an old greeting card. Hey -that might be a good idea, too.
We're looking for end-of-year party ideas for school, though. Let's have each kid stand in front of a background pretending to hold a rope. After taking everyone's picture, a helpful parent volunteer may then cut them out and add the "rope" that's a tassel.
Add laminating and more trimming, and they're set to be stuck in between pages.
As a standalone gift or to complement a gifted book, these will be a big hit.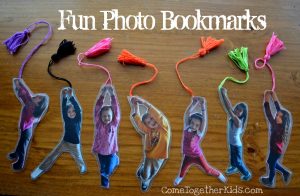 Reading is such an important part of learning. Not all kids may enjoy it, though.
How about a book-themed party? We're not just going to read, though. We're going to bring the books to life.
Just think: have pupils color pictures during Harold and the Purple Crayon, eat rainbow cake as you show them Stripes, or examine some Australian artifacts for Alexander and the Terrible, No Good, Very Bad Day. This is a perfect end-of-year party to kick off the summer while simultaneously getting your kids reading!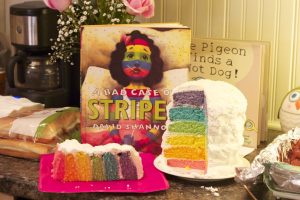 All of my kids have been helping with end of day cleanups in their classrooms. I must say, their rooms and desks have never been better.
As a fun twist on that concept, I love this blowing bubbles cleaning suggestion.
Have each child bring a rag from home. The supplies you'll need include dish soap, water, a washtub, and straws.
Thanks to years of pan-washing practice, I'm sure you know how to get a bubbly mess in the washtub. Next is to set a small puddle in the middle of each kid's desk. Thirdly, they'll all need to be armed with straws and lots of hot air.
Once they've had their fun and are starting to stab each other, turn them loose scrubbing desks and chairs.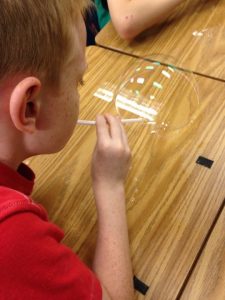 For Christmas last year, my son's kindergarten teacher gave each child a recipe book. Each page was a picture of the child with his or her version of how to make something.
It was THE CUTEST thing I have ever seen, because the teacher/parent/whoever put it together wrote them down word-for-word. My son's friend's recipe for a dessert, for example, involved "cooking cookies for a really long time, like 5 hours."
If you have the time, this is a really great idea and present for departing students.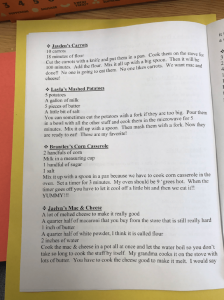 These suggestions are all well and good if you need gifts. We need some games, too.
Have you ever seen "Minute to Win It?" People are crazy about it, and miniature people are no exception.
There are many really inexpensive ideas for contests, like stacking plastic cups and sucking up objects. Have tables compete against each other for the glory of the classroom!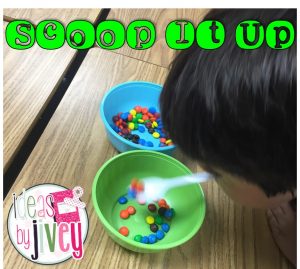 We need some more time-consuming ideas. Something that boosts self-confidence and builds friendships would be perfect.
Try these "Garden of Greatness" flowers. Each center is a child's name, and each petal is something they are great at.
Friends may make them for each other, kids may for themselves, or the teacher can list some for the room parent to write up. After that, stapling will be your friend.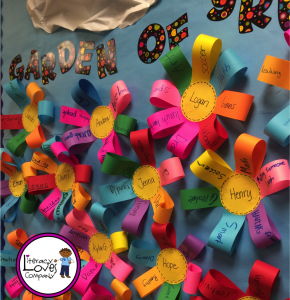 I have a final, parting present for you: the summer bucket.
The bucket and shovel will help the kids look forward to sandy times once school is out. Meanwhile, the contents inside will sneakily help them pass the time in educational ways.
Fill them with coloring tools like crayons; and with packets, flash cards, and simple games that are printable.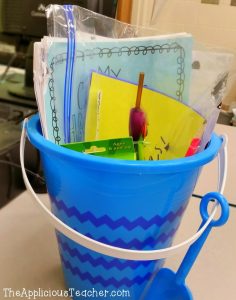 The end is near! Visit these websites and get partying:
6. Diary of a Not So Wimpy Teacher