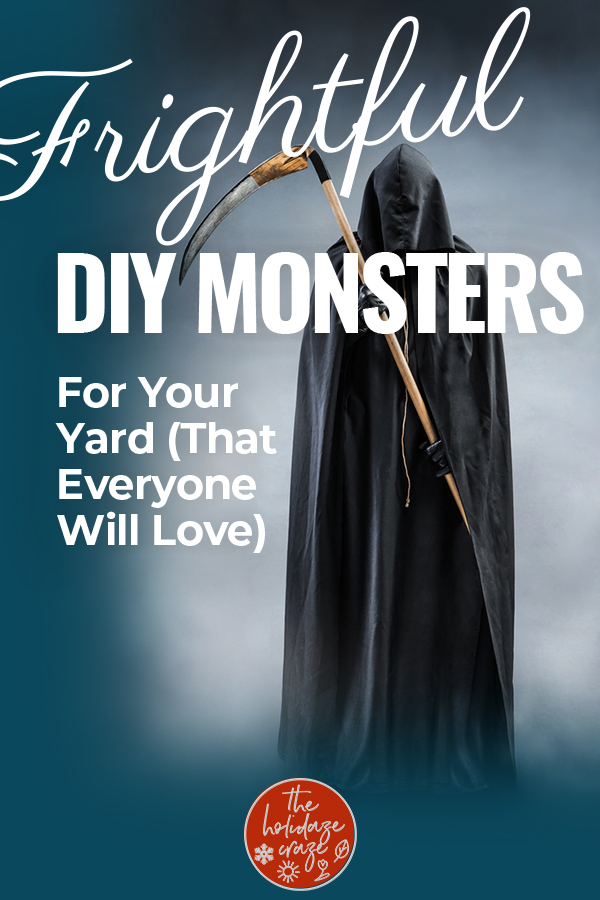 If you're a DIY lover, then I've got some awesome projects for you! These projects are all DIY monsters that you can place in your yard to up your Halloween game. You can modify these to make them as large and scary as you'd like, and most of them are made from materials you can find at your local home improvement store. So grab your glue gun, a hammer, and nails, and get going!
Frightful DIY Monsters For Your Yard (That Everyone Will Love)
Idea 01: Grim Reaper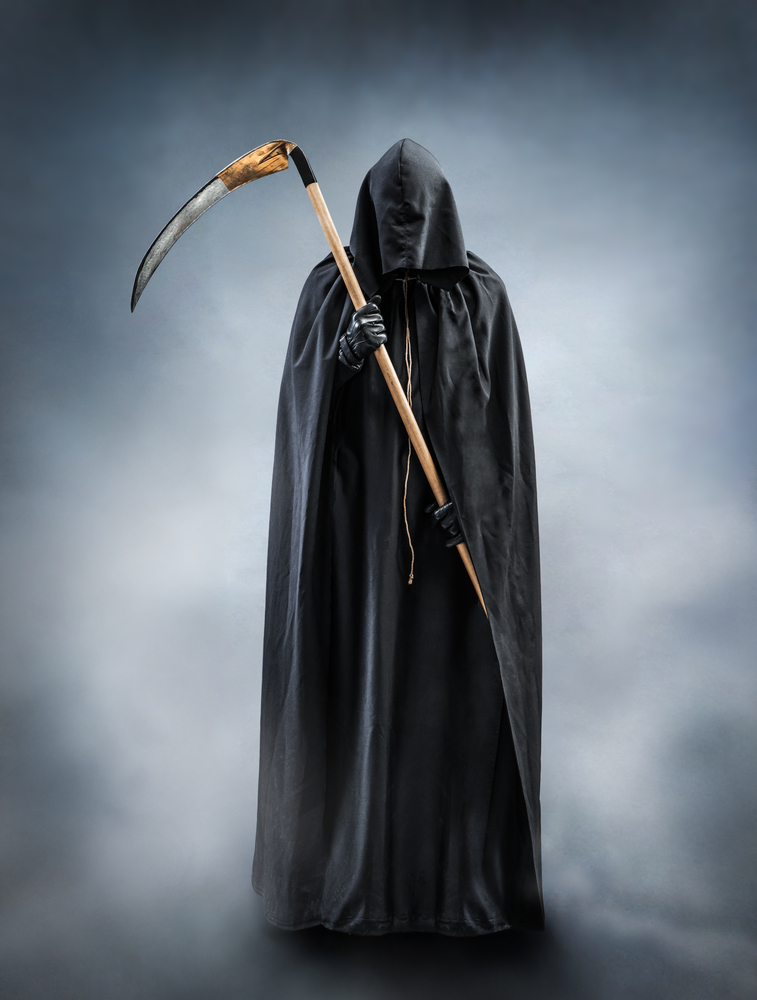 Materials:
PVC Pipe and various joints (length will depend on the size you desire)
4 PVC elbows (for shoulders and elbows)
2'x2′ baseboard
Chicken wire (about 1m, maybe more)
Black cloth (9 m, alternatively you could purchase this cloak)
Screws and braces
Shelf brackets
Process:
Start by deciding how tall you want your Grim and cutting your PVC accordingly. In my opinion, taller is always better because then it can tower over people. When we made ours, we used a 6′ long piece as the "spine/legs." Once you have your height figured out, attach it to the baseboard with some shelf brackets so that the Grim is stable.
Next, cut pieces for the shoulders, biceps, and forearms. I'd suggest about 3′ for the shoulders, 2′ for the biceps, and 2′ for the forearms. This is definitely one where you need to play with the proportions to get it right. Attach the shoulders, biceps, and forearms with the appropriate joints.
Then comes the hard part: forming the body. Start by draping the chicken wire over the main stalk of PVC and resting it on Grim's shoulders. Then, bend the wire into your desired shape for the chest and cloak. Don't be afraid to give Grim some girth, it'll make him look intimidating. If you need help getting your chicken wire to stay put, try using some zip ties or duct tape.
Last, place the foam head on the top of the shoulders by pushing it onto the PVC pipe. Then all you've got left to do is add your cloak and miscellaneous materials! Attach the lantern to one hand and the scythe to the other using duct tape or zip ties. If you need to cover a few things, try grabbing some of this gauzy fabric for the face and hands.
If you want to make something a little less scary, try putting a pumpkin on instead of the foam head and dressing the PVC frame in scarecrow clothes.
Idea 02: Giant Spiders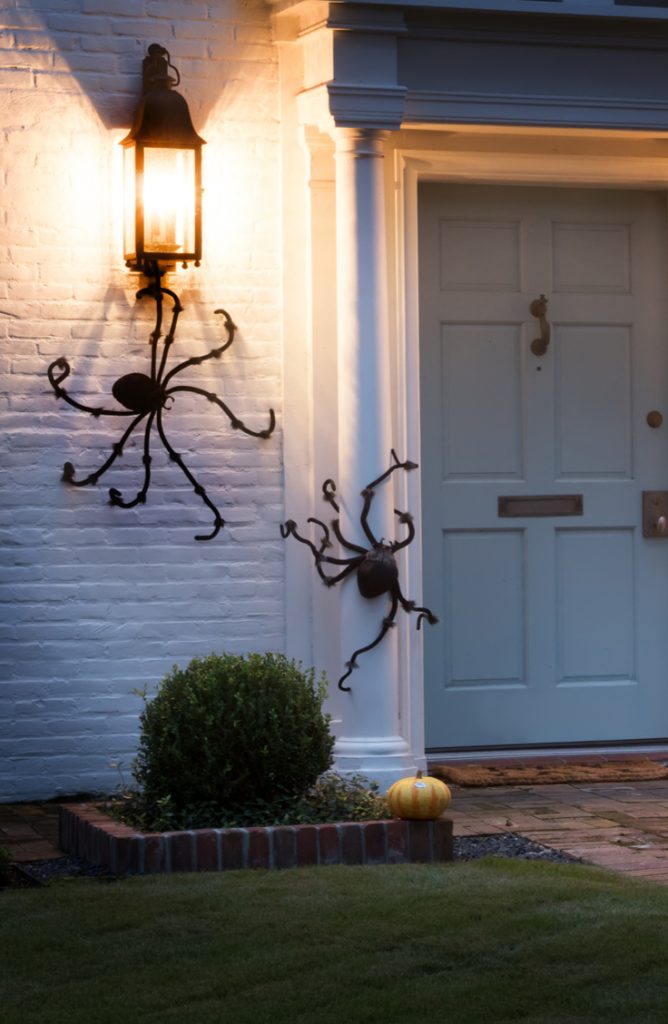 If you want something a little more versatile, try these spiders on for size! These are some of my favorite DIY monsters.
Materials:
Process:
Begin by cutting the nylons apart. Then, stuff a decent amount of Poly-fill into the toe of the nylon. The more you put, the larger the spider. You have the option to make your spider more anatomically correct by adding in the different sections, but I opted to just do a large abdomen.
When you have the abdomen your desired size, tie the nylon in a knot to keep the Poly-fill from coming out. If you made your spider a decent size, chances are you've got a decent amount of white showing through. If that's the case, simply invert the stocking over the abdomen to give it a double layer and tie it one more time on the opposite end. Then put a dab of hot glue on each knot to help things stay secure.
Next, add your legs! Depending on the size of the spider you're making, you can have each length of pipe cleaner be one joint or multiple. Play around with the proportions until you find what works for you. To adhere the legs, push them through the side of the abdomen and give the cleaner a good bend so that it doesn't come right back out. Then bend, twist, and knot until you have 8 legs that bring your spider to life!
Lastly, you can add eyes, but I prefer to just glue two pieces of 1″ pipe cleaner on the front for pinchers. Insert a little fishing line to hang and you're in business!
Idea 03: Ghosty Guys
If you have some trees in your yard, then these are perfect!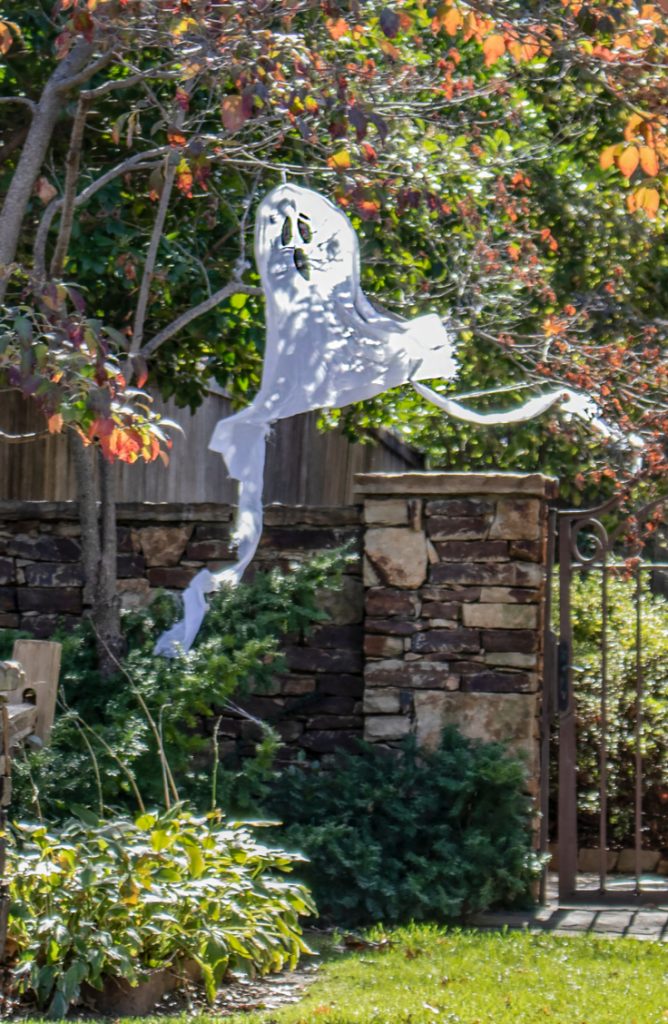 Materials:
Large foam balls (or foam head)
Wire mesh (if desired)
Black permanent marker
Fishing line & basting needle
Low-temp hot glue gun and glue
Alternatively, you can use white balloons with glue sticks inside to give your ghosts a little glow.
Process:
Start by cutting the white gauze into the preferred size. You can have the gauze drape a little or a lot, and if you vary the size of the foam ball, it can also change up the sizing. Don't stress about clean edges, it looks better if it's a little rough. When you've cut the gauze, set aside.
Then, if you want to give the ghosts a little bit of form, drape a length of the wire mesh over the top of the foam ball and adhere with hot glue. When the glue is dry, bend and fold the wire mesh until you have your desired shape. Next, drape the white gauze over the top of the mesh and adhere with a little more glue if needed.
Last, draw in some ovals for eyes and a mouth and you're done! To hang, thread a basting need with some clear fishing line and poke through the top of the foam ball.
Now that you've got some basics down, feel free to modify and make it your own! Have fun making your yard the best on the block with these DIY monsters, and Happy Halloween!