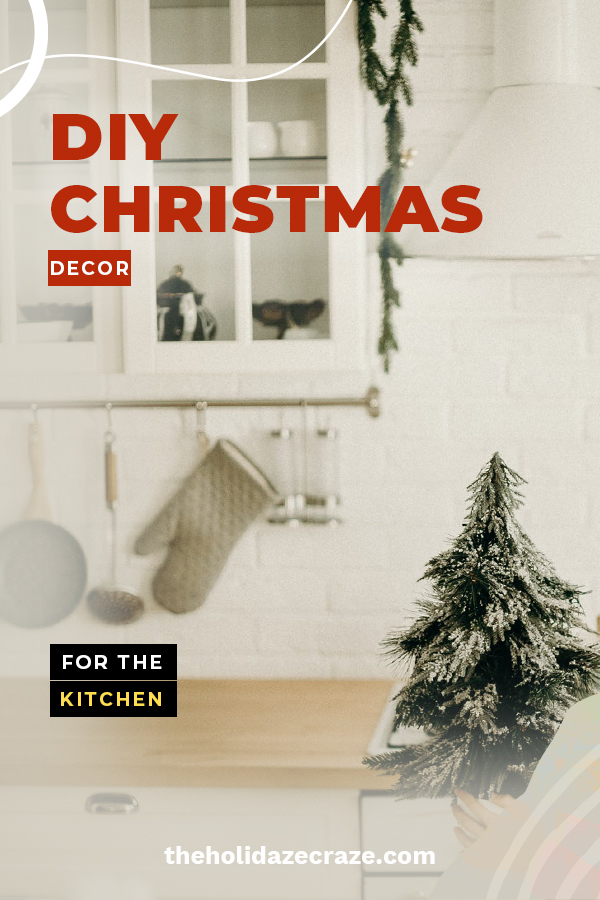 I remember visiting a neighbor when I was first married, and poor. It must have been sometime in November, because her home was Christmas-themed.
I'm not talking about a tree in the corner and some mistletoe at the window, either.
This woman had a tree, yes. She had year-round ornaments she traded out for each holiday. Her cookie jar had an interchangeable lid as well. Things hung from the curtain rod. Ribbons adorned the cupboard doors.
That was the day I learned that people do more than slip a wreath on their front door twice a year.
Yes, Christmas decor can be more than throwing up a tree in the living room!
Since then, I've graduated to …decorating the mantel. I think, however, that I could decorate the kitchen. I'll just slide a few dishes out of the way, and get started.
Hmm -what about the traditional Christmas tree idea? Too big?
I love tiny things, and a tiny tree would work out perfectly on the counter. Maybe I could make it Santa-themed, and part of a tea set.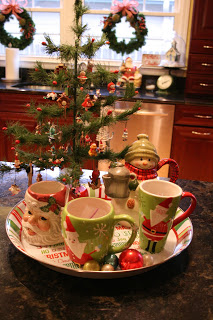 Here's an area I've never considered: the doorway. I've just been walking through mine.
I know, from a messy experience a few years ago, that those pine garlands are over at Costco. I recommend a fake one if you don't like needles.
Then, use the magic of Command hooks or permanent screw-in stuff to hang it. I also like the idea of attaching Christmas cards once its hung.
This is a super easy way to make your Christmas decor throughout your home more obvious.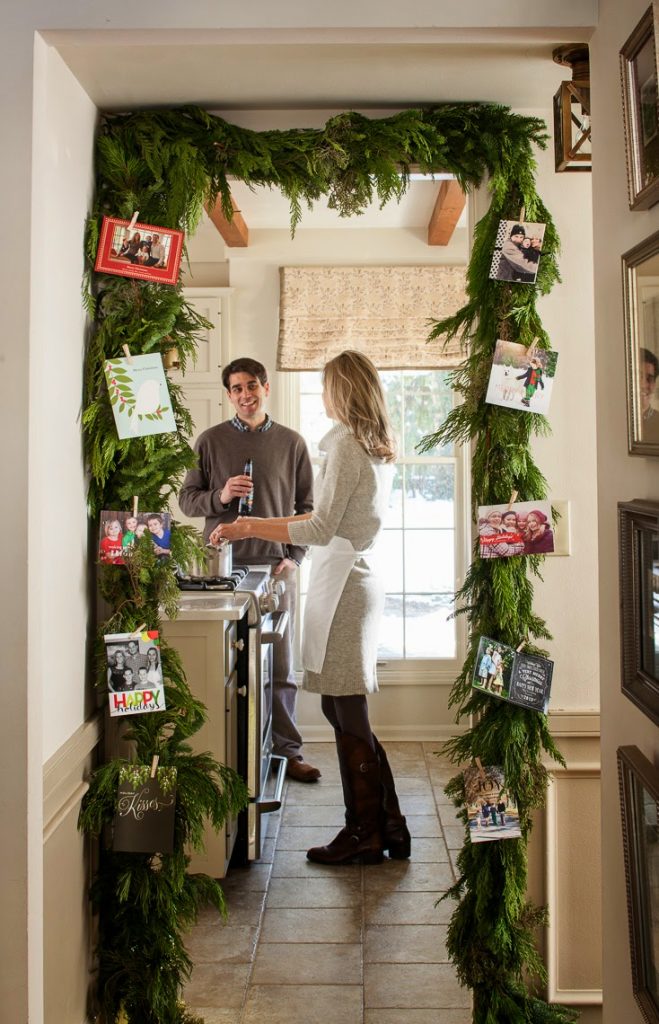 Do you have a top-bottom refrigerator? Then you are just waiting to dress it up this winter.
Typical snowman supplies can be found as a sticker set, or you and your happy builders can tape your own paper shapes up.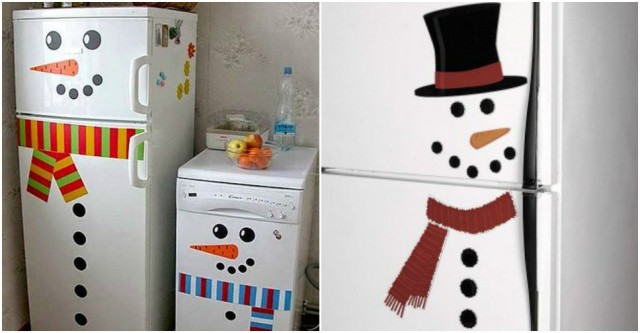 Remember that tea set idea waay back three ideas ago? What if you expounded on that with a Coffee or Tea Bar?
Besides a vintage tiered tray like the one pictured, you'll want some trendy mugs. Add sugar, creamers, candy canes, tea bags, and spices.
Are most of your house guests a bit young for a cup of joe? Make it a hot cocoa setup instead. Either way, this idea is a subtle, easy way to spruce up your home's Christmas decor.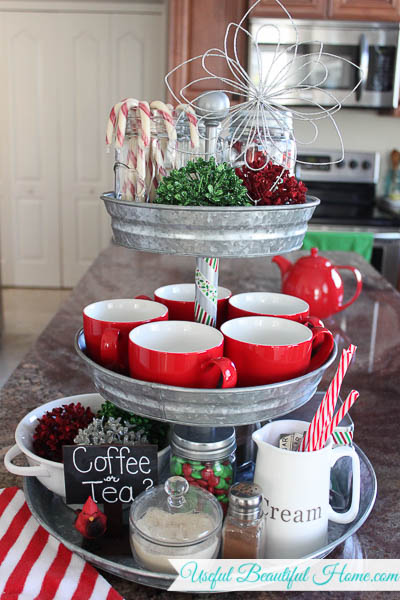 I know that you're also itching to do something with those outside windows of yours.
If you've already got curtains, would you consider making room for some ribboned wreaths?
They're simple, subtle, and seasonal. These are easy to put up and take down which makes them a great way to fill your home with practical Christmas decor.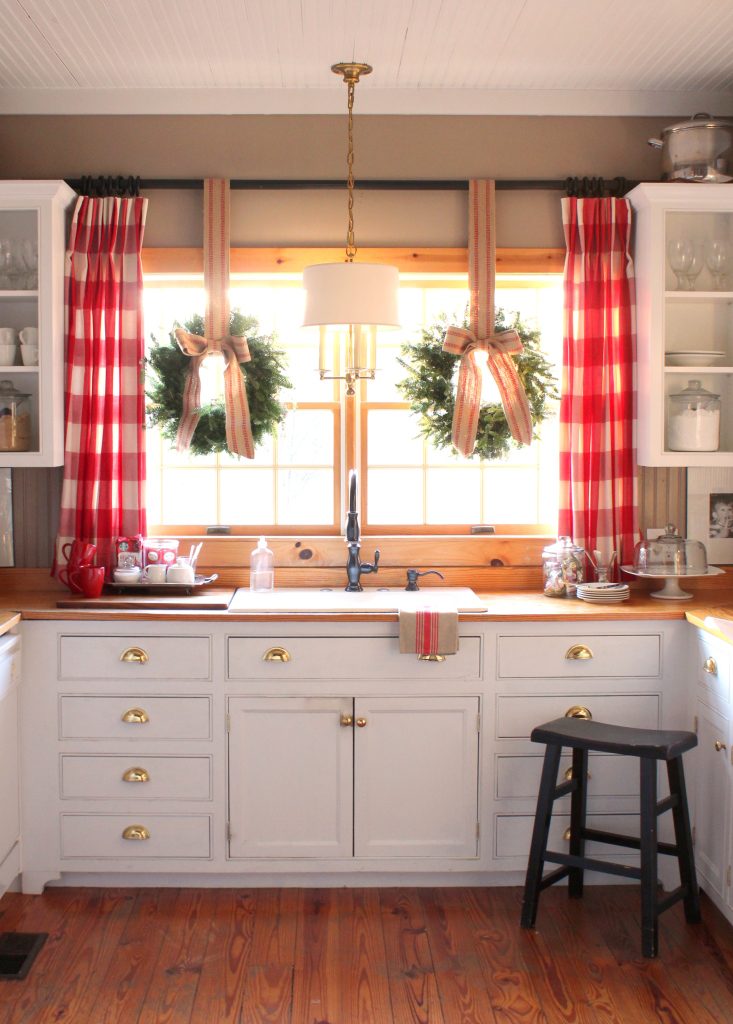 Every year growing up, my mother would collect her Christmas cards and tape them in our entryway. I loved the cascading greetings, and vowed to do the same when I was an adult.
Unfortunately, that is all I ever do. I tape them up the wall, and there they hang.
I have cupboards; why not use them for more than hiding the disarray inside? Why not tie a ribbon around the door and clothespin my cards that way? It's more decorative than tape, after all.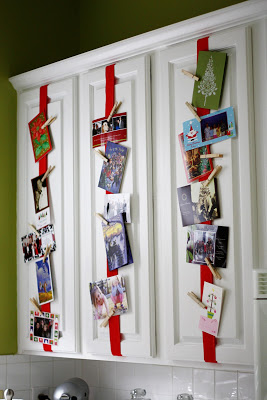 Speaking of those unused cupboards, what about this?
I can safely say I haven't seen this idea before, but why not?
Take a break from wrapping Santa surprises and package up a cupboard instead. Maybe everyone will feel he's unwrapping a special something when he gets a glass for water.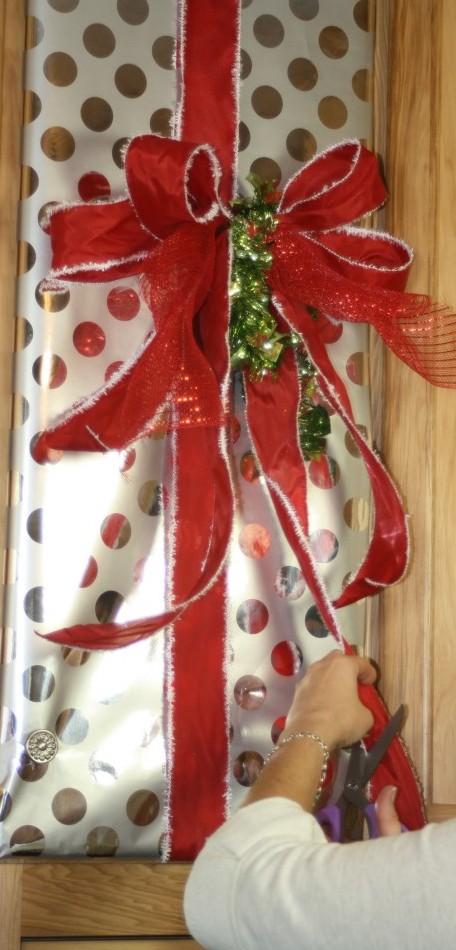 My, my! We must all have cupboards in our kitchens.
I'm so happy House of Décor has suggested this drapey garland, because I just haven't put anything on top of mine since fake grapes went out of style.
I like the Christmas additions as well, like the giant ornaments and peppermint candies.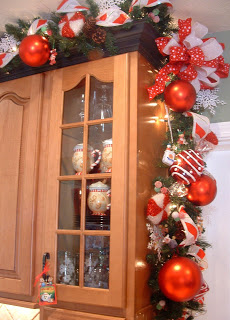 If there is just one idea I can commit to, it will be this one. Look how simple it is!
You'll need fake holly berry accents, string, and ornaments. Oh, and a light to hang them from.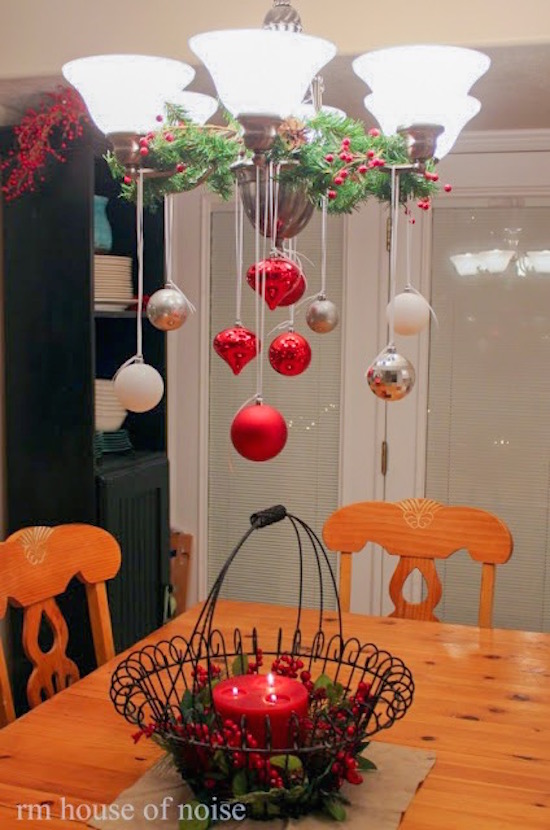 Going back to that great window you have, maybe you don't like the wreaths idea. Maybe you did that one already.
Consider, instead, these simple ornaments and natural, unadorned miniature Christmas trees.
The whole thing gives a natural, cabin-like feel to the kitchen.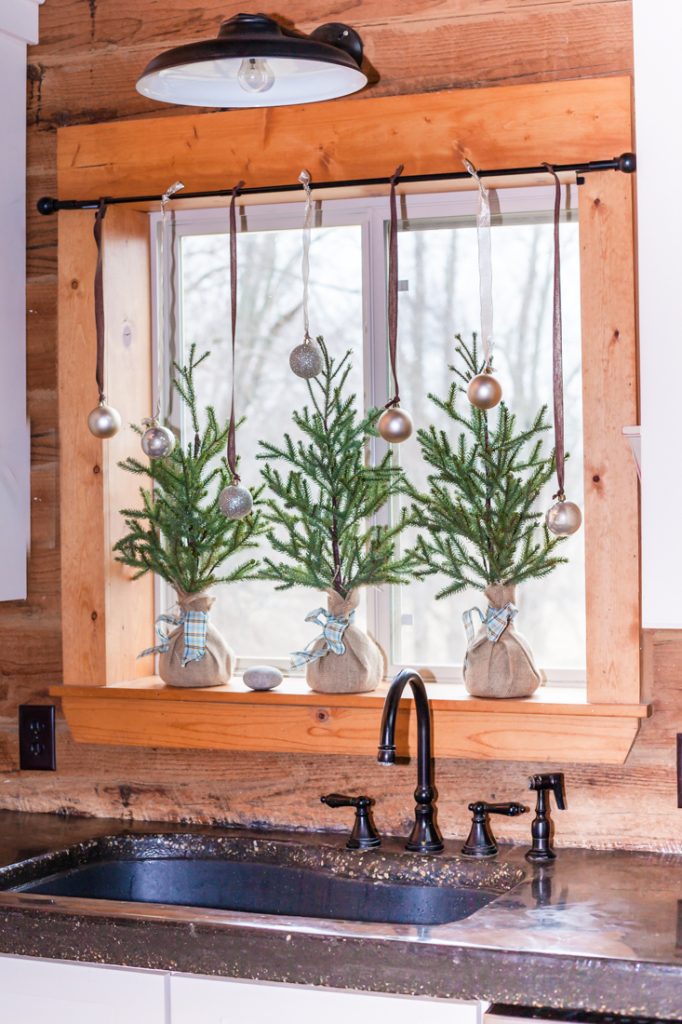 If we're not going to hang the wreaths by the window, maybe we can do some on the cupboards.
I like the look of these anyway, especially with a white kitchen.
Tie in the colors of your other decorations with the ribbons or wreath accents, and be sure to secure them well on the inside of the door.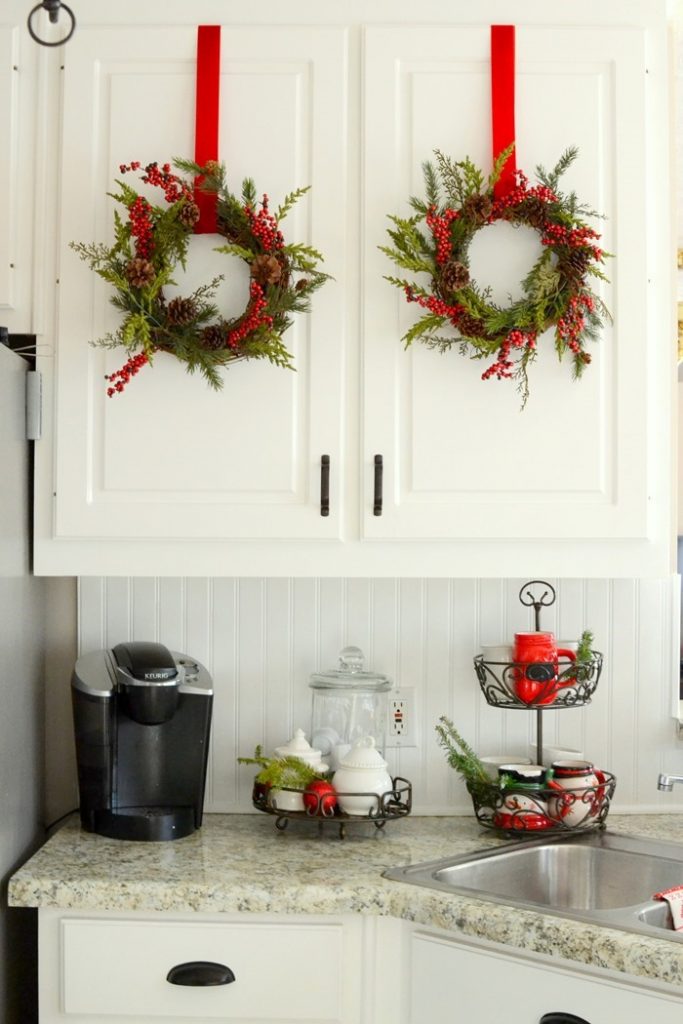 When it comes to decorating, I am a fan of a simple look. It's not just because I'm lazy and busy, either.
I love the white curtains, the metal pot for the tree, and the single lighted star in this picture.
I'm going to get one from IKEA and use it in my kitchen this year. Hopefully, the rest of that setup will come when I can afford that kitchen.