Often when I attend parties, I want to try all the food. It's a bit of a weakness I have.
Most people stick to a standard of 8 slices to a pie, a spatula-size to a cake, and enough servings of non-dessert that I'm already full before the pie and cake.
I am, therefore, a HUGE fan of bite-sized fare. What better way to sample everything, and trick yourself into thinking there's less weight gain?
I especially feel healthy where cucumber is concerned.
These crispy, fresh bite-sized pieces of watery vegetable leave me patting myself on the taste buds that I ate so well, and so deliciously.
To make these gorgeous little snacks; you'll need cucumber slices and filling, with a half-cherry tomato for garnish. The filling ingredients include cream cheese, mayonnaise, light ranch, dill, garlic salt, and black pepper.
I'd recommend piping it out, as pictured, for a fancy look.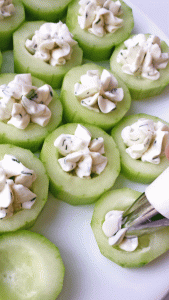 What could possibly be better than shrimp tacos? You guessed it: BITE-SIZED shrimp tacos!
Super simple, cut-out taco shells are the key to these tacoritos, plus some adobo chipotle sauce and pico de gallo.
All you do is cut biscuit-sized circles in existing flour tortillas and bake them. Then, fry up some chopped prawns with garlic and oil and then drop them in with the sauces.
There's nothing shrimpy about the taste of these. Make them, and you'll see!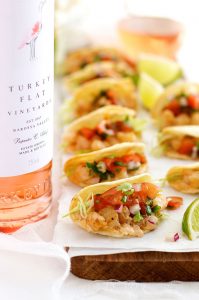 Now that you're a pro at "homemade" bite-sized tortillas, you'll be able to bake up some mini deep dish pizzas.
Yep! The "crust" for these is a tortilla. They've been assembled and baked in a muffin tin.
These are so simple! You could even craft a few for an after-school snack for kids in a few minutes. Just be sure you also have pizza sauce (we use cheap spaghetti sauce at our place), shredded mozzarella, and toppings.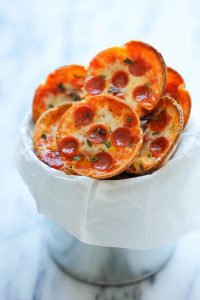 We've gotten a few of those healthy items out of the way, so I can introduce something sweeter.
These are no-bake, white chocolate fairy cakes. Now, there's a phrase that gets you salivating by the time you've said it all!
They're part of a top-secret recipe involving Sara Lee pound cake and melted white chocolate. -Oh, and sprinkles.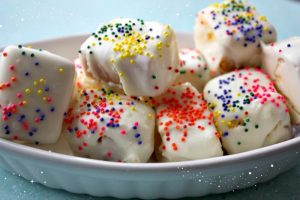 We're so good at bite-sized, we can even do breakfast. Things like pancakes and crêpes are easy to make smaller: just pour less batter.
Want to shrink the eggs and potatoes as well? Try out some Salsa Egg Bites.
These muffin-like mixtures of eggs, salsa, shredded potato, and cheese will make your party sunny-side up.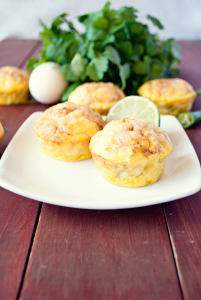 Another meatless way to get some veggies is with this bite-sized Chipotle Mushroom Zucchini Roll.
It sure looks tasty, doesn't it?
Besides zucchini and mushrooms, it uses a can of chipotle peppers in adobo sauce and garlic and onion.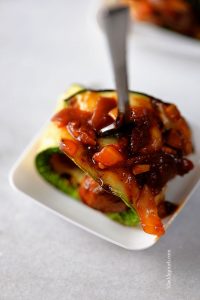 I'm all about pain-free preparation for parties. If you haven't got a lot of prep time, those fairy cakes and pizza bites are good ones to plan.
Want a third option? Check out this fried mozzarella.
Bocconcini is rolled in egg, then flour and breadcrumbs. The final step is frying.
Actually, the final step is eating. Yum!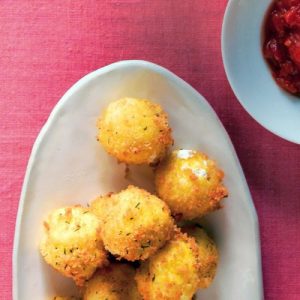 I'm beginning to see a trend in my laziness here, because these BaNilla Sandwich Cookies are also a quick whip-up.
You probably can't tell from the pictures, but they're a matter of sandwiching peanut butter and a banana slice between two Nilla Wafers.
Hide the evidence with sprinkles, and serve before the bananas brown and the cookies soften.
My family's favorite way to eat hamburgers is on a miniature scale. We just don't like all the toppings sliding out of over-large burgers.
My in-depth searching of about five minutes has indicated that the best way to get buns that size is by altering existing rolls. You can make your own, or pull out some refrigerator-type dough.
After that, just make all the toppings tiny. Stab them all with a toothpick to keep things together.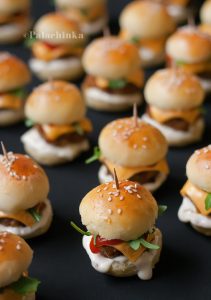 We may be in favor of fast and simple here, but I'm also fine with showmanship.
I threw these Caprese Skewers with Balsamic Drizzle on here for just that reason. They look super tasty, too, of course.
Spoiler alert: they are also quick and easy.
Just skewer a grape or cherry tomato, mini mozzarella cheese ball, and a fresh basil leaf. The drizzle is balsamic vinegar.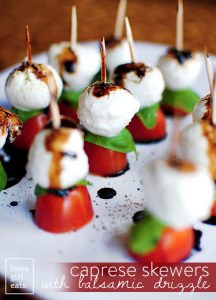 Want the detailed versions of these tasty foods and treats? Visit these websites:
4. Madame Deals, Amazon
6. Add a Pinch
7. Delish
10. Iowa Girl Eats