America's children's expensive pastime: American Girl Dolls. What little doll-lover wouldn't want a full-on birthday party with her plastic friend? You may be scratching your head over decorating options, but don't you worry. Most American Girl Doll birthday party ideas use reds and pinks, plus the company's iconic star shape.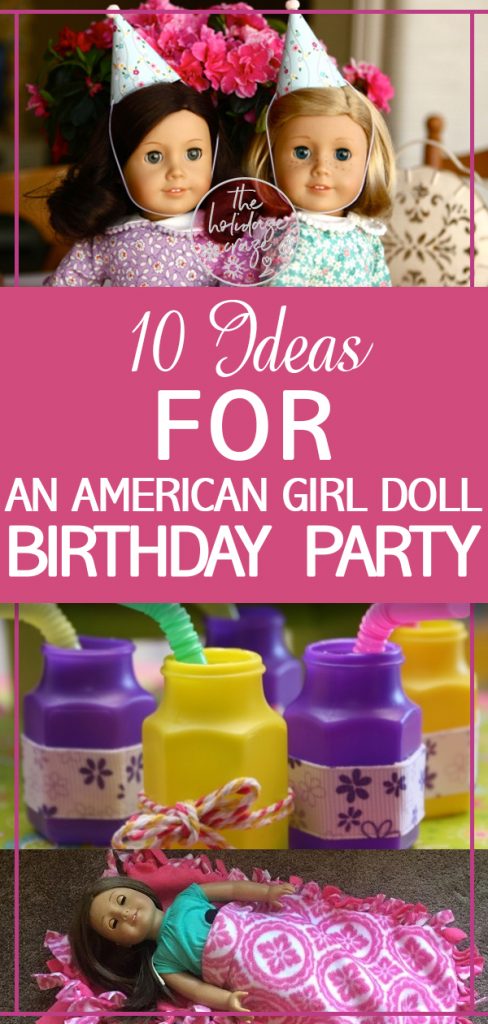 American Girl Doll Birthday Party Ideas
Check out this simple banner, for starters. It's made with circle diecuts, that star, and cute lettering.
There's just something happy and fun about a tissue paper flower in a trophy vase. I think it looks like ice cream.
Since those flowers are very simple to make, all you need is a vase. I'd stick a sequined star shape on the outside, too, to tie it in with our theme.
This will look perfect on the food table, where you can even serve ice cream.
Pinks and reds are all well and good, but adding a little blue never hurt anybody. It's complementary -well, probably analogous.
Anyway -they look cute together. I especially like the flower spheres as centerpieces, and those fluffy tutu stools for sitting. I think I saw flowers just like that over at Michael's.
A really cute idea is to make a table for guests, and a matching miniature table for their dolls. You invited their dolls, too, didn't you?
Now that we're on the topic, I think miniature food would also be appropriate.
I saw many ideas where parents made cute party food for guests; then tiny, plastic food for their friends. I thought, Why not make ALL the food tiny?
I loved mini versions of things as a child, and know that your birthday girl's living and pretend friends will, too.
After prepping for this party, you're going to see stars everywhere.
You may as well accept your fate, and cut out some sugar cookies. Have the girls decorate their own, or stick with red, pink, and white when you frost them.
Star cookies taste better anyway.
More Birthday Party Ideas Continued
I don't know about you, but I find doll-sized versions of everything a bit tricky to find. That, and expensive.
If you've already sprung for official merchandise options, that's cool. If not, check out these doll drinks with straws.
The secret? Tiny bubbles containers and cut straws. Just glue craft paper or tie a bow around each and no one will ever know.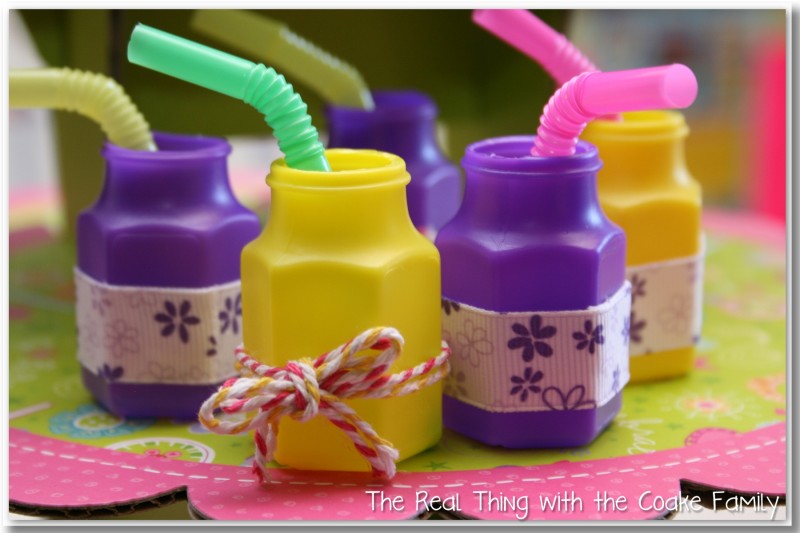 No American Girl doll partay is complete without activities both sorts of guests can do, too.
I was considering some sort of sports competition, but think making matching bracelets might be a better option. All you'll need is beads and two lengths of string: one for the girl, and one for her doll.
The fanciness of the jewelry will depend on what beads you're willing to buy.
After an exhausting party; your Samantha, Kaya, Molly, Felicity, etc. might need a nap.
That's why this next craft idea is perfect! It's a personalized AG Doll sleeping bag!
No-sew fleece is your friend for this one. It's attached together with those knots all around the edges.
If you're looking for games to play as well, here's a simple printable one.
It's a word search! Yay! Who doesn't love word searches?
All right, all right: just play a bunch of party games and have the dolls participate.
A miniature American Girl Doll store bag makes an adorable goodie bag.
I also liked these color-themed gumballs. Each has a tiny, edible star stuck to it.
Are you stuck on where to pick up gumballs in the colors you need?
Dress your dolls; it's time to party! Click below to begin planning:
2. Catch My Party, Amazon
3. Kara's Party Ideas, Michael's
6. The Real Thing with the Coake Family
7. Melissa Nesdahl: Fill My Cup