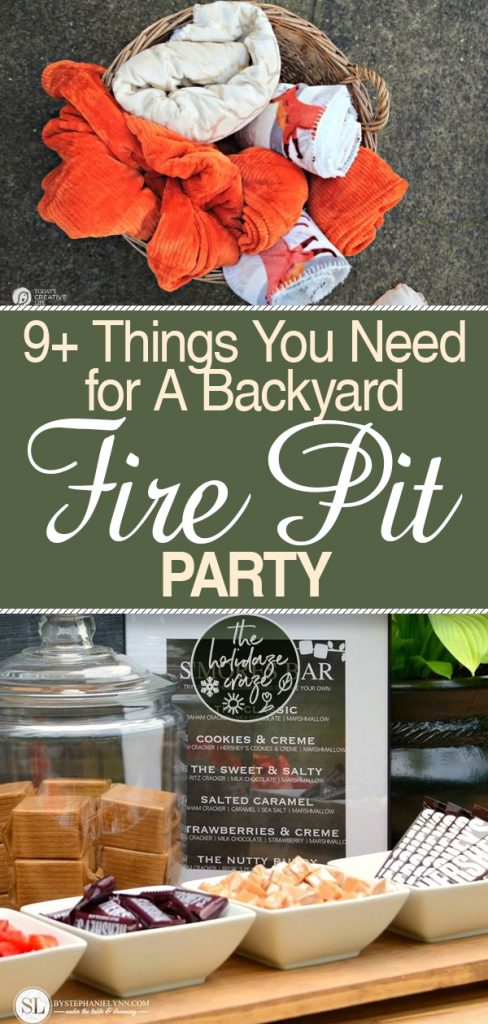 There's nothing that brings more people together than fire.
We'll keep it legal and start one in an actual, designated pit for our party. Then, why not invite over the neighbors?
Yep, it's time for one of my favorite backyard party ideas: ummm… fire?
Whoever you invite to join in the pleasantries might like an invitation, so they don't panic at the sight of smoke. I'm fond of this blue one: Fun by the Fire!
You could also type an invitation on rough paper and burn the edges. Up to you.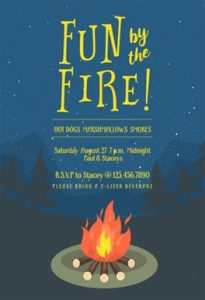 Whoa -wait. What if you don't have a fire pit?
Calm down. You can buy one, pay a contractor a ton of money to put one in for you, or spend a few summers putting one in your backyard.
Before you give up and beg your rich neighbor to host, I found this DIY model.
You'll need to buy a metal ring, small stones for filler, blocks for the walls, flat slabs for the top (cut to fit), and outside landscape block glue (it's a real thing).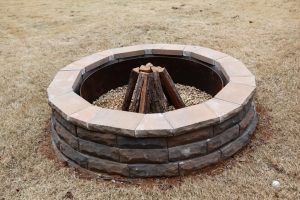 Most outdoor party ideas come to fruition in the summer. Warm weather makes for more pleasant outside parties, after all.
Whether it's July or March (hopefully July), visitors may get chilly as the sun goes down. I recommend throwing out a basket of blankets. I'm a big fan of these beach blankets and firmly believe you can never have too many.
Michael's has fabric to custom-make your own, or any store that sells blankets has cheap throws. Also make sure everyone has seating! Sitting on the ground can be fun, but only for so long.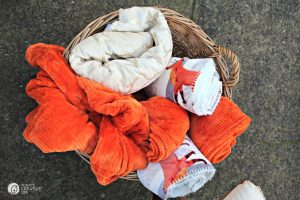 Speaking of summer nights, have I found a neat idea for you! These are battery-powered tea lights in Mason jars.
Really crafty party hosts can get fancy with the hooks, holders, and chains. Once the sun sets, though, people will only be able to see the lights. Want something a bit less DIY? Check out these cute fairy lights.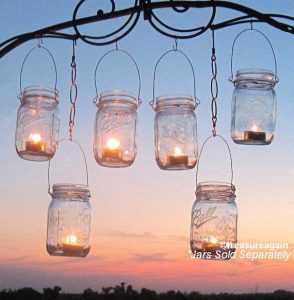 Any proper party has food, or it doesn't last very long. That's why people dread attending company meetings, after all.
Fortunately, a common piece of backyard equipment is a grill. That, or the fire pit itself.
Look up a few favorites that can be cooked over fire, like these Hawaiian Chicken Kebabs.
Their sauce is made from ketchup, brown sugar, soy sauce, pineapple juice, olive oil, rice vinegar, garlic cloves, ginger, and sesame oil. After an hour's marinade, they're ready for stabbing. I recommend impaling them with pineapple chunks, green bell pepper pieces, and red onion squares.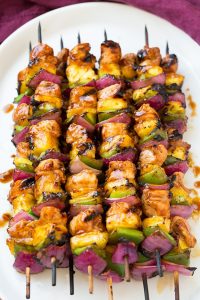 Another tasty fire-made food is Mexican street corn.
Ears of corn are grilled for about 12-15 minutes total, cooled, then dipped in a special sauce and rolled in cotija or Parmesan cheese.
Start everyone's mouth watering by picking up corn, mayonnaise, sour cream, lime juice, chili powder, cumin, cotija, and limes from the store.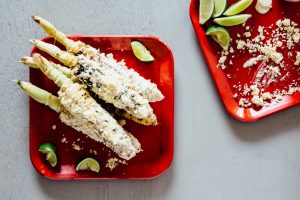 All that heat and smoke is bound to make guests thirsty.
Wow them all with this raspberry sherbet punch. It's a mix of Sprite, club soda, a thawed can of fruit punch concentrate, one of pineapple juice concentrate, and scoops of raspberry sherbet.
Serve it in a punch bowl or drink dispenser, and garnish with fresh pineapple and raspberries.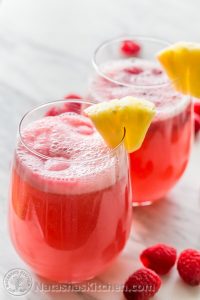 A couple of cold ones sound good after a hot day as well. So, what would you say if we made the drinks really cold?
These blueberry basil martini popsicles take some preparation the morning of, so they have time to freeze. Also, be sure to only serve them to adults.
The ingredients are water, sugar, basil leaves, fresh blueberries, lemon juice, and vodka.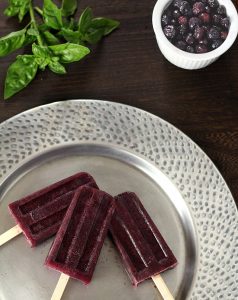 Whenever I think of fire and food, I think of S'Mores. I hadn't ever considered a S'Mores Bar, however.
I mean, why hadn't I?! This is a fantastic idea.
Simply gather together the most common things your friends might want to top their marshmallow sandwiches with, and set them out artistically on a serving table. Some ideas include Hershey's milk chocolate and Cookies and Cream pieces, graham crackers, Reese's cups, strawberries, caramel, and crackers.
If you round up some roasters and throw out a few bags of marshmallows, you're set.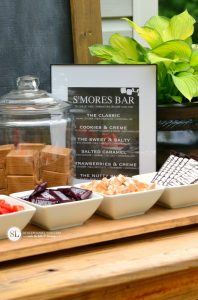 Whether you lay out ingredients for this one or not, I also came across a few recipes for some ….alternative S'Mores.
This one is a Salty Caramel Bacon S'More.
It's formed from graham crackers, bacon, chocolate, marshmallow, and salted caramel. It just might be what someone at your party has been looking for. Regardless of which s'more you choose, make sure everything is stored safely.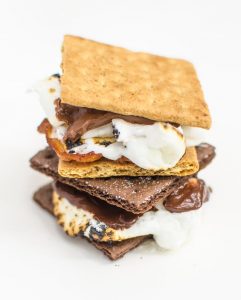 Fire your party up with pointers from these websites:
2. Bower Power, Amazon
3. Today's Creative Life, Michael's
5. Kitchn
10. Kitchn