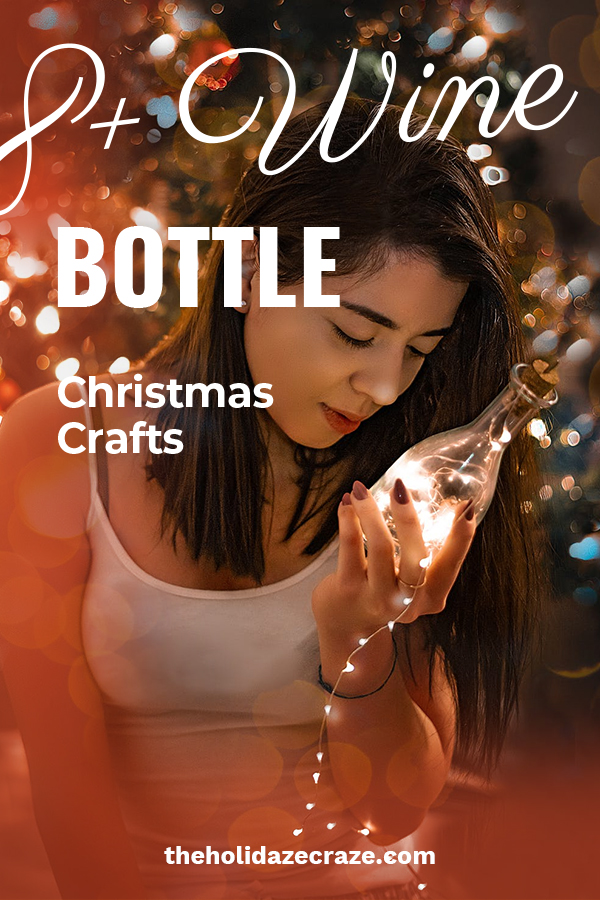 It's the holiday season, so you've probably been stressing out over parties, decorations, and presents.
The good news is that you've also probably gathered a few empties. Maybe you blearily looked them over and thought, I wonder if I could make anything out of these?
You totally can with these wine bottle crafts below!
Like, you could make a centerpiece with a candle!
I love these twine-wrapped bottles so much, I'm pretty much a DIY expert after watching countless videos about them.
Basically, you wrap the bottle in twine, cursing every time it slips off. Actually, as you wrap, you paint some crafting glue across the lined-up rows.
For the finishing touch, pick and paste holiday accents like pine, holly, pine cones, or poinsettia. Stuff a candle in the opening and take a picture to show all your friends.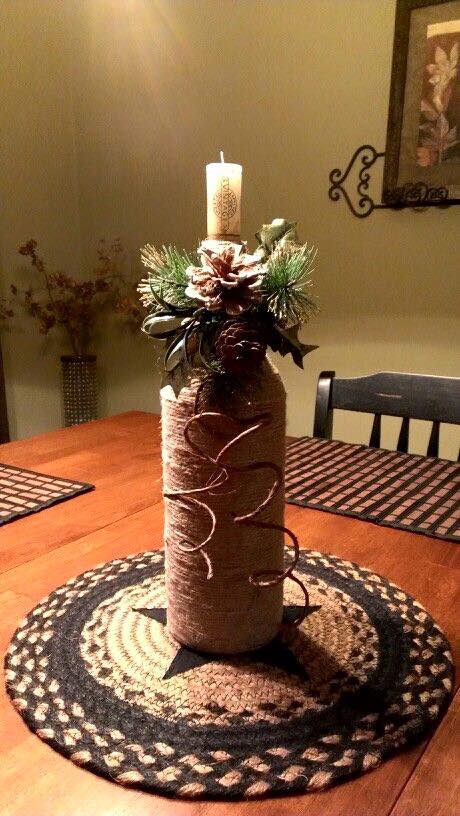 It's the season for comfort and joy, right?
I think "joy" is a great message to send, especially since it's only three letters. That way, you'll only have to sand, paint, and wrap three bottles.
Use the power of vinyl for the J, snowflake, and Y, then the power of hot glue to secure the twine and twigs for these adorable wine bottle crafts.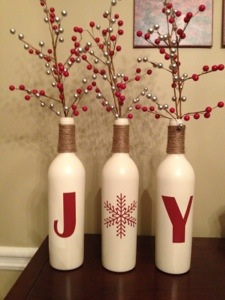 If you know me, you know I'm all about simple. That's why I know the folks over at Life4Up are my best buds in suggesting hats and scarves for a bottle craft.
They got theirs over at World Market, but you could overachieve yourself some homemade ones. This is one of the simplest and easiest of the wine bottle crafts.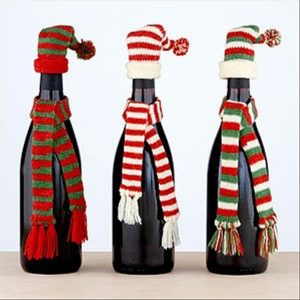 Speaking of overachieving, Through the Yellow Door kept things basic with these Ho Ho Ho wine bottles.
They've been painted to hide the labels. Then, she Mod Podged them up and rolled them in a ton of glitter.
Her letters were premade, but painted red and gray to match their opposing bottle. Notice how her floral accents also match the color scheme.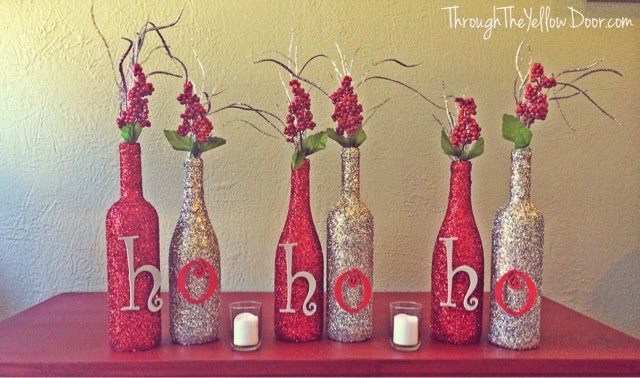 This unseasonably hot year, I have been dreaming of a white Christmas since July.
I guess I'll have to settle for white wine -I mean, for a white wine bottle craft. Our colors are silver and white anyway, so it all works out.
If you want to centerpiece this idea; get some spray adhesive, Epsom salt, and artificial silver accents.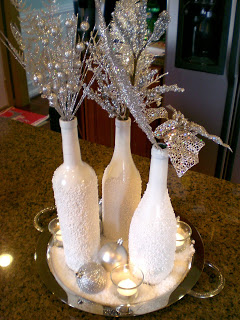 Naturally, this adorable lighted snowman is an Etsy steal.
If you've got art skills, or can settle for a vinyl sticker, make your own. Add some glittery paint here and there for that homemade touch.
The lights are a small strand stuffed inside the bottle. You can go battery-powered, or plug it in out of the top.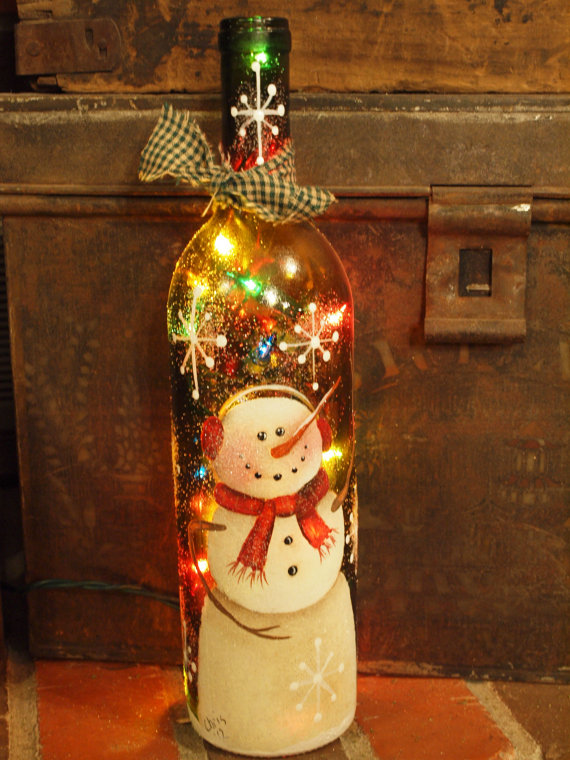 I know, I know: this may not be a Christmas craft. Well, I say it is. You're not separating me and my candle love.
If you're still going to put your foot down, I promise to make it from a green bottle. Maybe I'll tie a red ribbon way up at the top, away from the flame.
I could even hang this inside if I get battery-operated tea lights.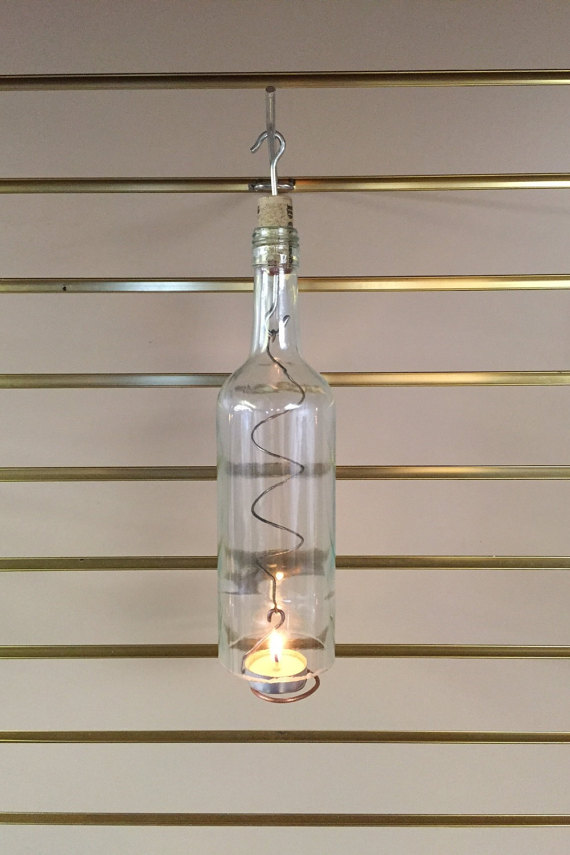 Poppy Penguin here is a popular fellow, turning up on sites all over the place.
It's the googly eyes. No one can resist them.
He's easy to make, too. Just paint up your bottle all penguin-like, then paste on his nose, eyes, feet, hat, and scarf. We even learned that World Market sells tiny winter wear pre-made, remember?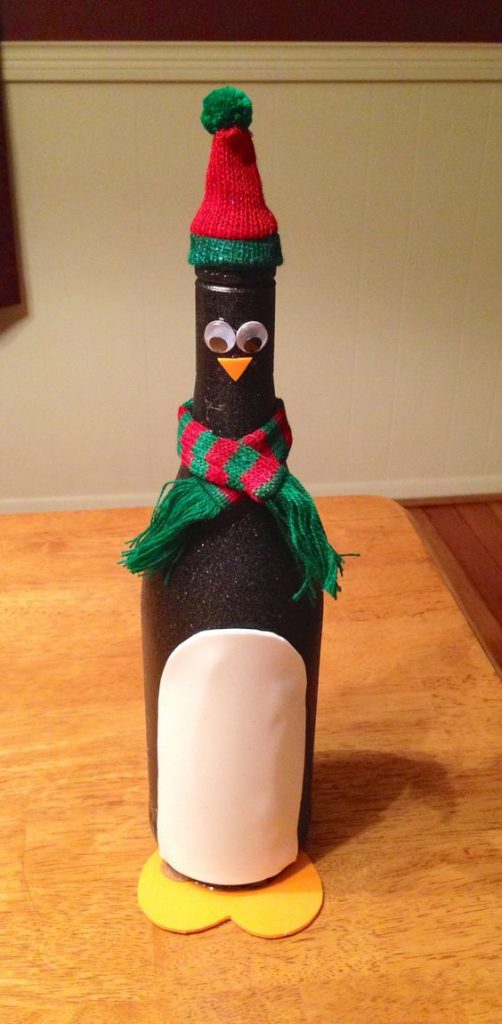 What can I say? I'm an Etsy sucker.
Mostly, I like the muted colors of this Frosty and Santa setup. The aged paint, and twine and cloth accessories look vintage.
I'm sure you could paint up your own if you'd like, too.