We've finally hit 3 centuries: and it's time for a few party ideas! Are you ready to be thirty and flirty and thriving?
Thirty is the best age ever. May as well accept that, and stop arguing. And, to give dissenters the finger, we're throwing a dirty thirty party.
That's not to say we can't be pretty, too. Just look at that pink glam. We're sparkly, baby.
I think pink and glittery is the only way to write "Dirty 30," don't you?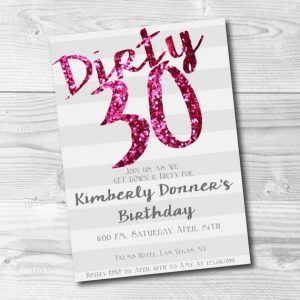 Guess What?! My man (or woman) over at Amazon has practically everything we need for decorating, too. They make party planning a cinch.
This kit has those trendy number balloons everyone's been displaying; plus a banner, swirls, and black and silver balloons.
I'm thinking you could add more of that shimmery pink in background, if you want.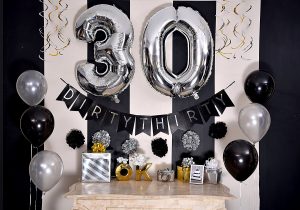 Looks like classy silvers and golds are the chic scheme for getting dirty.
Let's upcycle, too, and reuse some mason jars.
Run over to Michael's for a few flowers, your friend's garage for spray paint, and you're set.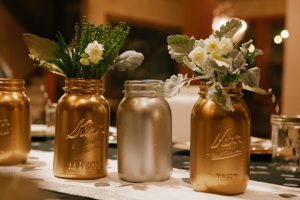 It's probably the pyromaniac inside, but I liked this alternate way of lighting things up for the party.
Still do a cake, by all means, but think about lining up a pack of matches all domino-like to write the number 30.
The best part, of course, will be the burning.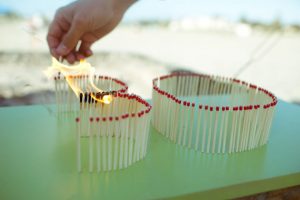 Did I mention cake? I think I would have by now, seeing as it's a birthday party and all.
You're going to want to DIY party this option, because this particular masterpiece is a grown-up Stout cake.
It's a basic rich chocolate cake recipe with cocoa and sour cream to help it taste moist, plus a cup of Guinness Stout beer.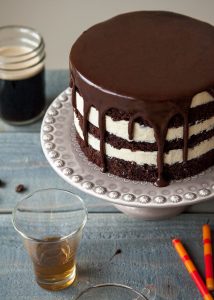 Now that I've brought up the booze, I think I ought to also offer this way to "cuteify" it.
Those are customizeable, printable labels. Yes, you can simply cut out your own bits of paper with labels. I'm not judging.
Try them for size on miniature champagne bottles, as pictured.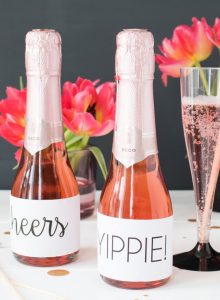 One reason to celebrate 30 years is our ability to capture the whole event by cell phone.
Since the birthday star and his or her friends will be snapping away anyway, why not pick up a custom snapchat filter?
It'll be better than pinning, tagging, and face recognition. And, it'll look great, too.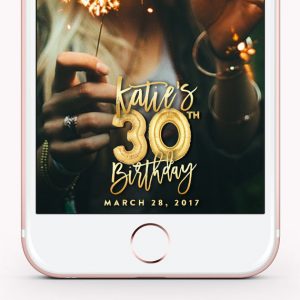 It's your party. Why not have the guests unwrap one last kiss?
We'll keep it posh by sticking some of these "thirty," "30," and plain sparkly round labels to the bottoms.
Even if you'd rather not get kissing involved, these cute stickers can also be used for envelope seals or buttons.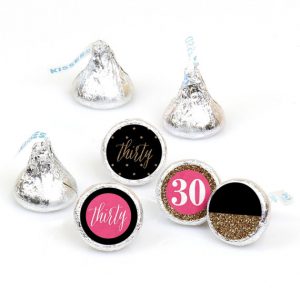 Have you ever been sitting around, and suddenly started hankering for some Push Pops? What about Bubble Tape?
The internet can satisfy that nostalgic craving of yours. Heck, it's even available in a tube with at least six other candies from your childhood era of choice.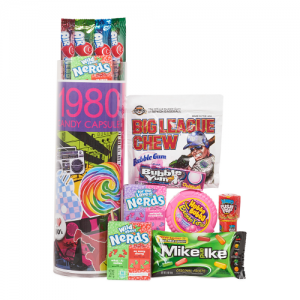 Since we're a little old for goodie bags, make some really cute ones and fill them with adulting stuff.
Then, on the way in or out or during, have birthday friends write a super special note on the wall.
Okay -not literally on the wall. That would be one of the worst party ideas ever.
Tape butcher paper or a poster on the wall, crack open glitter pens, and have everyone write on there.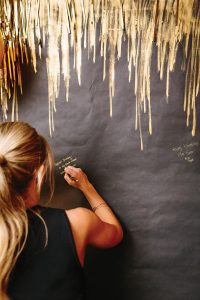 Let's get ready to partay! Click below to start planning:
2. Amazon
3. Cue the Confetti, Michael's
6. Pretty Nice