Not so long ago, in your own backyard…
It is a dark time for The Rebellion: a time of political intrigue, Jedi masters, and children's birthday parties.
One parent, alone, stares at the calendar. He or she knows of the impending guests, the necessary distractions, the need for themed food items.
Utilizing years of Academy Training, we turn to these awesome ideas. They're our only hope.
Who doesn't love a good Star Wars themed birthday party?
Straight from the swamps of Degoba, we have pool noodle lightsabers.
My son came home from a party with one, and I was like, "No way! What a cool idea!"
And, these are way safer than their science-fiction originals. Despite The Jedi Council's preference for training young children, you and I know kids would cut someone's arm off within five seconds.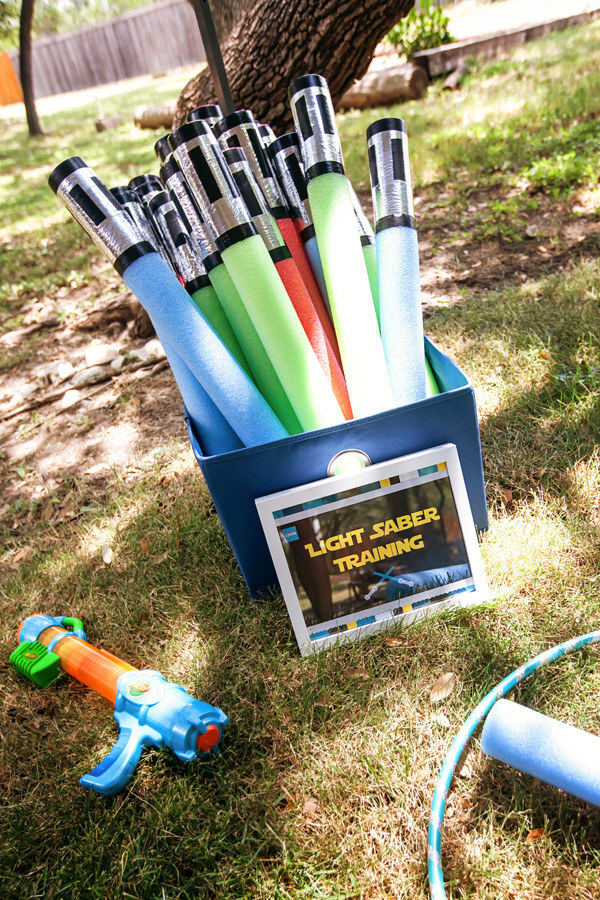 Once you've got your weapons, what are the kids going to hit besides each other?
Introducing: The Jedi Training Room from Catch My Party.
At least one guest is going to love smacking something. Now, he or she can take out that aggression safely. Plus, the hanging balloons make a great decorating idea.
Your kids will seriously feel like they are in a Star Wars movie!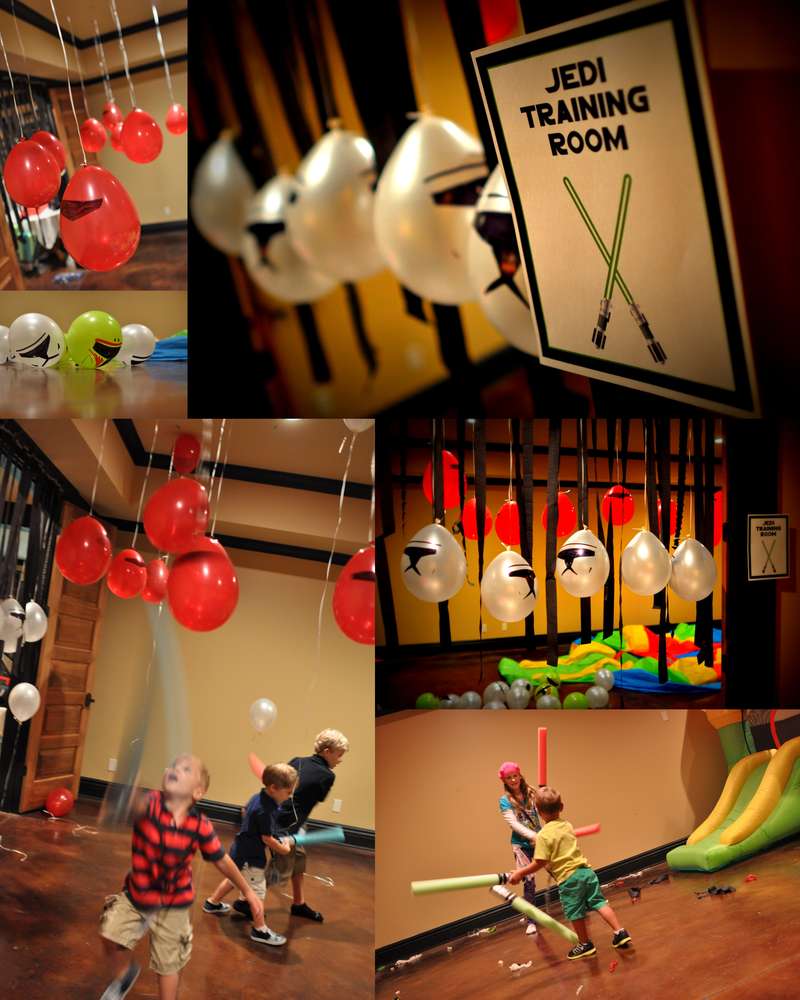 Speaking of smacking hanging objects, what about a Death Star Piñata?!
I'm not even planning a Star Wars Birthday Party and I intend to make one.
Make sure you follow Makezine's steps for supporting this thing. You wouldn't want one small structural breach to bring the whole thing crashing down.
Wait…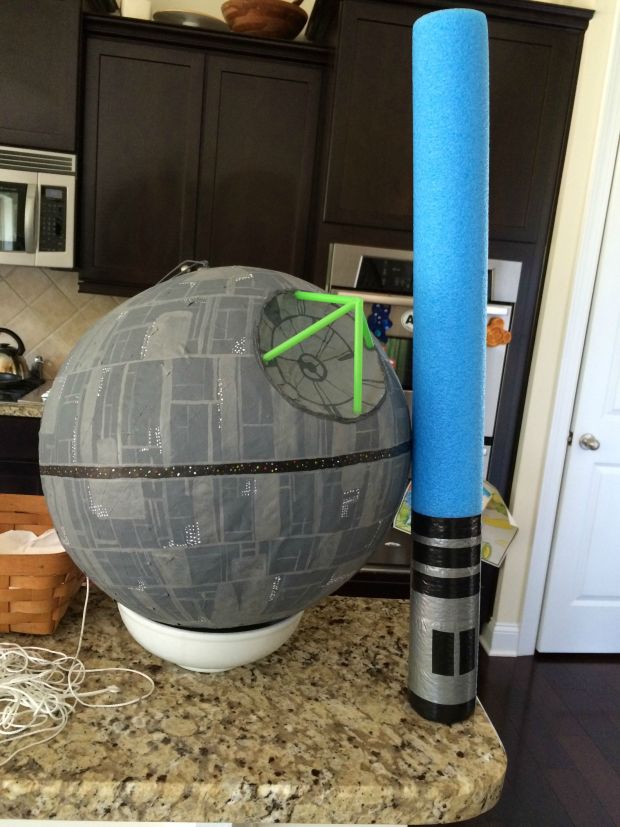 Need a treat for the padowan party guests? Thinking about cupcakes?
Look no further than this idea right here.
These marshmallow storm troopers may be a little short, but they're tasty. Plus, I've read from a classified transmission that once you make one, the rest practically clone themselves!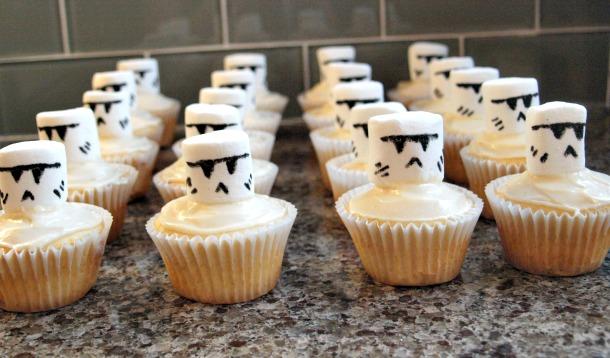 After eating Storm Trooper Cupcakes, your guests could use something to wipe their hands and faces with.
Better than a napkin, I give you: Lightsaber napkins!
Don't worry -they're really just paper napkins. No one's going to lose an eye, or an arm.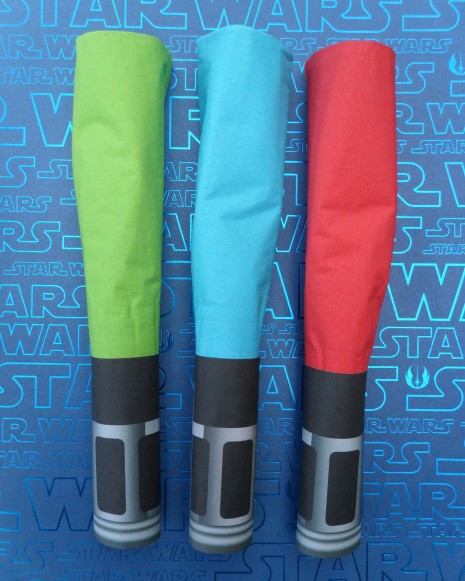 Water is a great drink for party guests. But, what if you want to jazz it up; maybe make it more than just a jug full of something kids get every day?
Try decorating your water dispenser to resemble a secret message dispenser: R2D2.
This cute little, loyal droid can be temperamental, so be sure to keep an eye on him.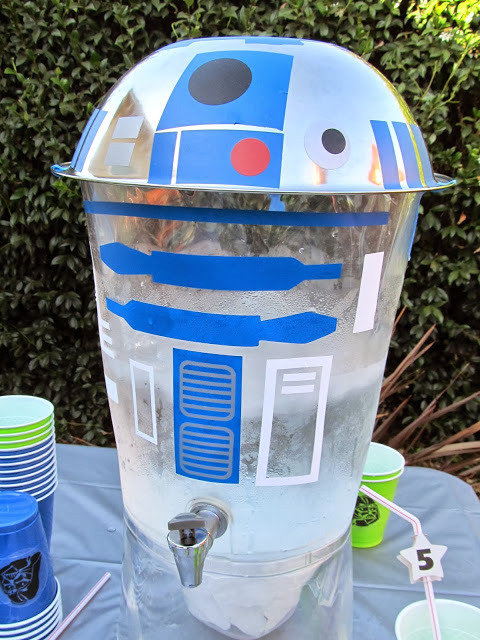 You might be getting tired of lightsabers. "Not another idea using Jedi weapons," you might say.
Well, I had to throw this one on here because of how easy it is.
The Bubbly Hostess purchased these bubble wand things at the store, then used silver spray paint on the handles.
That's it!
I saw a similar idea on another site, and those suckers had wrapped the bottoms in paper, added accents, and then tried to keep that whole ensemble from falling off.
Go with simple, people.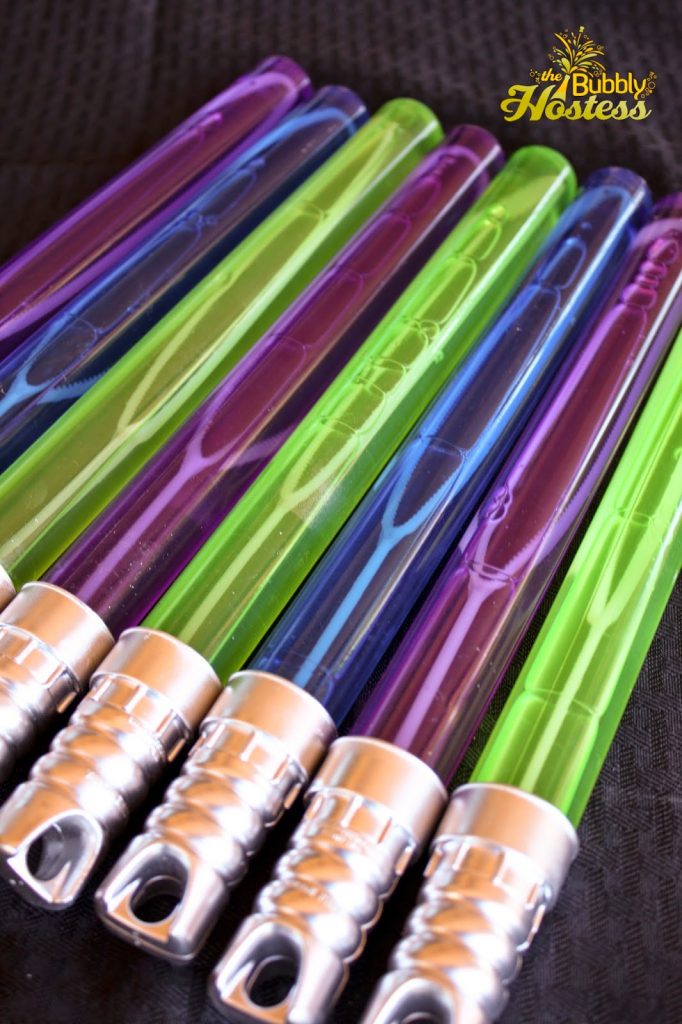 After all those lightsabers, I'll bet you thought we couldn't come up with a game not using deadly lasers.
Well, check out this Pin the Bun on Leia game. Hilarious!
During Quiet Time printed Leia out on separate sheets, then adhered them together. You can also just buy a poster, or maybe a cardboard cutout.
You've got to make those side buns, though. They're classic.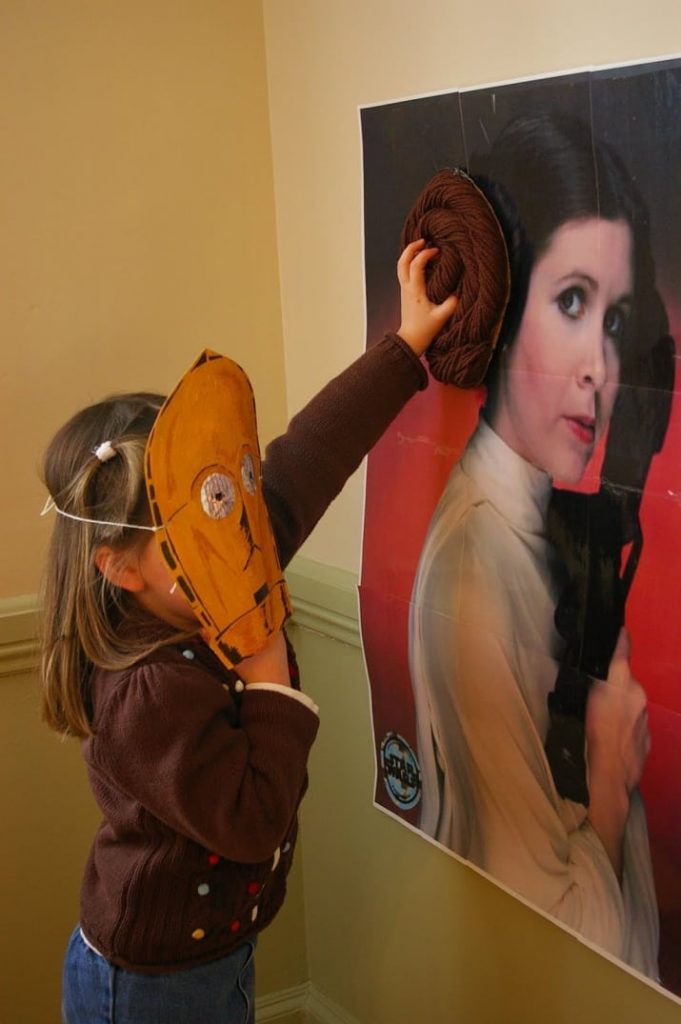 On a similar theme to the bun-pinning game is this simple craft from More Than Thursdays.
Using brown headbands, circles of fun foam, and twists of yarn braid, you can pull off a look that took Carrie Fisher way longer to do.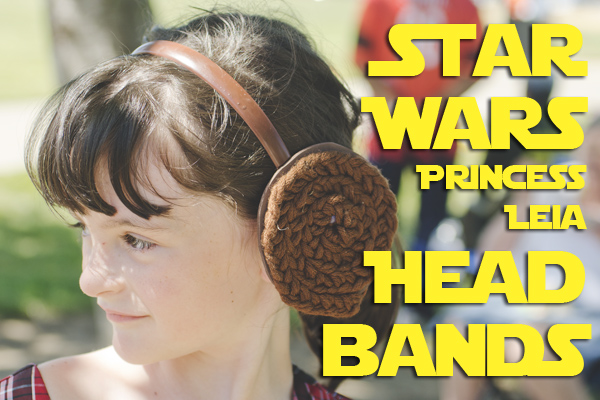 Now, back to food again.
Your rambunctious kids can fight The Empire and rumbling tummies with Tie Fighter cookies!
Clean and Scentsible used 100 Calorie Oreos (hence, the hexagonal shape), mini marshmallows, and white chocolate for the glue.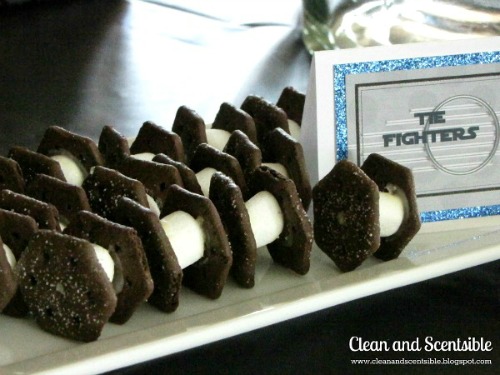 "Mom, where do we put our garbage?"
"Well, honey is this the garbage can you're looking for?"
To make an R2D2 Wastebasket, grab a white one with a round top from the store. Next, paint, sticker, or color a few electrical accents and diodes.
The kids will love this decoration and will feel as though they're flying through space with R2D2 in a Star Wars movie.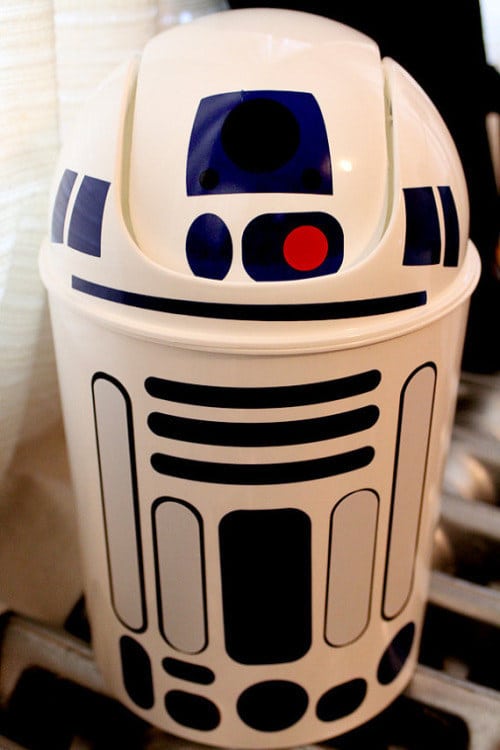 Cornhole games are a popular, simple diversion that can be modified for whatever theme you have.
So, besides a Death Star Piñata, you can practice taking down The Empire with bean bag torpedoes.
It'll be just like Beggar's Canyon back home.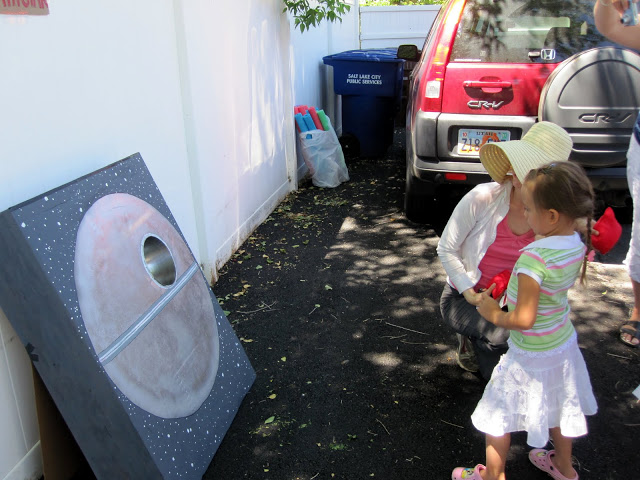 Do you need a mostly healthy snack before dessert?
Try some lightsaber fruit skewers.
The grapes work well for the blade, since they can come in different colors. Then, add a kiwi slice for the crossguard and a couple of marshmallows for a yummy, cushy grip.
Your birthday party will look like it came straight from a Star Wars movie with this idea.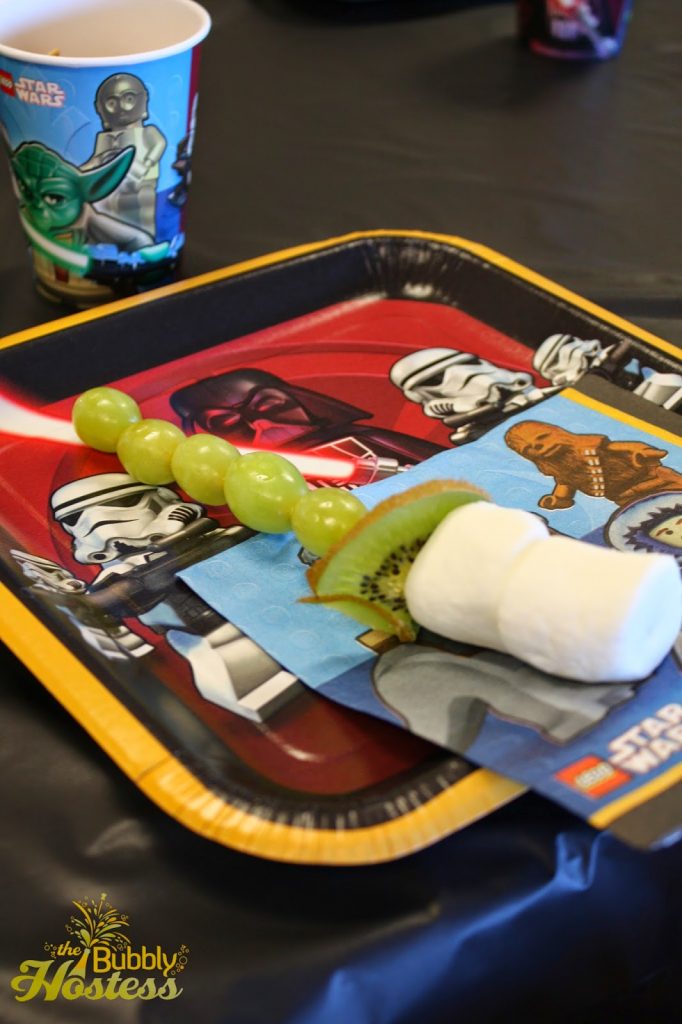 Han Solo survived carbonite, but what about Jell-O?
Mix your gelatin up as usual, but toss a Han Solo figurine into the pan instead of fruit chunks or cottage cheese.
Solo can be your favorite decoration, and you can make more Jell-O in clear cups for each guest.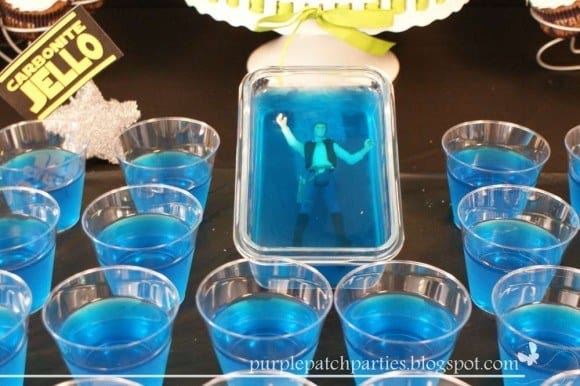 When I went looking for Star Wars cake ideas, I was expecting a slew of perfect planets, small moons, or elaborate Tie Fighters.
When, instead, I found a garbage compactor cake, I knew it was the one for me.
The obvious plus-side is that your cake doesn't even have to turn out, or be made! The trickiest part are those graham cracker walls, but you could also just throw it all in a shoe box and only eat the insides.