Summertime, and the parties are coming. Kids are jumpin' and the front lawn is high.
Well, we aren't rich, but we want a party that's good-looking. So read some more, below, and don't you cry.
A great-looking theme to up your suburban cred is anything vintage. Since we're talking summer, let's go with vintage beach.
Light colors of coral and sea grass tie in well with faded, distressed antique décor. Add some cute complementing implements; like chipped china, pink accents, and seashells.
Serve light picnic foods reminiscent of an outing to the ocean, and play a few rounds of beach volleyball.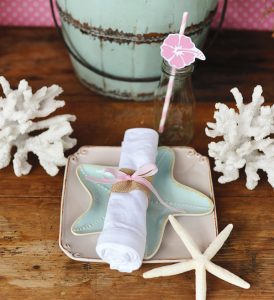 Who says a summer party has to be centered around a main course?
I say à la mode is the way to go, with an ice cream social.
You're really going to love party ideas like this come July, when you'll want to crawl into the cooler with the toppings to cool off.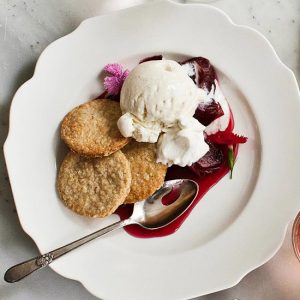 Speaking of hot summer days, what about a water party?
Even when I plan something different, at least one of my children drags out a hose and turns it into one.
Let's make it formal. Pick up some water toys and sponges from ye olde Dollar Tree, and have your invited guests bring all the water toys they have.
It'll be a splash!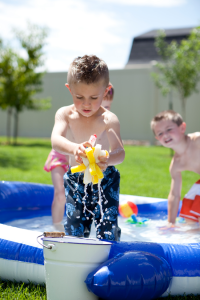 Everyone knows that one friend that can't help but sing along to whatever's playing on the radio. Maybe you're the annoying fun one.
Had you thought to host a summer party karaoke session? If so, great idea!
This option has many decorating options, as well, since you can go with specific eras or styles of music. I'm thinking 80s neon; what about you?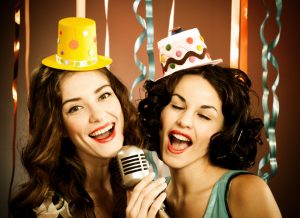 Did you ever attend summer camp as a child? Would you consider it as a theme for a summer party?
Someone in my neighborhood did this for his service-oriented group of adults, even crafting camp buttons and making t-shirts.
For yours; guests can go on hikes, sing camp songs, roast marshmallows, and pull pranks on each other. Bring repellent.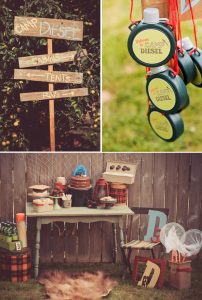 Where I'm from, we're sadly devoid of seafood. We do, however, have some freshwater crawfish. In fact, my sons have gone on a man-bonding trip to catch and boil them.
Let's take that idea, and do it for your summer shindig. Check your local food store first, especially if you don't want all your guests to catch their own.
It might be fun, though, to consider hosting up by somewhere that does have the little guys. You can all feel rustic and outdoorsy catching and cooking your own food.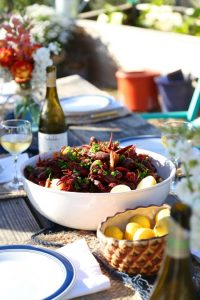 Most summer party ideas center around afternoon or evening times. Had you thought of a brunch theme?
Admittedly, the vintage and distressed setup is what sold me on this idea. It made me able to picture a soft summer's morning, dew just forming on the grass. I saw happy, chatting friends sipping coffee, tea, and hot chocolate from china cups and daintily tasting miniature pancakes.
If we could just throw in some fresh flowers, I think I'm sold.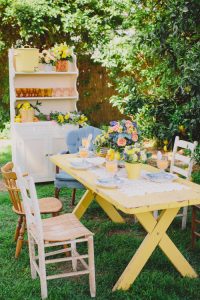 Another classy theme for summer is an oyster bar. If you've got the ocean freshness, and the funds, this can be a lot of fun.
Grab some lemons, sauces, knives, platters, and ice. For true authenticity, plan to party on the sand.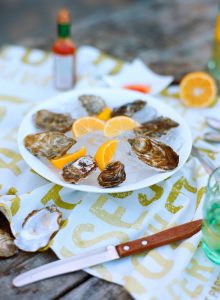 In thinking about summer, neighbors, parties, and food; I remembered the Good Old Days of the 1950s. We just don't barbecue and invite everyone over like we used to -but we can.
What if your theme was a 1950s backyard picnic, or a diner cruise-in? Amazon has no end to vintage signs, posters, eating supplies, and décor.
Perhaps your local thrift store has some truly realistic things from that era, as well, that you can use as props.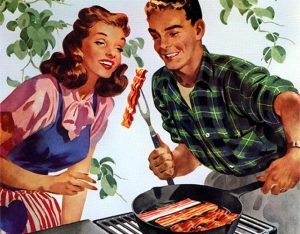 Our favorite warm weather activity as a family is movie nights in the park.
Thanks to the wonder of rich neighbors and giant, inflatable screens; we've even had some at friends' houses.
All you'll need are lights, projector, and action! Well, maybe some popcorn and blankets would be helpful, too.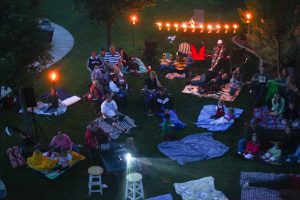 Warm days mean warm nights as well. Since you'll be up enjoying them, why not drag out a few telescopes and check out the night sky?
Activities for this can involve learning about and mapping constellations. You could also have star word searches, stories about ancient gods, and horoscope readings.
Some glowing table decorations or black light foods would be fun while you're busy star-gazing.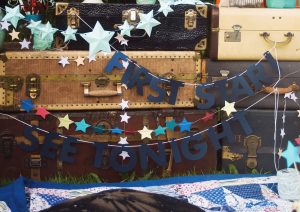 Summer's nearly here! Visit these websites to start planning your summer shindig:
3. One Charming Party, Dollar Tree
4. Purple Slate
5. Pizzazerie
9. Ramblings of a Girlie Girl Housewife, Amazon
10. The Crafting Chicks, Amazon