You, or someone you know, or someone you are vaguely associated with, is expecting!
I'm guessing you've been roped into throwing a shower for this person, whoever it is.
Well, don't you fret. I've got some smashing baby shower games for you and your guests.
First for your consideration: Guess the Item.
Purchase or find ten bags, and stick or write a letter on each to spell out B-A-B-Y S-H-O-W-E-R.
Then, stuff an item that starts with each of these letters into each corresponding bag. (B for Bottle, Binky, Burp cloth; A for Aspirator, Alphabet block; etc.) The winner guesses the most correct items and the pregnant party person gets to keep the contents.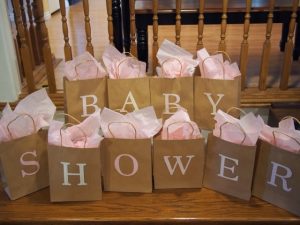 Maybe you're expecting some party-goers who need a challenge!
What about Blindfolded Diaper Changing?
No, no -we're not going to change real babies.
Borrow or buy some dolls that will be large enough, like the Cabbage Patch ones pictured; then some diapers for their appropriate weight range, and something to blindfold the participants.
I know I've said I could change anything in the dark. Now, we'll find out.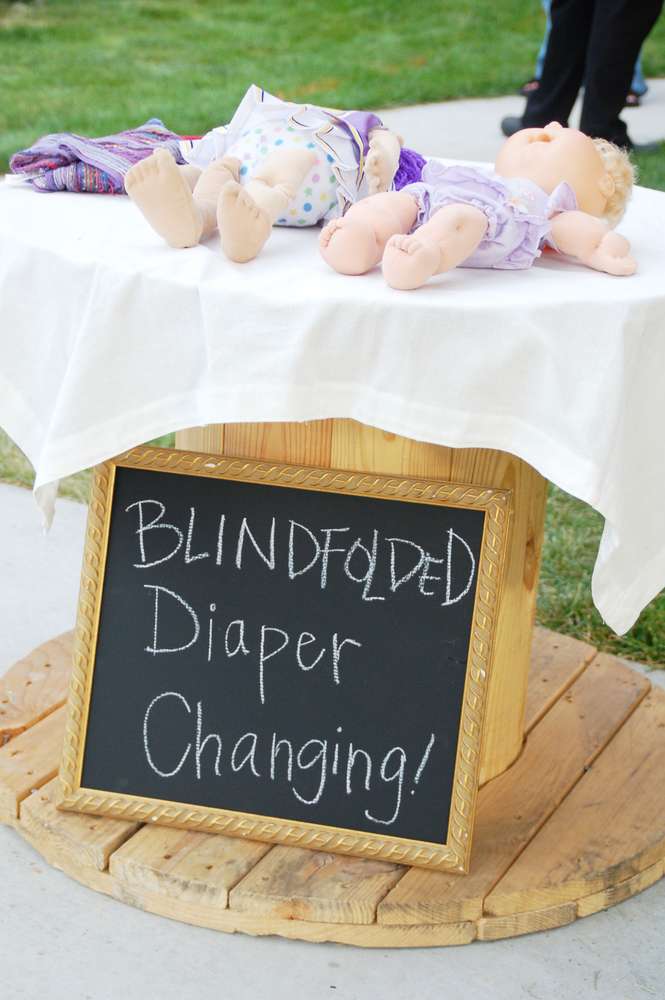 I think everyone needs further embarrassment.
You'll need balloons, ping pong balls, and two Mason jars.
Form your lucky guests into two teams. Place the jars a few feet away.
First, everyone must stuff a balloon under their shirts (unless there is already a baby there). Then, they must hold the ping pong ball between their knees as they waddle to the jars. Finally, they must successfully drop the ball into the jar before running back (or waddling back if they're still pregnant.)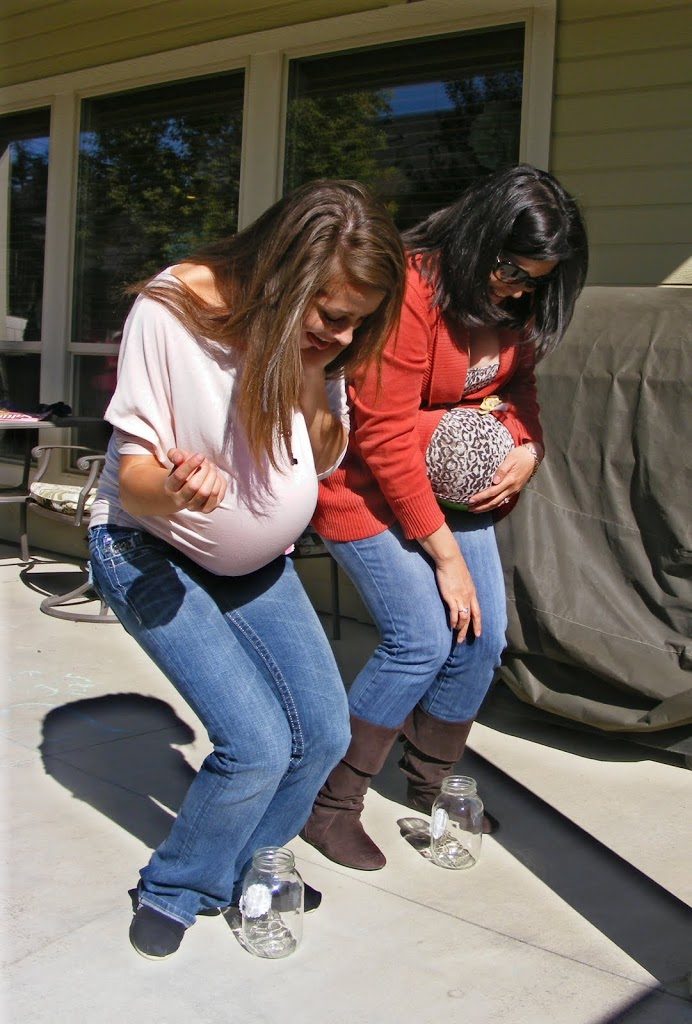 That last game wasn't intense enough. We need Name That Poop!
Run to the store and get some of your favorite chocolate candy bars: Baby Ruth, Butterfinger, Mr. Goodbar, Twix, Kit Kat, and Crunch are some good options.
After paying for the bars and rummaging around your house for unused diapers, you're set!
Melt each candy bar in the microwave, crush it up some, and deposit it into a numbered diaper. Guests have to guess which diaper is which candy bar.
I've played this game, and it is truly disgusting….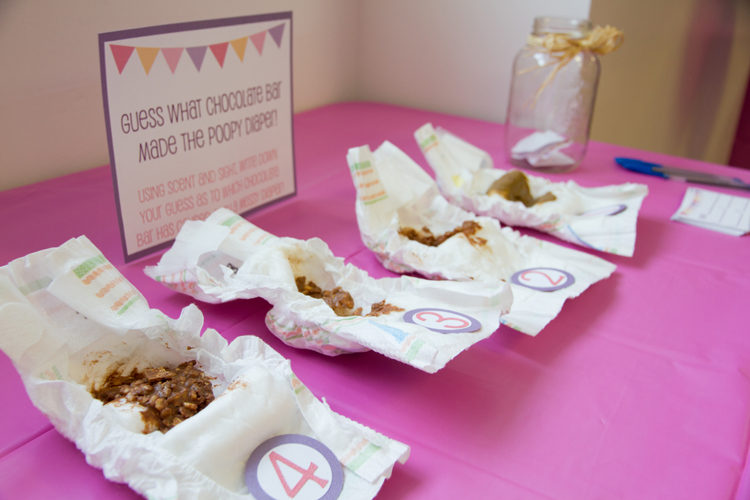 Maybe you're looking for a simple game after that last one, plus you now have candy-bar-filled diapers to dispose of.
Let's play Diaper Basketball!
Most moms and dads have life experience with this already, and the potential moms could really use the practice.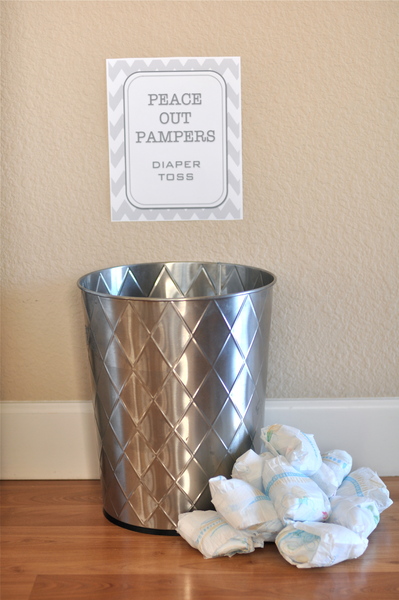 Phew! Here's a nice, calm, normal game after those odd ones.
Are you ready to be Alexa Trebeca? It's Baby Jeopardy!
Choose from categories like Baby Names, Baby 101, Nursery Rhymes, Baby Gear, and Random Facts. You'll get to come up with the answer and your guests will enjoy buzzing in their questions.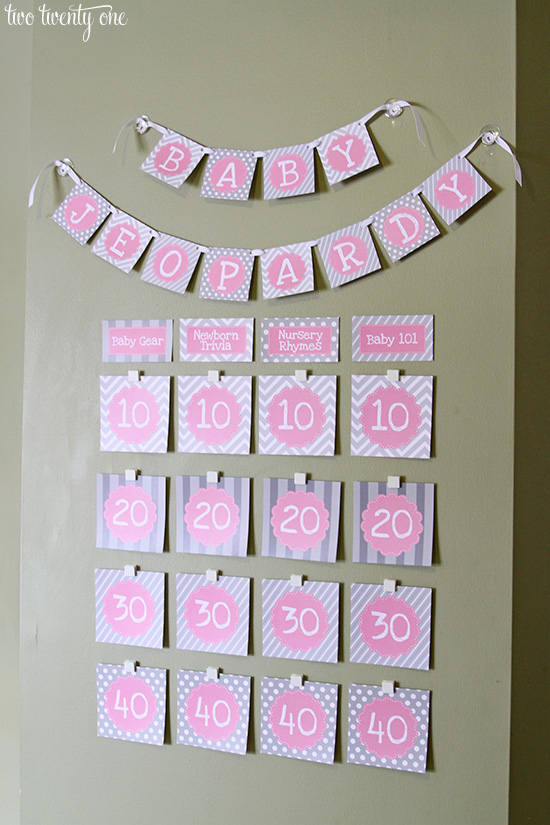 We're on a roll with game shows. For, now it's The Price is Right!
This is a clever way to get the mother-to-be some essential baby gear and make a game of it.
Buy stuff like wipes, a thermometer, baby powder, nipple cream, socks, etc. List out their prices on tags and have players guess which goes to what.
The winner gets a separate prize somewhat closer than a trip to Hawaii, and the mom will be ready for anything.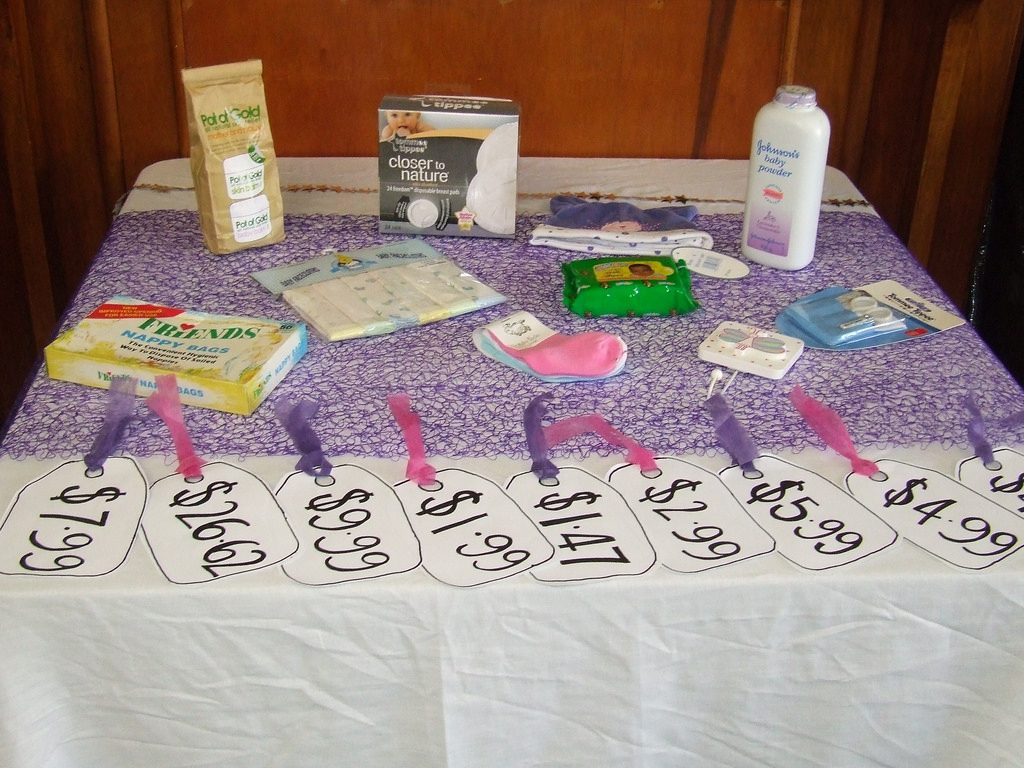 Another cute, simple game is How Big is Her Belly?
If the mom is comfortable with it, measure her round the widest baby part.
Participants should cut their yarn as long as they think will accurately fit, and then they can compare to yours or the actual mommy tummy.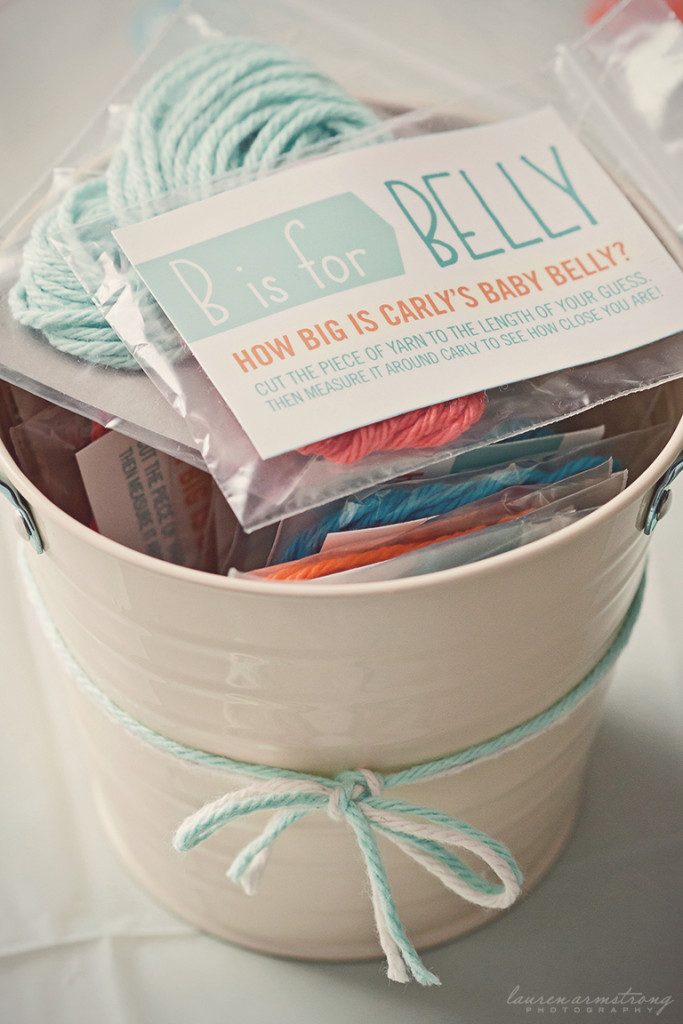 A fairly straightforward option involves everyone's favorite: baby food.
For Guess the Baby Food, purchase a variety of puréed fruits and vegetables and remove the labels (after noting what they are so you don't forget).
Have each guest sample each bottle with some disposable spoons, and note on their list what they think it is.
At the end of one shower I attended, two of the ladies were eating the rest of the carrots and squash -so, there's no accounting for taste.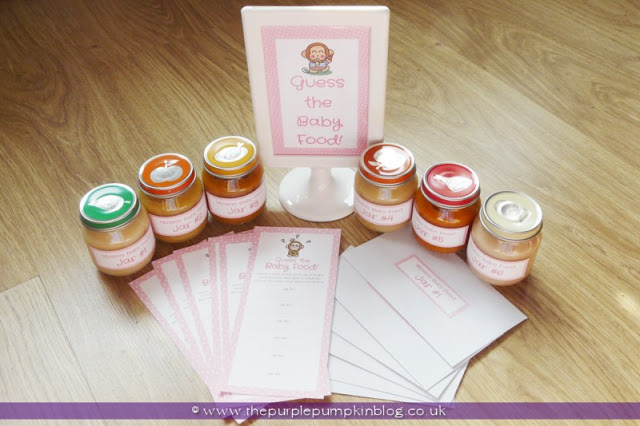 Lastly, try out your great, pregnant-focused drawing skills with the Draw a Baby game.
Get each guest a washable marker and a cardstock-level-thick card.
Then, have players hold the card on their forehead as they attempt to draw a picture of a baby.
Play some extra rounds with other drawing options: bottle, stroller, can of Formula, pacifier, whatever.
Let's be honest though, sometimes we've been to so many baby showers we feel like we've played the same games over and over gain, and that gets pretty boring. Other times we don't have the time to dedicate to putting all the pieces together for some games. Family Feud: Baby Shower Edition, Fun in the Oven, and this Baby Shower Game Bundle are all fun new ideas and they do all the heavy lifting for you.