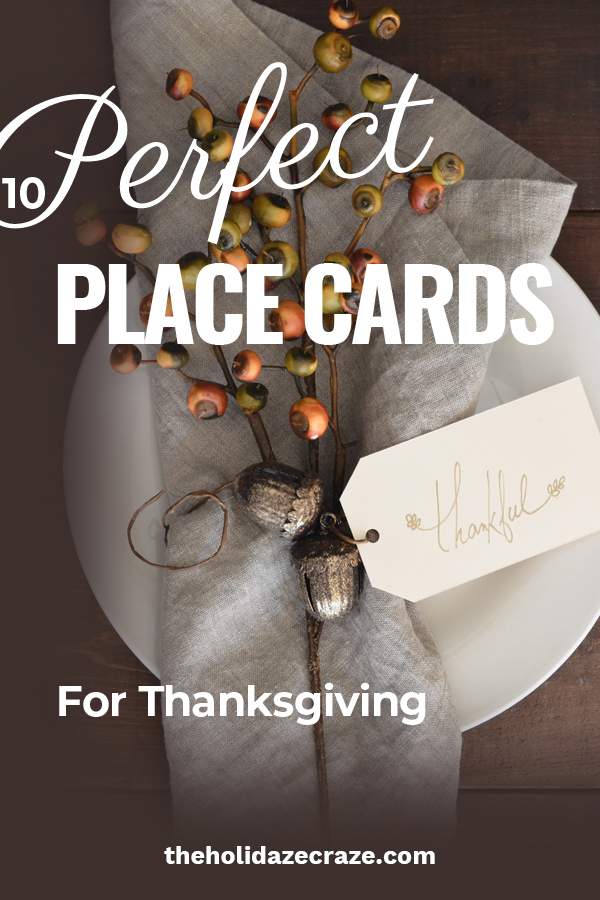 Planning Thanksgiving at your house this year?
Well, how will people know where to sit?
I'd like to introduce you to the prestigious, prevalent, placable practice of place cards for guests.
Premiering near our platters are these clever woodcut chalkboard "cards."
To make them, Carrie Waller of e-How cut a moon-shaped half-log into one inch pieces. Then, she painted one side of each cut piece with chalkboard paint.
The real beauty of these place cards is that you can chalk paint a name on, then erase and reuse them for another occasion.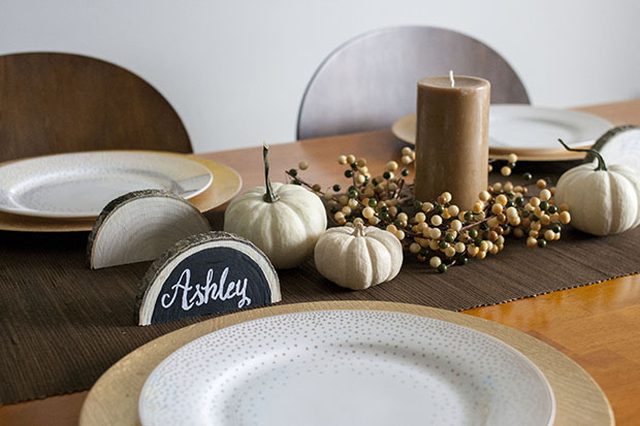 A simple idea for assigning seating is writing each person's name in calligraphy on watercolor paper.
Embellish with the watercolor paint itself, as well as gold glitter highlights.
They're a gentle, artistic marriage of rough-edged randomness with beautiful, curving script.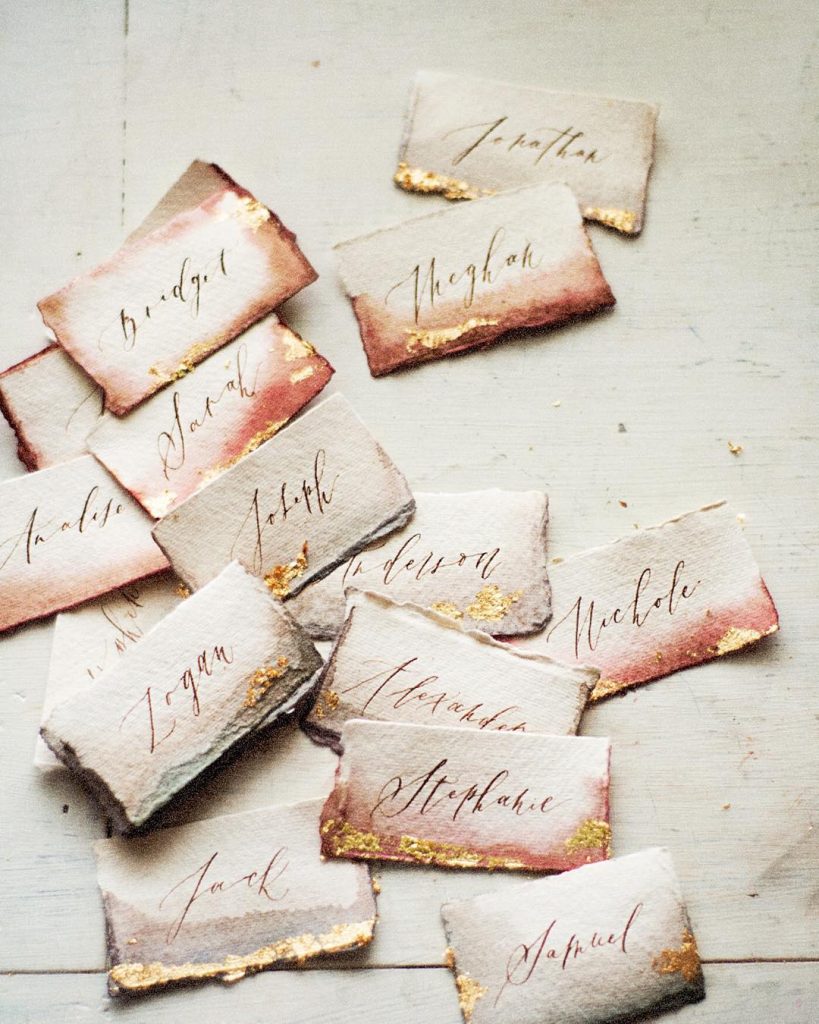 How about a place card the children can craft?
Get your collection of googly eyes and clothespins together, while sending the youngsters out to collect leaves. Maple leaves work well, but any sort can be pasted in a turkey-feather pattern.
After gluing them all together, choose any style paper, with a name, to go in the clip part of the clothespin.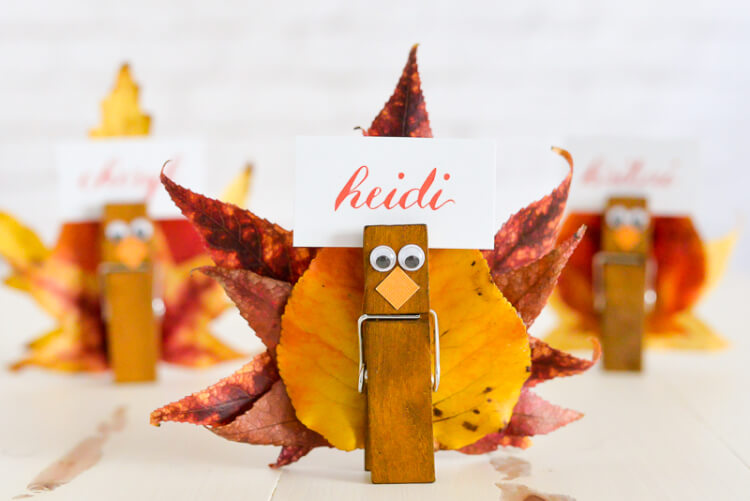 I'm all about impressive and easy-to-make. I also like incorporating fall themes at Thanksgiving, even if they feel overused.
And, I'm a sucker for cute, little pumpkins.
Oh My! Creative gets my vote, therefore, for this glitter-top pumpkin idea. If you haven't guessed -yes, this is simply a mini pumpkin with the stem dipped in glue, then glitter.
The name card was printed on a computer, then cut using the top of a glass to draw the circle. To tie in the glitter theme, the little pin was also dipped.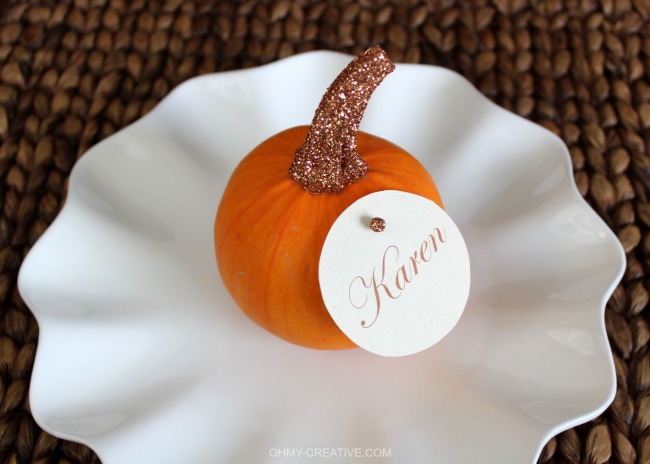 What if you like the idea of place cards, but don't have the space or interest in a full-on separate piece?
Check out Fantabulosity's free idea: a printable napkin/utensil holder.
She recommends brown Kraft paper when you print; for a natural, rustic, complimentary look with your cloth napkins.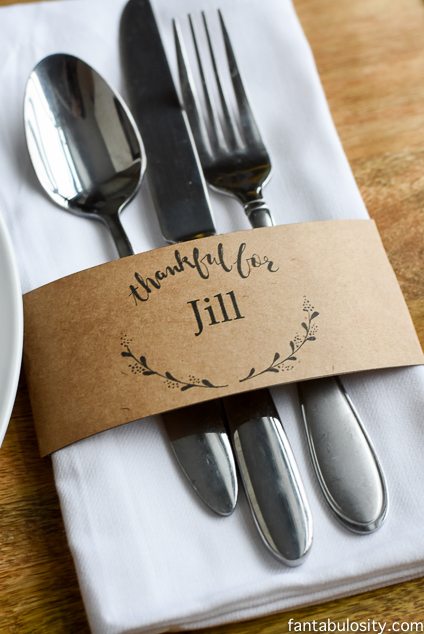 After all the hustle and craziness of dinner preparations, simple is all we've got left sometimes.
That's why I'm throwing a traditional idea out there: to just print out name cards.
If you're really like me, though, you want them to look slightly better than fresh-off-the-computer-printer. So, paste a die-cut, or sticker, of a pumpkin on each one.
And, you're done.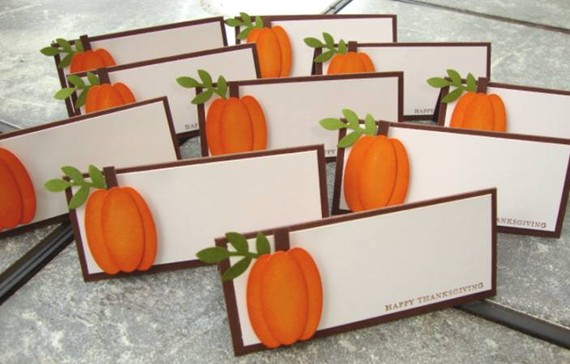 After complaining about work, you might think these cork and succulent place cards are a swing in the opposite direction.
They're not.
They fall in my favorite category of lookin' fancy without straining too much. I also refer to this category as the Can Totally Be Hot-Glued one.
Buy corks, fake or real succulents, and cardstock; and print names in a fancy script on your paper.
Put it all together, and voilà!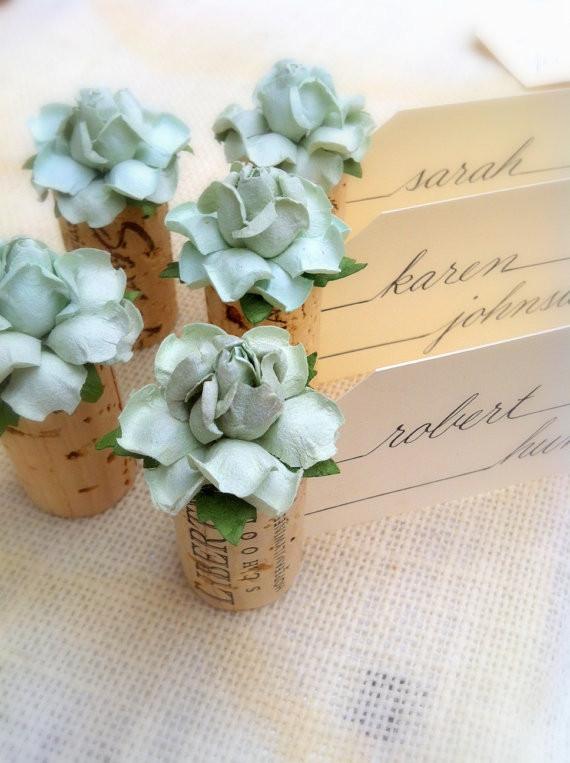 I know some of you are braver than I am, and craftier. I actually assume most people are.
For you wonderfully-artistic types, I have the Cranberry Wreath Place Card.
Using real cranberries and your fantastic sewing skills, make small bracelets of burgundy berries.
Finish by embellishing each with a sprig of green foliage and a simple, Kraft-papered name tag.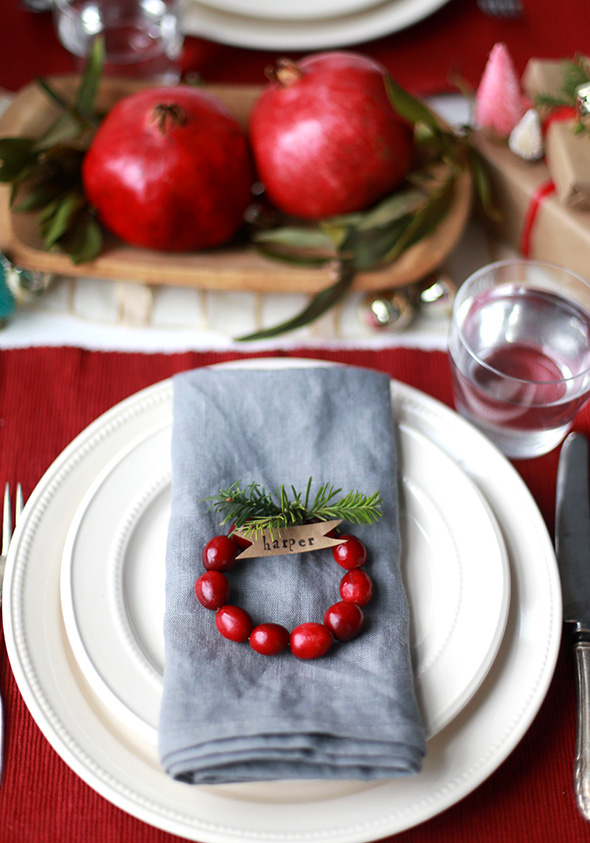 I totally stole this idea from a wedding page, but I think pinecones are more of a Thanksgiving idea.
Grab your kids or friends and have a pine cone hunt under your nearest pine tree. Or, I've seen bags of those things in stores.
Print fancy cards, and stuff one on each cone.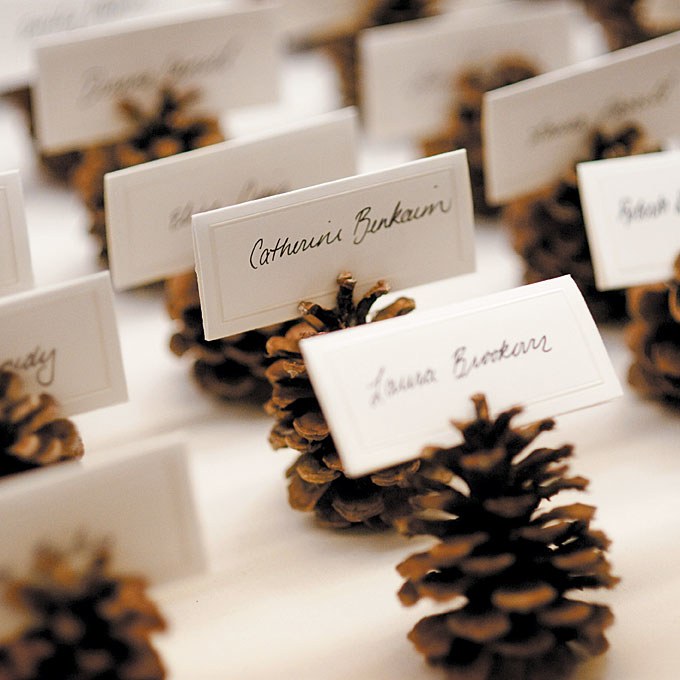 And finally, my favorite idea.
I love a good book, so I would only do this to the pages of one I really didn't like -maybe some sort of weight-loss one?
If you don't care so much, go crazy and take pages from a book on Thanksgiving. Want to be funny? Tear up a joke book.
You'll need craft stem wire, two pages of your book (or music sheet), tacky glue, wire cutters, and scissors. The wire gets twisted in half and lain on one page, then the other page is glued on top. Use the feather template or cut out your own, then cut that fringe up both sides.
The stem is an extra strip of page wrapped round and round, then secured with glue.
It's a place card, right? Don't forget to attach the name.