With Christmas coming, I find my thoughts wandering to gifts.
What perfect presents can I get my family, friends, postman, myself, or neighbors? How do I keep it personal?
This is when my thoughts turn to sewing, as I'm sure yours have (you are here, after all).
And, thank goodness I thought to look up some ideas. Otherwise, I would never have found an ADVENT PILLOW.
This is definitely my favorite idea so far. So cute; I want one for everyone I listed.
Serendipity Redefined never got around to posting the actual pattern, but I'm sure you'll figure it out and make some for me.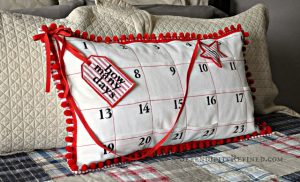 We can't talk about Christmas sewing projects without considering the iconic Santa hat.
I was super happy to come across a pattern for this, because we purchase five of these each year. Then, we somehow find only one and the boys fight over who gets to wear it.
Add some actual comfort and joy to your household by dragging out the sewing machine, felt, and some batting.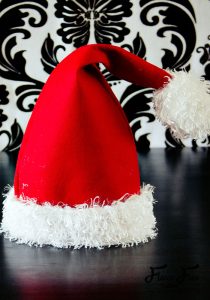 Ah, no, not pillowcases -you might think.
I know these are an easy craft anyone with a sewing machine -except me- makes. I also know that my kids treasure the ones others have made them.
My nine-year-old still coddles his homemade pillowcase from five years ago.
Go and make some, with accompanying visions of dancing sugar plums and such.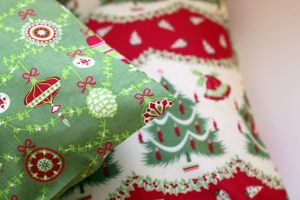 Another traditional sewing project around this time of year is stockings.
They're simple, quick, and easy to make fancier -if you'd like.
Also, you could whip up a few for use as neighbor presents or as containers for teacher gifts.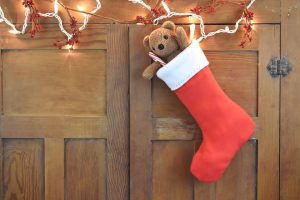 At your ho ho home, guests will laugh like bowls full of jelly when they see these clever chair covers.
I'd never thought to decorate my chairs, but I can see now they've been begging to be hatted.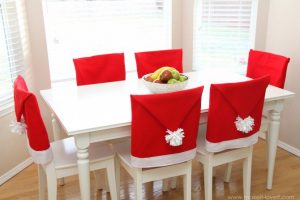 I'm a sucker for cute aprons, though I don't always remember to wear mine when cooking.
After piecing together your own candy cane-striped version like Jona Giammalva, maybe you'll remember to show it off while baking Christmas dinner.
She claims it only takes an hour -the apron, not the dinner.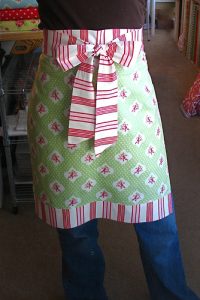 Diane of An Extraordinary Day is my kind of woman: putting together a sewing idea from something already hanging around.
I often dread dragging my machine within reach of the children, but this makes it less scary.
Yes, she says to cut the shape out of a sweater. After that; you pin, sew inside out, then right it.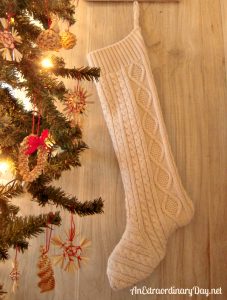 I think I'm subconsciously acknowledging that I own too many sweaters, because now I'm showing you a sweater pillow.
This was also pieced together from a cut of sweater, plus a slightly-larger piece of white burlap for the back.
I love the retained pocket there, for displaying a sprig of evergreen and holly berries.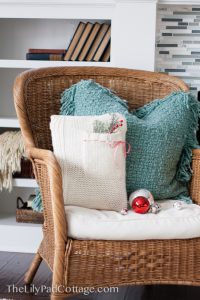 We've got our Santa hat and some chair covers. Now, let's whip up some Ho Ho Hand Towels.
These are a real cinch, and good for a deep chuckle from visitors.
So, lay a finger aside of your cloth tape measure, and cut and sew a few accents to some red hand towels.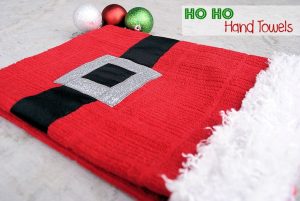 These cookie sacks are really easy to make. They're like small pillowcases, with a cute fold at the top.
Celebrate Creativity suggests measuring around the bag of cookie mix (or, brownies, cake, Hamburger Helper, etc.) you intend to gift inside. The rest is sewing seams.
Tie the top off with some jute or twine, and add holiday accents and a spoon with a handmade tag.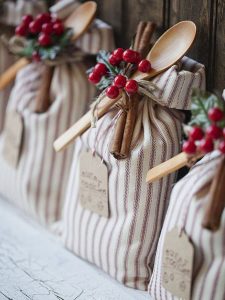 Yep, I saved the best for last. I'm talking about the glitter shirt and sweater skirt and hat, though that little girl is also sweet.
As we've learned from previous sweater patterns, hers were created from snips of an existing one. The glitter deer was the result of glitter paint and a stencil.