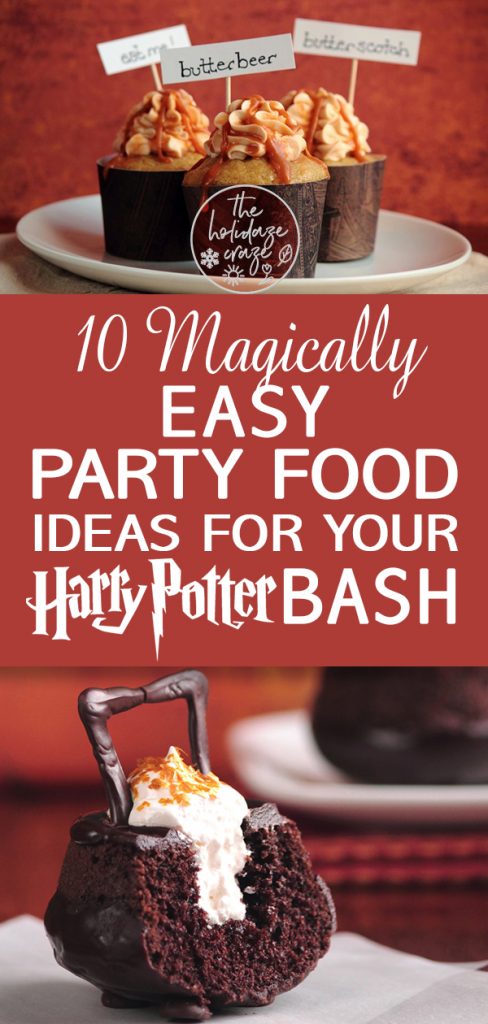 I solemnly swear I am up to good food. Or at least a few Harry Potter party ideas.
Why else would you wander down this side of The Leaky Cauldron? You wouldn't be skulking 'round Knockturn Alley, now would you?
Ah, I see! You're hoping for a taste of Madame Rosmerta's Butterbeer! Well, you're a far cry from Hogsmeade, friend. You'd best pop into the nearest Muggle-acclaimed grocer and pick up ingredients for making your own.
What's that? You need party food ideas? In that case, what about cupcakes?
These Butterbeer Cupcakes will get guests tipsier than a house elf. They're made with butter, buttermilk, butter flavoring, and …brown sugar -plus inert spell components like flour and eggs and such.
The truly tasty part is their piped innards of butterscotch ganache, topping of buttercream frosting, and drizzle of more ganache on top.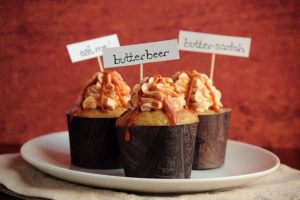 No one wants to get a wizard parent angry. Besides literal concerns of being transfigured into a ferret, a madly moody mum may send you a Howler.
That's just what these -oh, I see. These are the sort of Howler you want to receive.
Mascarpone cheese, pumpkin purée, brown sugar, cinnamon, nutmeg, and salt are all that will unroll once opened by the recipient. Senders will need egg roll wrappers, frying oil, and black and red icing once they're drained and cooled.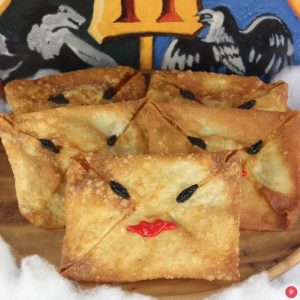 Although I've written about this idea before, no Harry Potter party food list is complete without edible Snitches. I mean, I've already covered Butterbeer.
In terms of recipes, the Muggle internet is about as crowded as a Chamber of Secrets room full of flying keys. If you've your wits about you, however, you can see that all you need is a simple solution.
Therefore, turn your broomsticks towards the store for some Fererro Rocher chocolates. Next, print wings on paper acquired from Florish and Michael's. Lastly, cut the wings and attach them with the very stickers each treat comes with.
They're simpler than levitation, and tastier than Polyjuice Potion.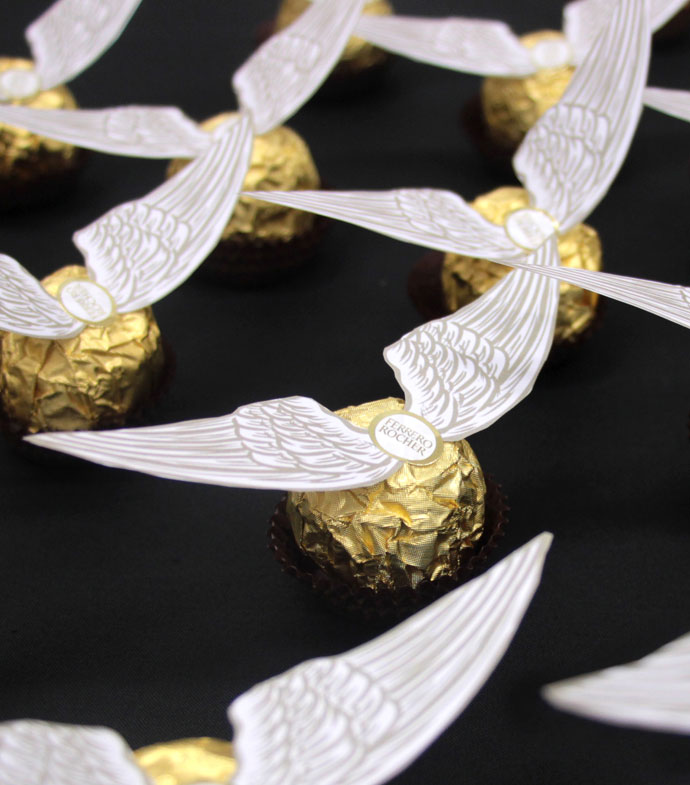 Now, I have no need of wand-waving, silly incantations, or canon-complaining when it comes to a decently-good pun.
Guests love cheese puffs, Cheetos, cheese balls, and other healthy items like them. We're only stretching a pinch by including some amongst the steak-and-kidney pie, Howlers, and golden Snitches.
Trust me: these are Hufflepuffs that people will be happy to join -er, to eat.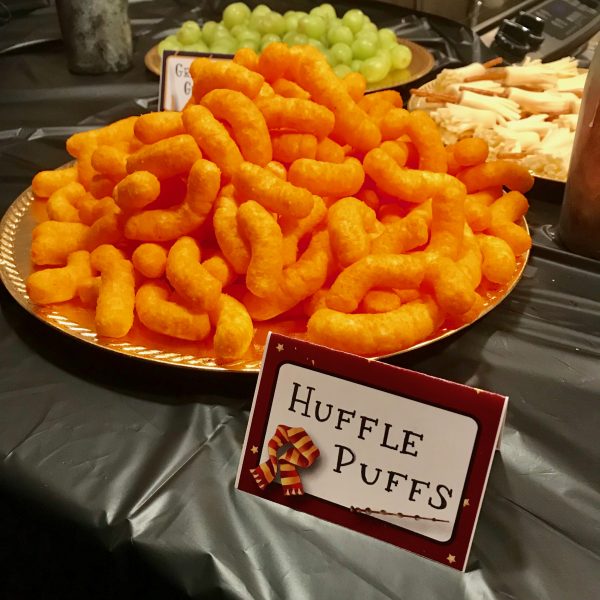 Have you been hankering for Polyjuice Potion? What sort of werewolf are you?!
Never fear; this Polyjuice is really a punch. Finding themselves fresh out of lacewings and Crabbe eyebrows; the witches behind this recipe used lime sherbet, Sprite, and neon green food coloring.
Amazon may have stock of the flasks you'll need for serving it.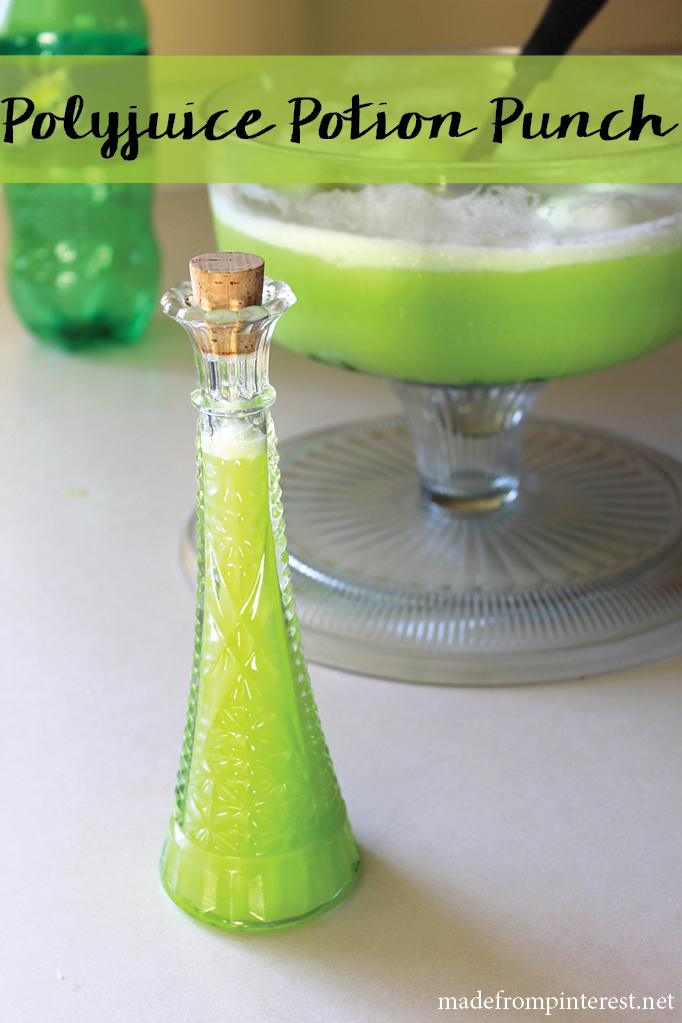 Take a look at these Cheesesweep Elevens! Crafted from the finest pretzel wood and string cheese twigs, they'll be sure to levitate your tastebuds.
When crafting these models, don't forget to reinforce the base with a string of chive.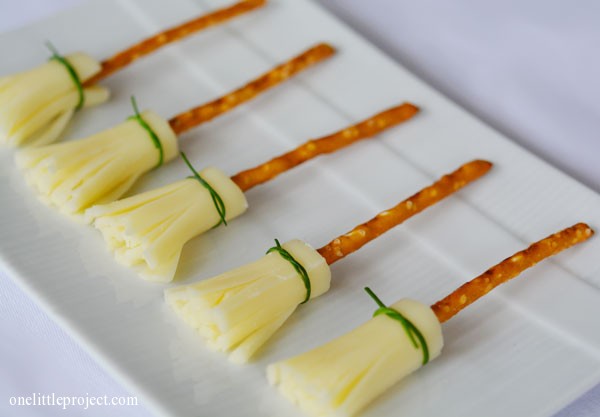 I hope you've decided to apparate up to Hogsmeade. You did say you wished to purchase a few legendary candies, yes?
I love them all too, except for Cockroach Clusters. Unless someone were to wrap glazed pecans in a popcorn ball, I doubt I could stomach anything with that name.
You know, we may be onto something there…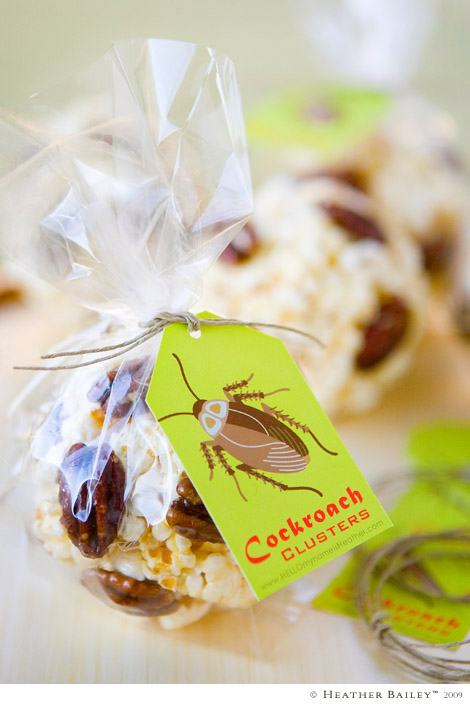 Every student or scholar of the famous Albus Dumbledore knows of his weakness for Muggle candies. (I've even heard he used a few as passwords.)
A purported favorite was lemon drops. Had you thought to offer one to guests, as well?
If you've ever whipped up hard candies in your cauldron, the ingredients will be similar to what you've used: shrivelfig, asphodel -oh, wait. Wrong list.
These take granulated sugar, water, cream of tartar, citric acid, and gel food coloring.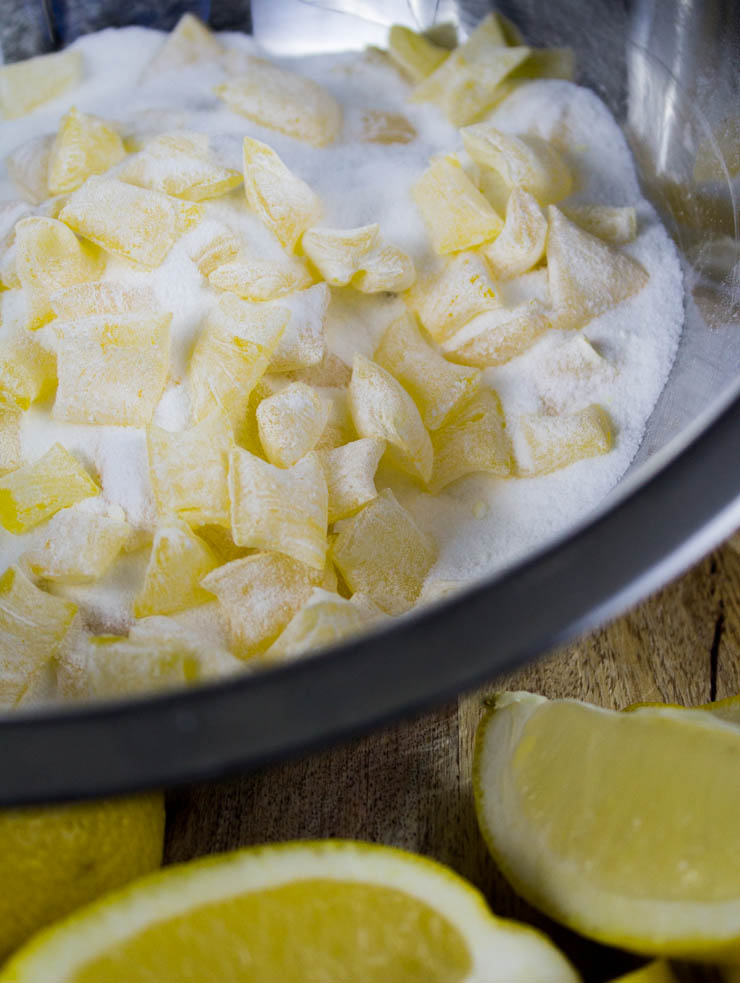 The party witches and wizards are still looking peckish. Maybe they'd like some Cauldron Cakes.
We'll need Devil's Food cupcakes, chocolate ganache, and marshmallow filling. Edible gold glitter would give them a magic touch at the end.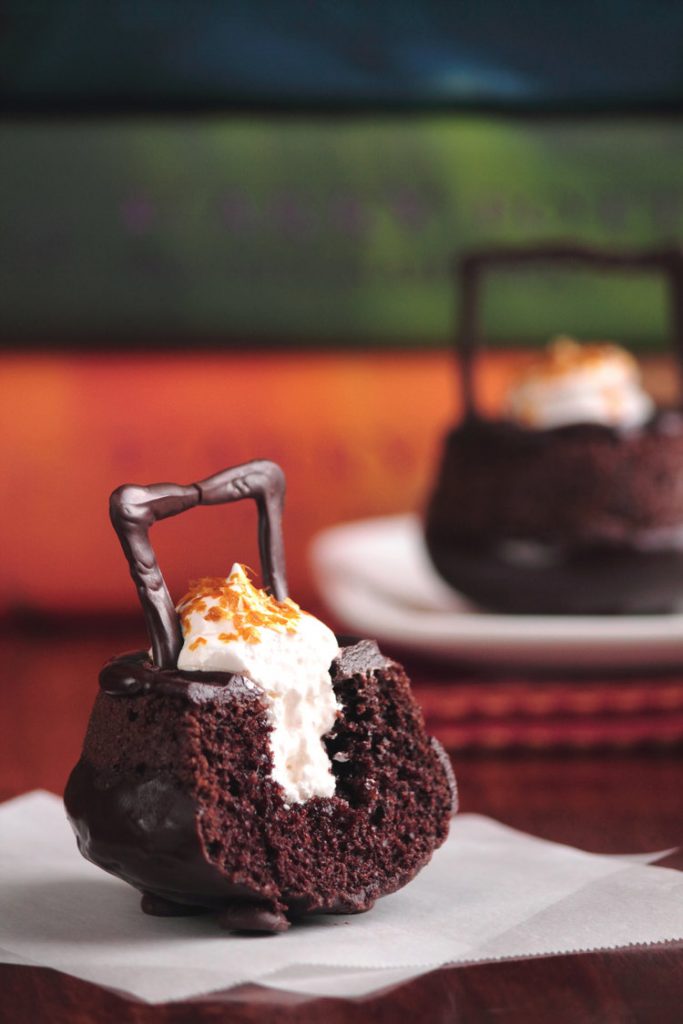 Like children, I often have a favorite. In this case, one of the best Harry Potter party ideas I found was children.
Well, sort of. I'm sure they will mature soon and try to move into each other's pots. Until then -earmuffs on, kids!
Oh. Perhaps these plastic baby dolls with a bit of plastic plant glued to their heads are not any real danger. Let's stuff them into a chocolate cupcake with some Oreo "dirt," and see if we can still get Neville to faint.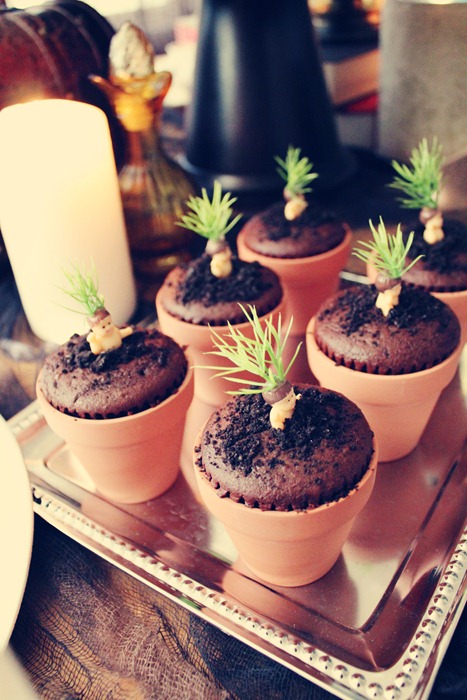 There's no Goblet of Fire to hoodwink, here. Simply wave your mouse cursor below to learn what secrets lie -beyond!
5. This Grandma is Fun!, Amazon
10. Workman Family