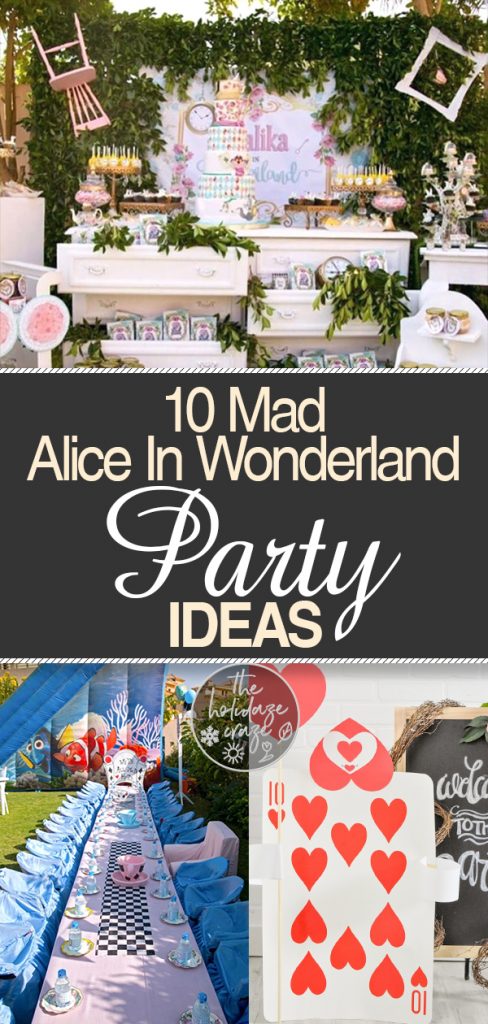 Planning an Alice In Wonderland party? A Very Merry Unbirthday to you!
What's that? It really IS your birthday? Even more reason to celebrate!
We simply must invite all our dormouse, March Hare, and Mad Hatter friends to come to tea. It's an Alice in Wonderland Party, for white rabbit's sake!
Speaking of the tardy fluffy-tailed creature, let's send him off with invitations. We don't want guests to be late for this very important date!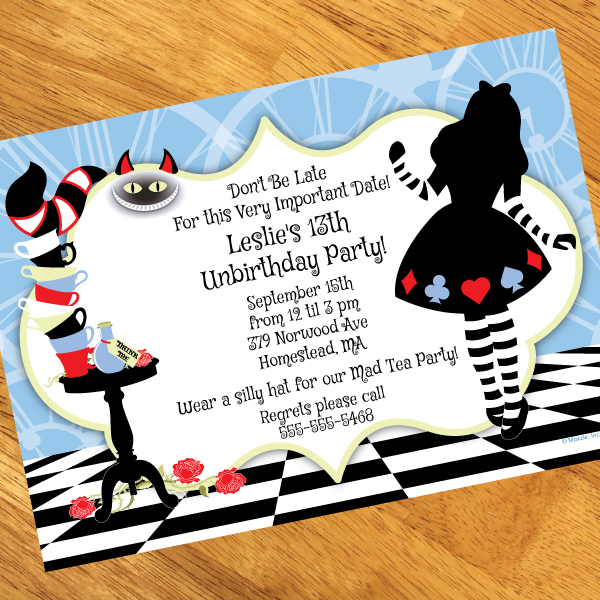 Your "Alice" may want to dress for the occasion, have her invited friends do so, or simply slip that classic blue frock with white apron on the table.
Whimsical memories of dreams may also induce her to include very large flowers, a checked tea party background, and clocks.
If you, the party planner, are running a bit late; I know Michael's has blue tulle, and paper for flowers. In fact, they have a wonderland full of silk flowers, ready for singing -I mean- for crafting.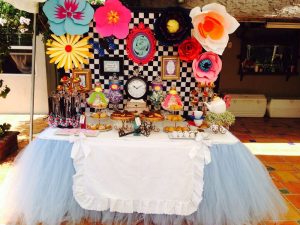 Need more party ideas? I'm sure you've thought of hosting a tea party, and of including tea things as décor.
Had you also thought to use teacups and a teapot as centerpieces, atop candlestick holders? A cute finishing touch could be a mouse peeking from the pot's lid.
Check out thrift shops or Amazon for holders, then hit up your local store for E-6000 or so to stick them on.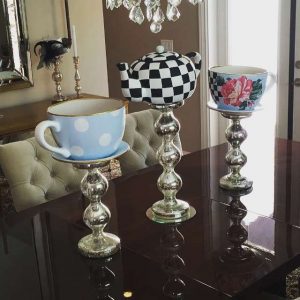 After searching high and low and beneath a few toadstools for decorations, I realized we'll also need a cake.
The Mad Hatter's a bit -well, mad, so how about we whip up something on our own? I very much like this vintage design; with gold, pink, cream, and classic illustration accents.
If your party is more of a Queen of Hearts variety, swap out for reds and blacks. The Cheshire Cat prefers purples and blacks, and the caterpillar wonders, "Who. Are. YOU?"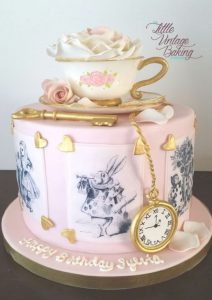 Though Alice did not have much time to sample food at her tea party, we don't want guests turning mad with hunger.
A simple and cute food item or decorating idea is to place pieces of cotton candy into teacups labeled, "Eat Me."
Be sure to set up right before the kids are ready to eat, so the pieces don't shrink too badly.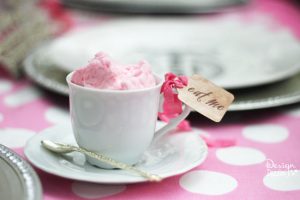 Why, look at these! They're nothing but a pack of cards!
Well… they're a pack of cards that are also cake slices. Guardsmen heads may be attached to Rice Krispies Treats as a similar idea, plus those frosting hearts and numbers.
What are you waiting for? Go paint those slices red.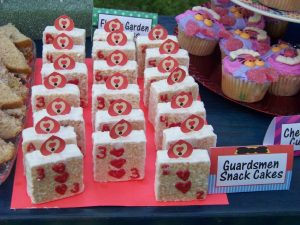 No Alice in Wonderland party is complete without treats inviting guests to "Eat Me."
In fact; they should also be encouraged to "Try Me," and "Take One."
All you have to do is bake a variety of cookies and frost them with messages. You can even cheat and ask the local bakery to do it for you.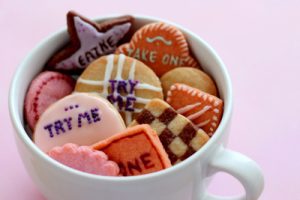 One of the best DIY Party Ideas EVER was brought to us by The Queen of Hearts herself: croquet.
You may recall that her mallets were a tad birdlike. Accordingly, I saw many ideas online to use lawn flamingos. That's way too tricky for little kids.
Instead, plan on painting over a set of actual croquet equipment. Paint bird eyes on mallets that are pink and purple, draw eyes and noses on the balls, and hot-glue "fur" to the wickets.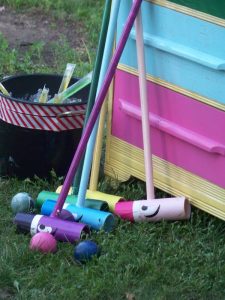 Another great do-it-yourself project is one where the kids do it themselves.
I'm talking hats. A tiny dormouse told me The Mad Hatter wants all tea party attendees to have a hat as mad as his.
Hats may be made with newspaper, craft paper, paper plates, or felt. Dig through your craft box wonderland for materials to decorate them, and heat up your glue gun.
No one will hear, "Off with her head!" when her head is dressed so well.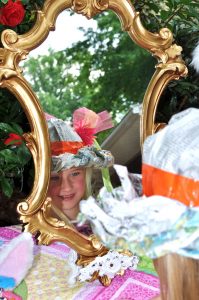 The time has come! (The host/hostess says) -to talk of other things.
Seriously; the parents have arrived to reclaim their children and it's time to hand out goodie bags.
Send them back up the rabbit hole with another "Eat Me" surprise: a chocolate bar rewrapped in a custom-printed paper.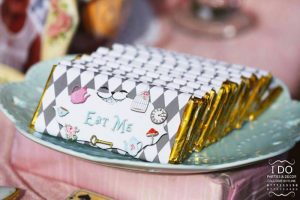 Are you curious to find out where these Alice In Wonderland party ideas came from? Simply click below; but watch your step if you see any rabbit holes:
3. Catch My Party, Amazon
4. Cake Central