Every year around the holidays, my husband gets in on one of those Biggest Loser challenges through his work.
Suddenly, I find myself tasked with hiding my candy bar stash and planning healthier meals. Like some secret spy, I corner my neighbors and ask them for their recipes.
I get so sick of fish, people.
So, I'm helping us both out here by scraping together 10 party foods that won't add a few numbers to that bathroom scale.
For example, have you tried Grilled Orange Chicken Kabobs?
Chicken pieces are marinated in orange juice (freshly squeezed!), light sodium soy sauce, and a touch of honey. After impaling them alongside red onions and bell peppers, you grill them to savory perfection.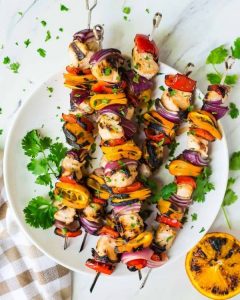 I know plenty of people who say fruits are not healthy foods. Then, they snag a handful of candies from an inviting bowl.
You keep your M&Ms; I'm going to whip up this peanut butter dip for my fruits.
Like any dip recipe, you pick the sides. Get some apples, bananas, or raspberries like pictured. Or go for orange segments, grapes, blueberries, and star fruit.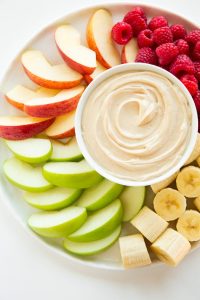 Try a different food this party with fresh vegetable rolls.
They're made with all those veggies your mommy wanted you to eat, rolled in a rice paper sheet and dipped in ginger sauce.
What better way to eat your avocado, carrots, and lettuce?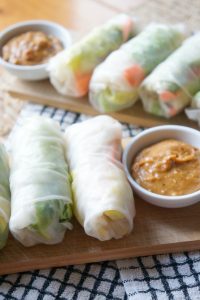 This is totally legitimate here. I'm voting it's healthy.
Look! See? It's a zucchini. Zucchini are vegetables, too!
And, cheese is totally healthy. Who wouldn't want to eat Zucchini Pizza Bites?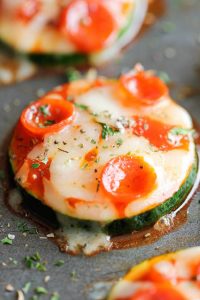 Ah, fruit. Did you miss me?
I haven't eaten you in forever -like, since that fruit dip earlier.
I haven't had a kabob since our first idea involving chicken. I'm going to remedy this problem. Get me some skewers!
I'm going to spear some grapes, blueberries, pineapple, cantaloupe (who like mandarins?), and raspberries. It will be a rainbow connection.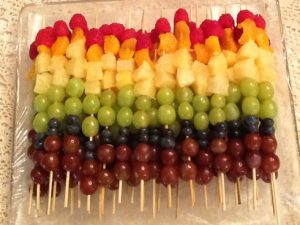 You may be looking over these party foods at a time besides December, but that doesn't change how cute these Christmas vegetable layouts are.
I'm so doing this for our next family party. Yes -the one around Christmas season.
It's a great way to use cauliflower, not to mention red bell pepper slices.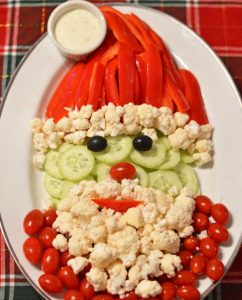 Or, clean the store out of broccoli to create a wreath veggie tray.
Red bell pepper makes a great bow, and grape tomatoes work well as berries.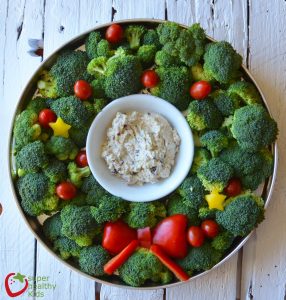 As a child, I liked to make Ants on a Log. Except, I hated celery and raisins. Go figure.
As a boring old adult, though, I wouldn't hesitate to pick Rudolph to guide my appetite tonight.
The candy eyes are what make it; but don't forget to purchase pretzels, peanut butter, celery, and raspberries too.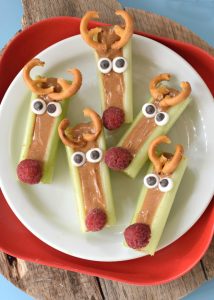 Ah, the old standby party food of salsa and chips. What would we do without them?
Of course, who knows what goes into traditional, store-bought salsas? I'd like control over my ingredients.
So, let's follow Confessions of a Fit Foodie to learn a cranberry holiday salsa today.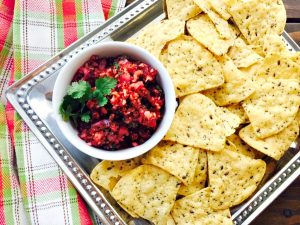 Let's not forget the universal appeal (especially at parties) of bite-sized foods.
Don't you want to pop a Broccoli and Cheddar Bite in right now? Yum!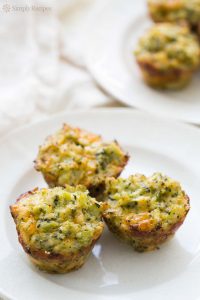 Last and fabulous, we have Gimme Some Oven's Brussels Sprouts, Cranberry, and Quinoa Salad.
With a name like that, you know this one's got to be famous.
And in case you wondered, this one's vegan-friendly as well.