I can't tell you how many times I visit a neighbor and she has the CUTEST Halloween arrangement set up!
Goblets of jewels bubble onto spiderweb picture frames. A fancy sparkling banner spells out tricks and treats for all. Eerie candles flicker against chic, weatherboard shutters.
And, don't get me started on the mantels. I thought mantels were there to hold up Christmas stockings. I had no idea they could host a haunted display of horror movie proportions. Or, an adorable hodgepodge of pastel pumpkins and cloth bats. Or, a lacey, country, vintage scene that would make a craft store worker itch to figure out how I did it. Decorating your mantel for fall: you will FALL in love with these adorable ideas.
I come back home, reeling from the impossible beauty of it all, to stare meekly at my own bare, dusty mantel.
I celebrate Halloween. I know how to use a glue gun. I can collect twigs from my yard.
How difficult can it be?
Good news: IT REALLY IS SIMPLE! I can prove it, too!
And, I found 10 different ideas. That means I can decorate based on whatever time of the mon– whatever style I like at the time.
This simply adorable mantel for fall arrangement made by My Blessed Life could not be easier to assemble.
Say, what? For real, people.
Myra (the designer) admits to pulling almost all of the materials from around her house. Granted, she is crafty, lives in the country, and has been decorating for longer than I have.
The thrift store has been decorating longer than I have, though, so not much competition there.
Speaking of thrift stores, they are one of the places materials for this came from. Also, Re-Store, fabric stores, previous decorating arrangements, and spray painting old ideas.
You can't tell me the result isn't amazing! Just look at that cute burlap and lace wreath!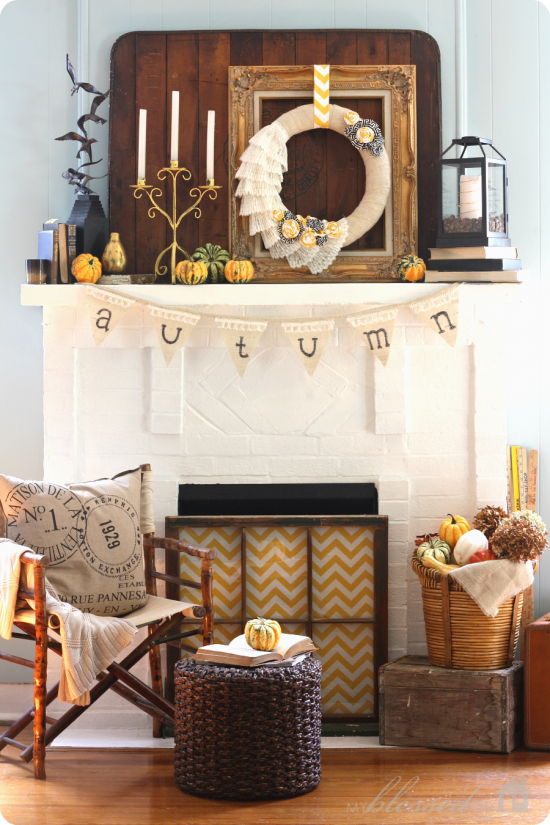 I found this incredibly creepy idea attributed to Grandin Road to be right up my alley: skeletons, candles, spiderwebs, candles, and a basic banner.
I love the black and white color scheme. I love the lighting of the electric candles. I love the little guy in the hanging cage.
Really, though, I love that this is assembled from things you buy at the store and then arrange. Just look at that banner; I can buy that.
I find random skeleton body parts in clearance bins. Or, from neighbors who have bones fall apart on them.
I can get spiderwebs at any store, and for even cheaper the day after Halloween for the following year.
My mom bought me a hat with a spiderweb that looks just like that.
I have spiders hanging around, plus a few fake ones from past sales.
We're just a small step away from a creepy, crawly climax of a mantel for fall.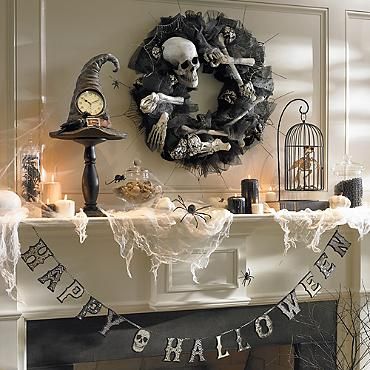 Do you have an old window hanging around -one not currently attached to your house? If not, I've seen those things on other houses or, better yet, at yard sales.
Jo-ann from A Pretty Life admits to shopping around her house for the basics of this cute setup, plus getting a bit carried away with the glamour décor available at craft stores lately (PURPLE! GLITTERY! Squeal!).
The spooky eyes are a styrofoam ball cut in half. That white pumpkin on the end is wrapped in a small piece of Halloween netting. Those labels are pre-made, but would be easy to create yourself.
What are you waiting for? Go glam your mantel for fall today!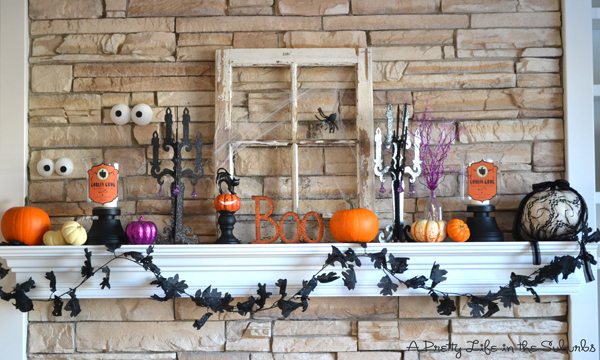 Are you looking for the Fall look instead of the "possible-murder-on-my-mantel" one?
This autumn array will look perfect for those times you want to decorate once and leave it up longer than just October!
I'm thinking, at this point, that I need to get a cute chair and basket to sit in front of our dinky fireplace. Look how cute Becca from Adventures in Decorating makes hers with those small accents.
She also explains that the leaves were on sale at the art store, the bead garland was one she made previously, and the apothecary and vases were sitting on her shelves. She purchased the picture as a focal point, but I've found cute ones at consignment shops and Goodwill. This mantel for fall idea is perfect because it can be left up from the beginning of October through Thanksgiving.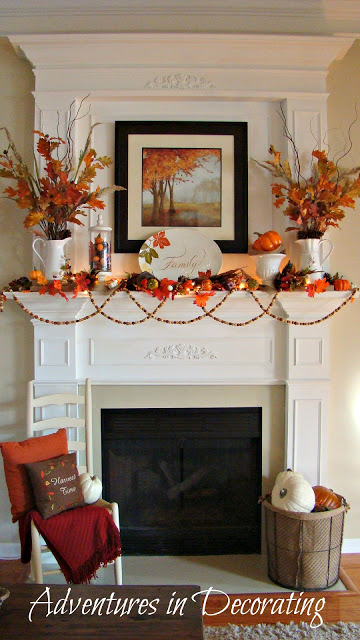 Looking for a classic look, with just a hint of Halloween? Look no further than this mirrored model from Domestic Fashionista!
Homemade bats and doily ghosts flutter quietly near flickering candles and naturally white gourds. A simple white wreath behind wood bead chains adds understated class to the overall look and feel of it.
Try this easy, yet impressive idea for your house this year; it's the perfect idea for decorating your mantel for fall.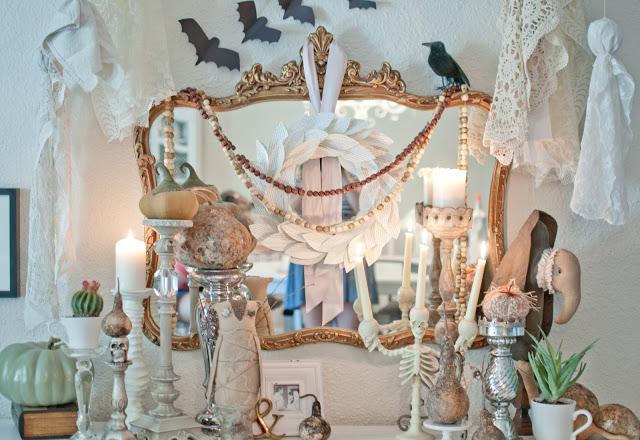 My next-door neighbor decorated her interior in French Country style. The moment I saw Serendipity Redefined's arrangement, I thought, Now, there's a beautiful mantel my friend would love.
Then, I thought, Heck, I love it. I could make it.
Do you have access to fall leaves? If you know where a tree is, you probably do. Or, I always like the fake leaf option of crafting stores -especially if you wish to avoid bugs, crumbling cleanup, and acquiring leaves every year.
Besides yard pieces, I'll bet you have access to spray paint as well. Those cute metallic pumpkins didn't get that look naturally, you know.
Finally, pull out that all-purpose basket we've decided we need, and fill it with matching décor. Add some fake, cutesy logs if you can, and you've got the whole arrangement to successfully decorate your mantel for fall!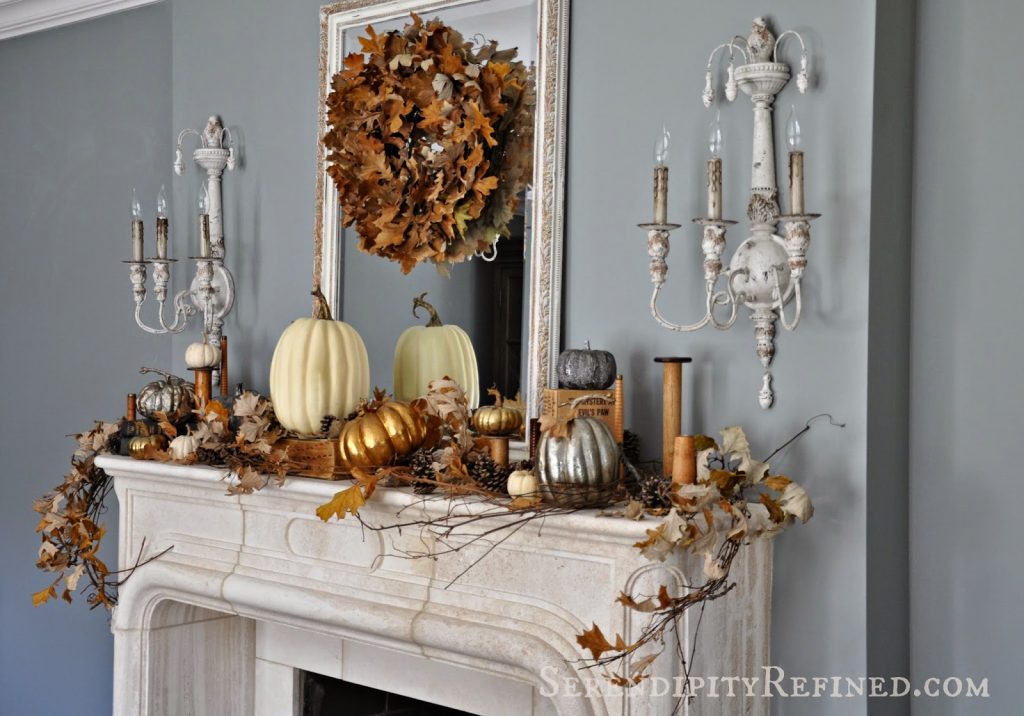 Searching around for a modern setup? I'll bet you thought you'd have to go with the ol' orange and black to make things look seasonal.
Aren't you happy to know you were wrong?
The designers over at Tomkat Studios describe this as a glam arrangement: lace, glitter, cheesecloth, black and white. I see contemporary and stylish.
Call it what you will; the result is a bold, stunning contrast. Envious visitors will ask how you managed to put it all together, and you'll smile with the knowledge of how simple it really was.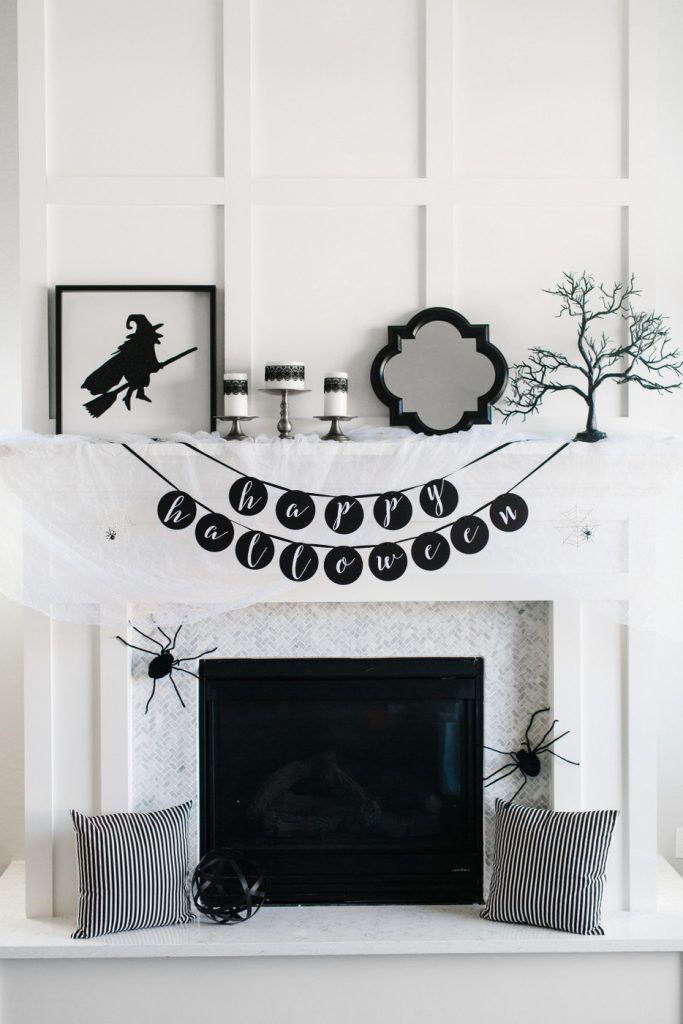 Thistlewood Farms came up with a very realistic idea after trying to go cheap and easy, and still made it cheap and easy.
Old wood revived with gray paint provides the backdrop to this lovely, natural mantel theme. Tie some sticks together, add some tea-leaved paper leaves, and accent with a couple of pumpkins and dried flowers.
To help with the accidentally-falling-leaves idea, create some woodblock letters spelling out "Fall."
Voilà! A seasonal setup that falls naturally over your fireplace.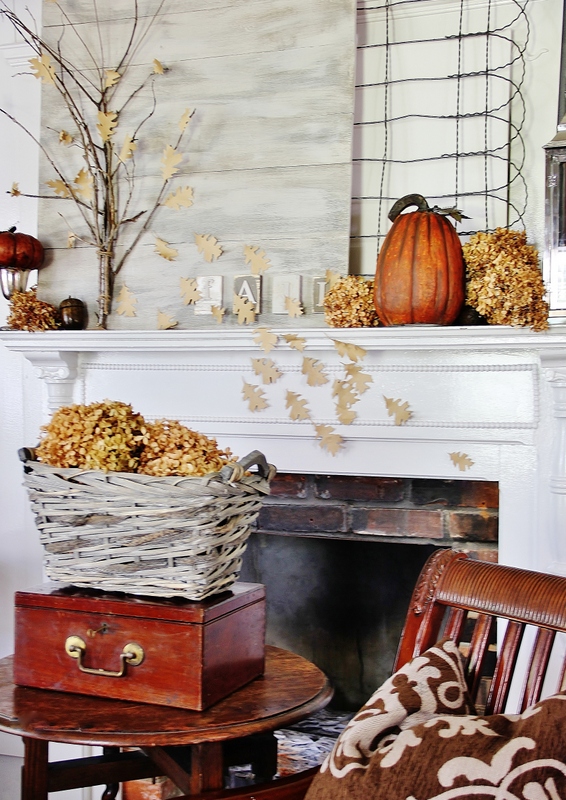 So, what about chic, glam, and spooky? You can have it all for Fall!
The Fancy Shack's idea can be assembled in a matter of minutes -providing you already have that cool music sheet wreath.
The designer picked hers up at Vintage Market Days, but I have children. They've done a similar arrangement whenever they've been bored and a book is nearby.
After that, the black gauze, urns, candles, and cobwebs are a breeze. Add some orange stems for color and texture variation, and you're done!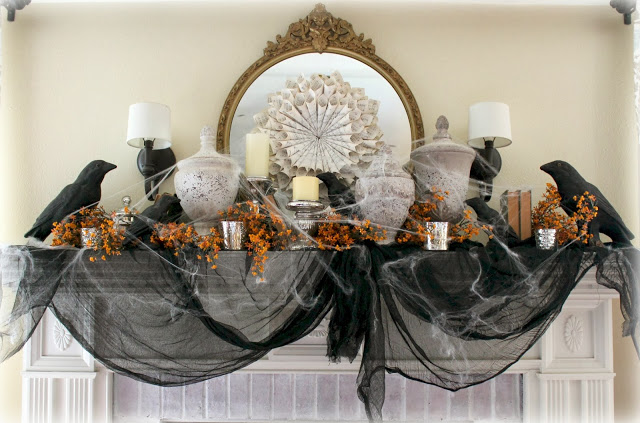 And, finally, the murder-on-my-mantel design. You thought I was joking with that reference earlier, didn't you?
I love this deep red, draping layout. It screams haunted mansion, murder mystery, or horror film.
Most of the design ideas out there pull sticks and acorns into spray paint wreaths and drape country charm into the kitschy mix -but, not this one.
Go for the throat of spooking out your houseguests this year with this haunted-house-worthy mantel, suggested by homedit.