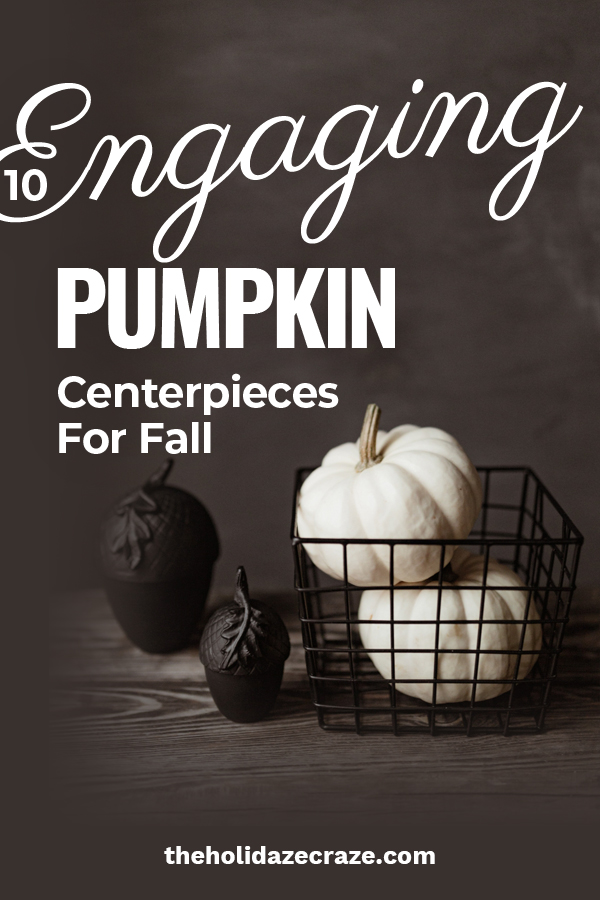 Pumpkins are everywhere! They're at the store, the farmer's roadside cart, and even in your own backyard!
So… now what? Pie? You probably didn't plant that kind of pumpkin.
How about carving? Sure -maybe a couple of them. That's going to leave you scooping out a lot of guts in the end, though.
And, what if the pumpkins you have piling all over your house are the crafts ones you picked up last year?
Don't worry -I've got 10 centerpiece ideas to get your creative wheels turning.
This first option from The V Spot uses real ones, but could be made with either kind. They're spray-painted white at the start, you know.
Next, the pumpkins are treated to a watered-down green paint facial, followed by some pearlized paint moisturizer. For best results, preserve that makeup job with clear gloss sealant.
Finally, grab ribbon, floral pins, whatever. Embellish, and display.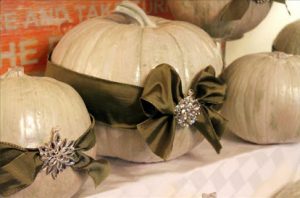 Let the natural ambiance of, well, nature shine through with this centerpiece of miniature pumpkins.
It's just as easy as it looks: straight glass vases piled with mini gourds. Purchase your vases at Michael's!
Want some bonus points? Stuff your other fall crap in there; like berries, leaves, or acorns.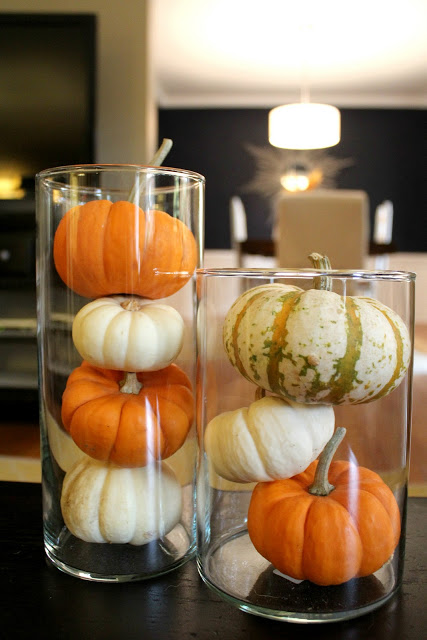 This floral pumpkin arrangement is very similar to a pumpkin succulent idea I mentioned in an earlier post.
The trick is taping a segment of wet floral foam on top of the pumpkin, rather than cutting it open and making a big mess.
Finish by stuffing roses, mums, greenery, weeds, and fall leaves in a creatively decorative clump.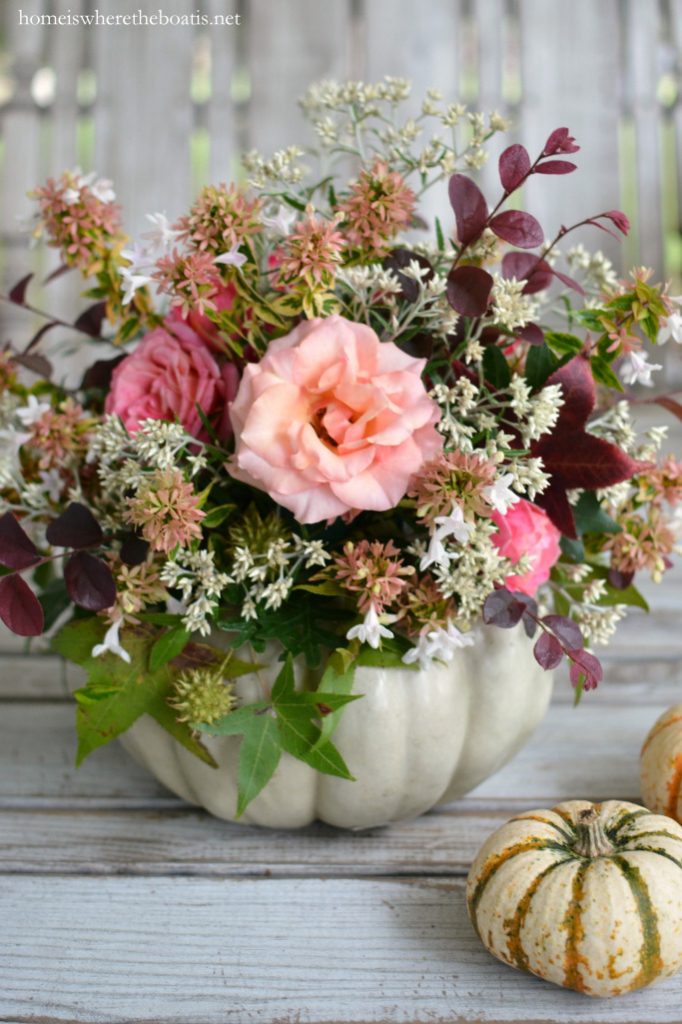 So… some of you people like to get fancy with your table decorations. I'm good with that -so long as you're willing to come set mine up, too.
If so, check out this array from Thistlewood Farms. She's mixed pieces from the same color scheme, of white and silver with gold and a natural jute.
To fit with our requirement of pumpkin for a center, she's got white ceramic squashes near one made of gold, glittery mesh.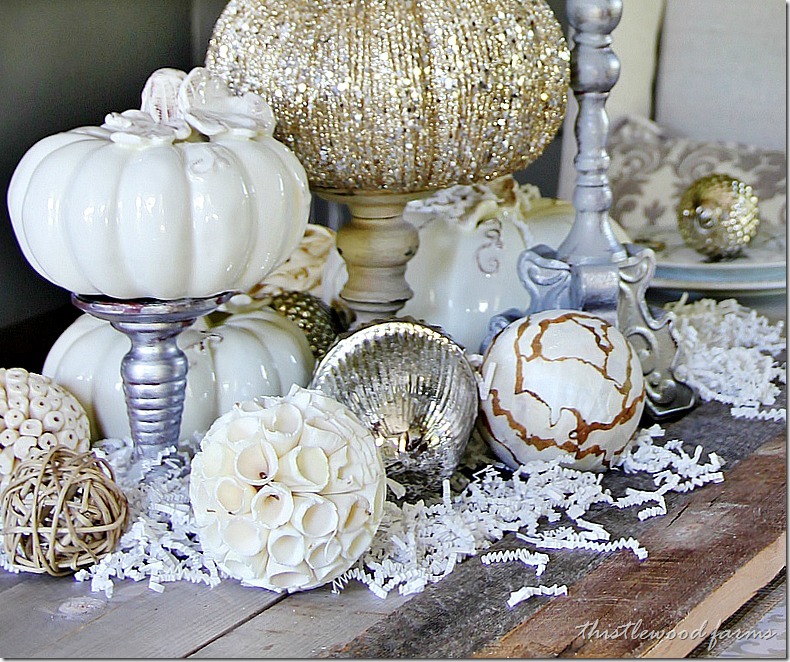 Like that long tray? 724 South House made it themselves, and you could, too. Or, see if the local Goodwill has something passable.
Next, give the various fall accents you intend to use a height boost with some strips of foam in the bottom.
Sprinkle Spanish moss around your pumpkins and gourds as a filler. Add candles. It's lovely!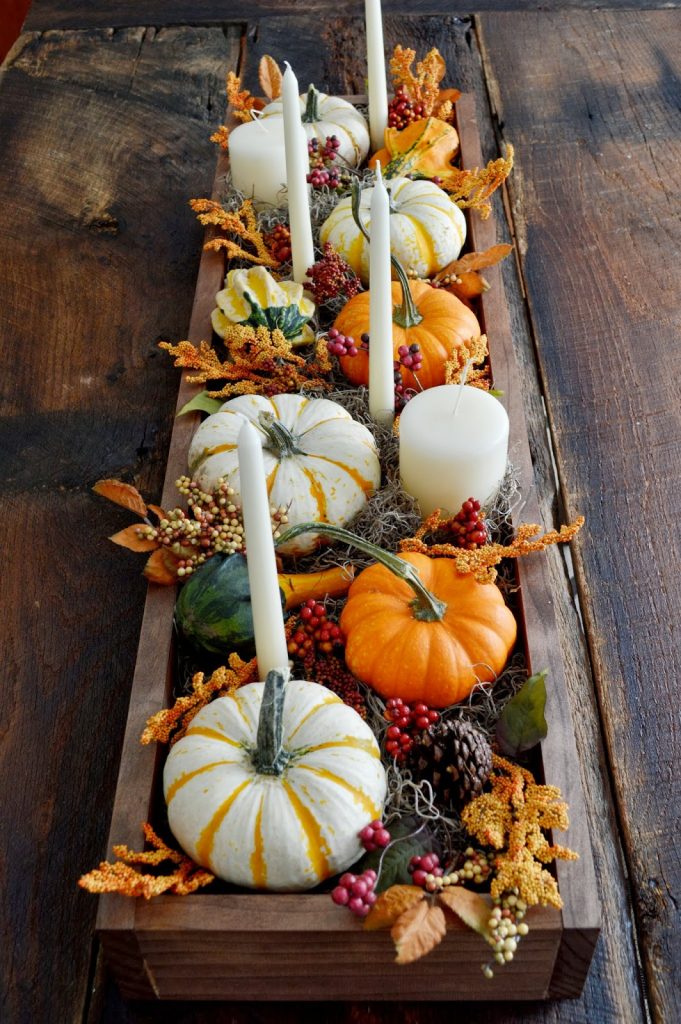 Do you like glitter? How about as a centerpiece?
Grab some white pumpkins, or whiten them up with paint, then add glue and gold glitter to the top.
You wanted that glittery, striped one, too? That's totally glitter tape. That specific kind pictured is Scotch Expressions Glitter Tape, and you can purchase some here!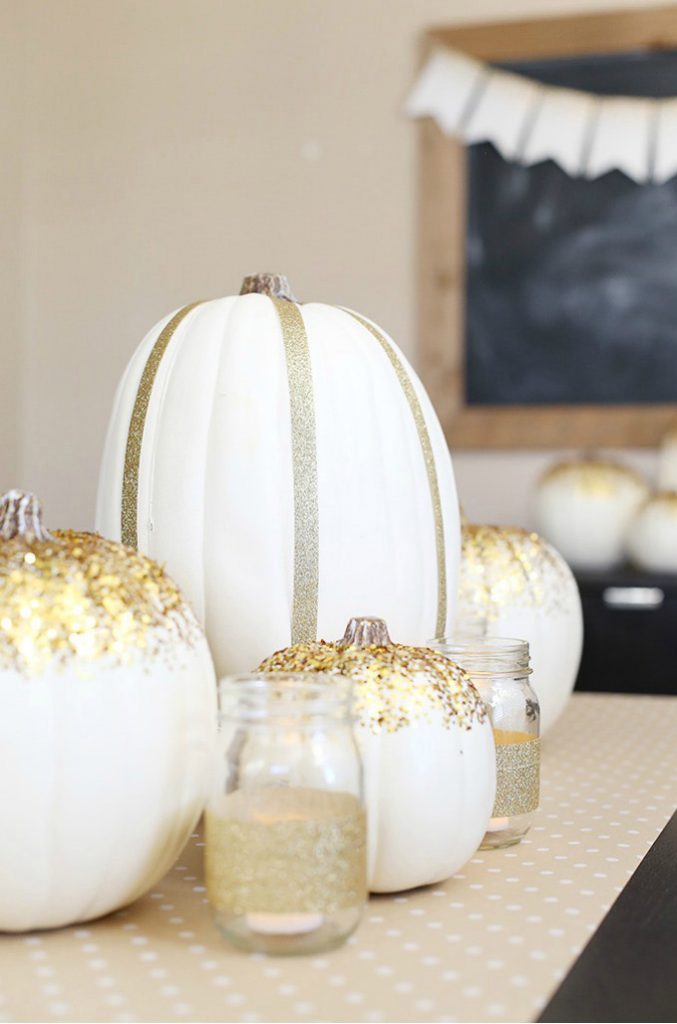 Just like with our Spanish moss tray thing from earlier, this idea from Unoriginal Mom uses a homemade tray to hold the pumpkins and greenery.
She made hers with recycled pallets, and kept it natural-looking. The work for this lies in chalk-painting a bunch of pumpkins.
Floral foam in the bottom, painted pumpkins on top; stuff fake succulents and leaves around them, and add candles. Ta-da!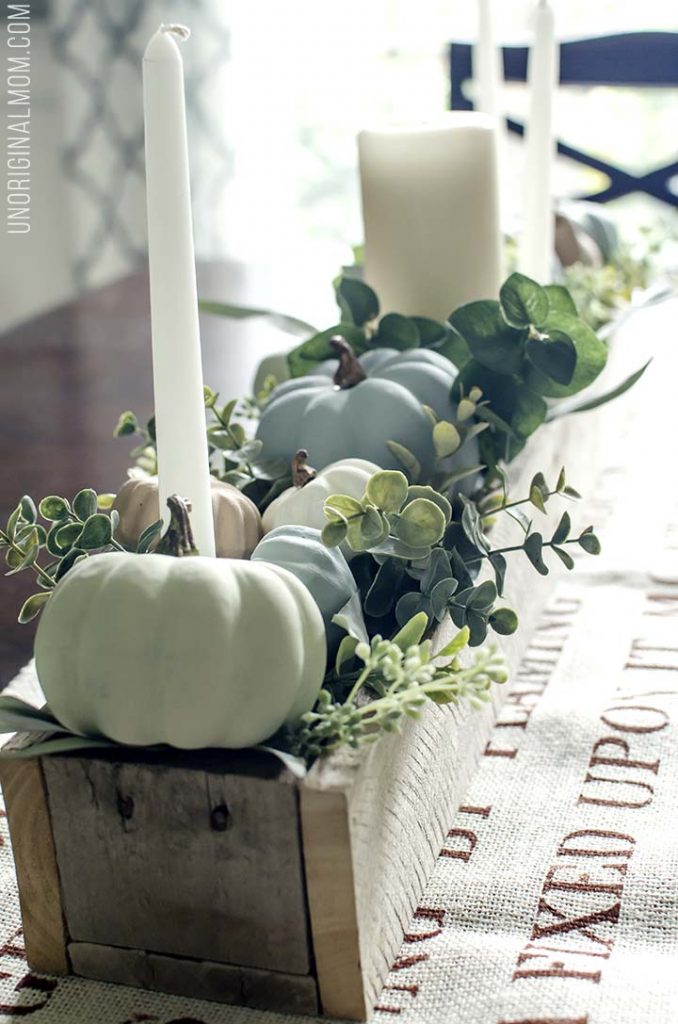 You'll need an interesting focal point to pull off this Wheated Centerpiece display, like that distressed metal pitcher pictured.
Throw in some dry stalks of wheat, making certain to sprinkle a few around its base as well.
Oh, wait -pumpkin centerpiece, right? Set a few white miniature pumpkins around the base, too.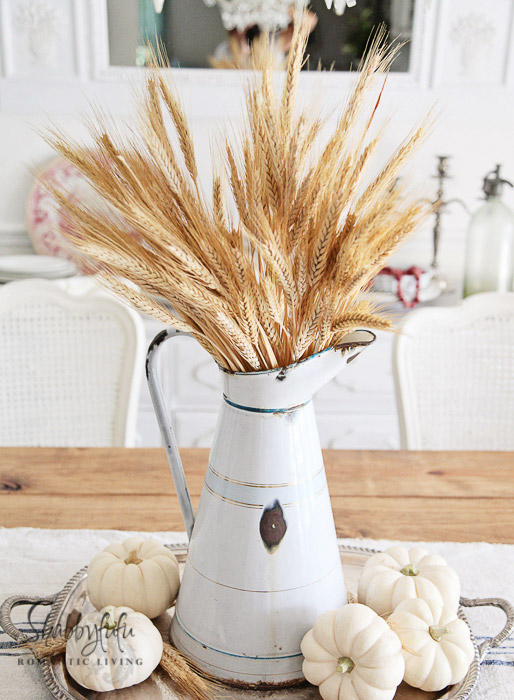 You might be feeling sick of decorating. Maybe you just want to throw it all away.
Well, why not both?
Pick up a cute garbage can -that might actually be a rustic metal basket. Stuff it with varying sizes of pumpkins, interspersed with greenery.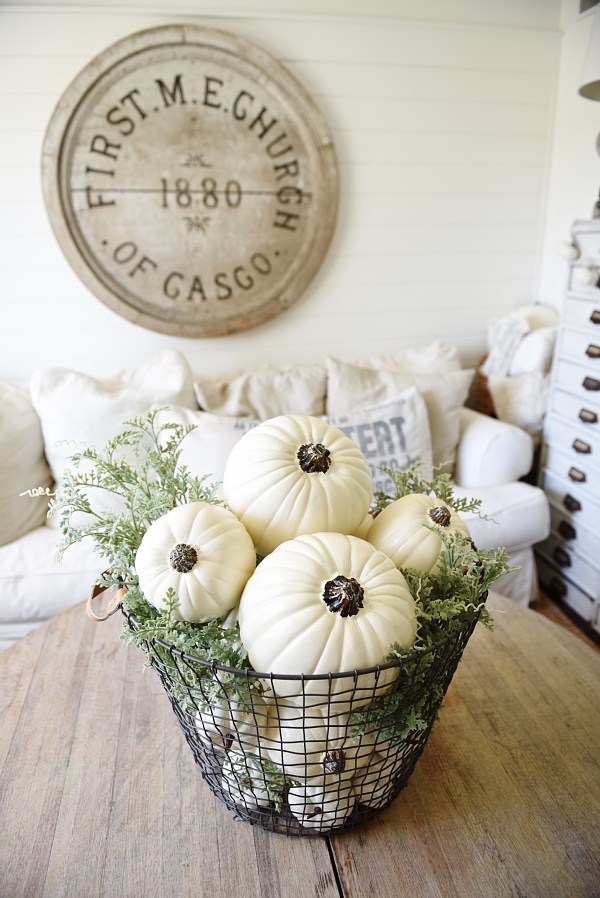 Holey pumpkin, Batman!
Oh, and stenciling. It's a creatively decorative way to let in light this autumn.
Thanks, Petalena!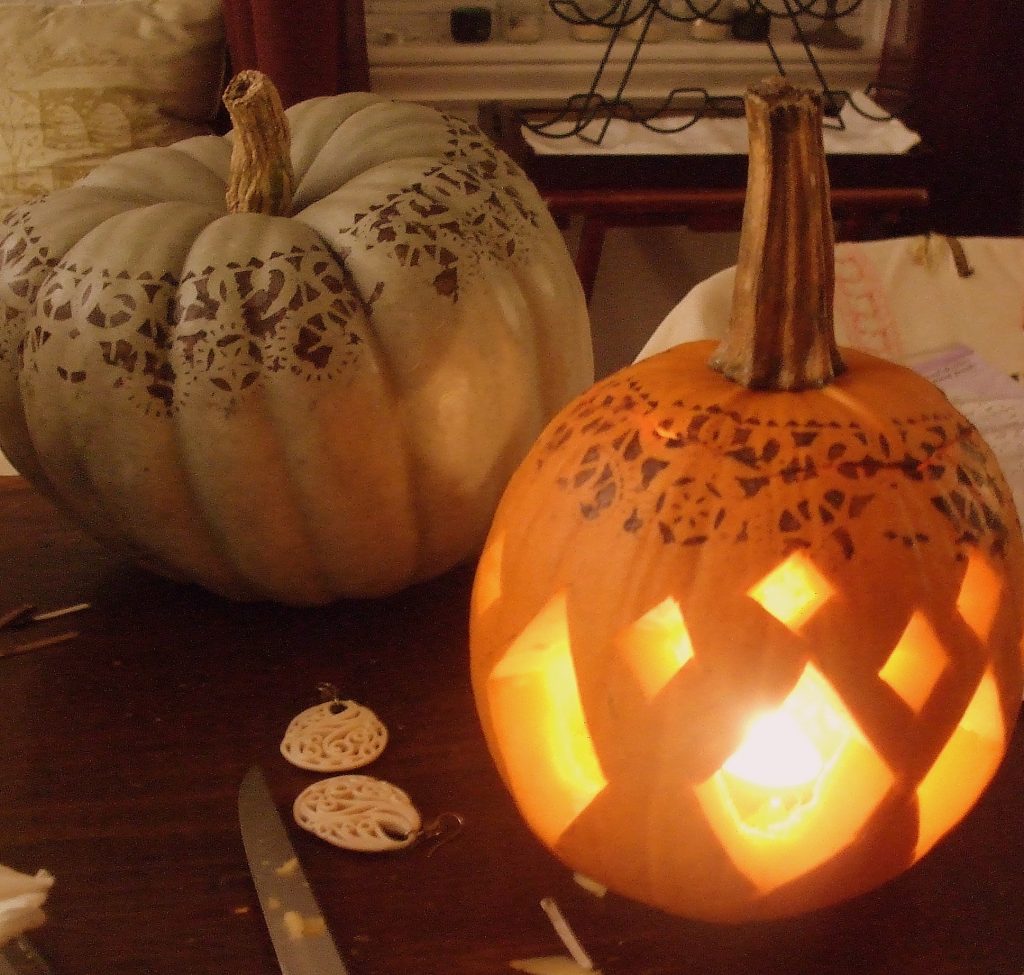 Find more holiday decor here:
Fun Thanksgiving Crafts for Kids