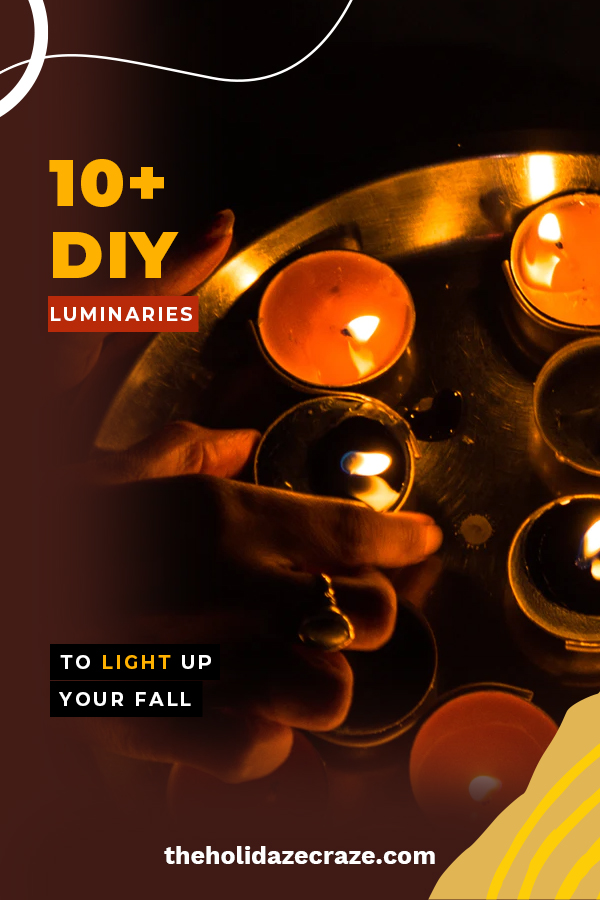 Ah, luminaries -a legal and acceptable way to play with fire.
They're a beautiful way to light up your yard or home, especially for fall. They don't need to be expensive or involved, either.
If you're a new mom, for example, you probably have an unintentional collection of baby food jars, or heck, even mason jars, laying around. I wasn't even using mine, but still felt wasteful throwing them away after they were mostly empty.
Well, now we can pat ourselves on the back because we are going to be CRAFTY.
Hook yourself up with some candles, even the battery-operated ones. Dig out some wire and loop it around and over the rim.
What? You wanted paint? Those are colored with food coloring, glue, and water. No joke.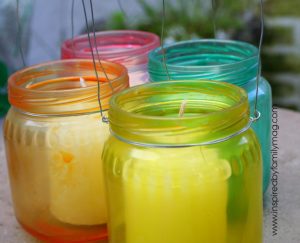 Do you need even easier? Try Better Homes & Gardens' simple mini pumpkin luminaries.
They're like tiny, open-topped Jack o'Lanterns!
As you may have guessed, these are made by carving a candle-sized hole in miniature pumpkins. And, you're done -after you light the candles you stuffed inside.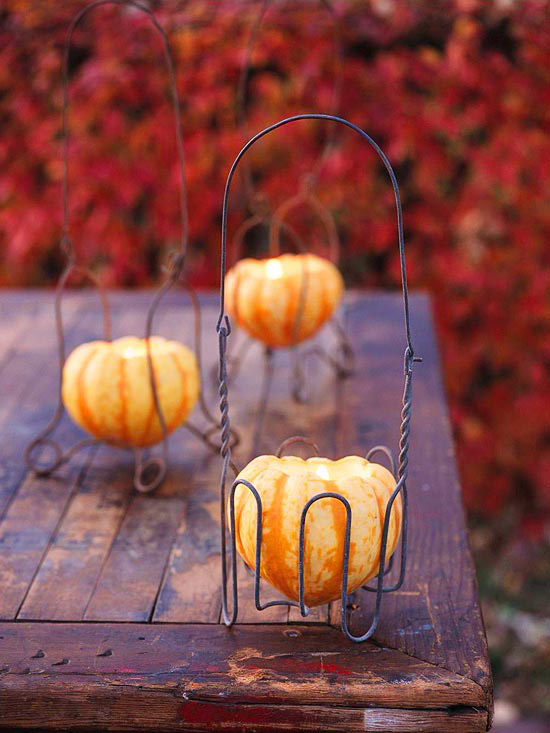 Need an eye-catching craft the kids can do, too?
You will be set to create a homemade autumn glow with magical Mod Podge, tissue paper, construction paper, and a glass container.
Since it's all do-it-yourself, you and the kiddos can make leaves, pumpkins, faces, hands, or spooky cutouts. The only limit is your scissor skills.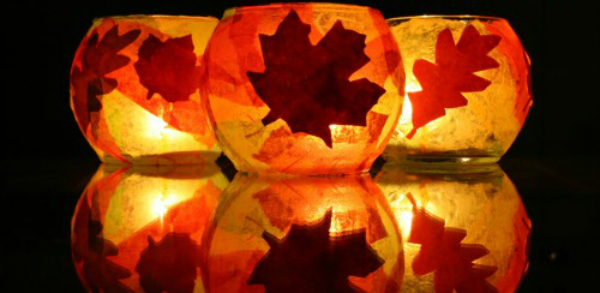 Hey, man. Feelin' groovy?
I sure do when I start thinking about macramé luminaries.
All you need is grosgrain ribbon and mason jars (and candles). Far out, man!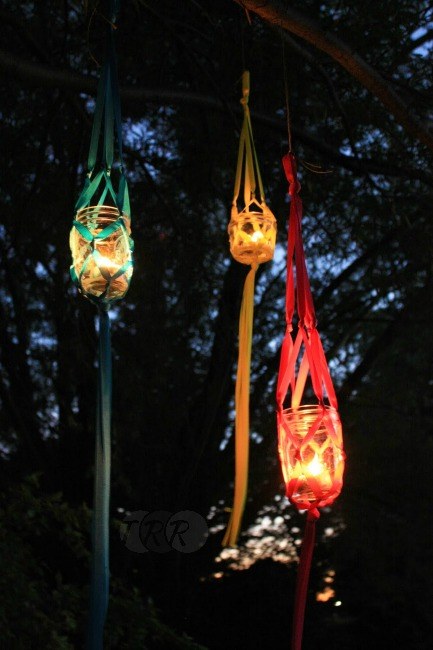 I LOVE repurposed industrial materials as decorations.
I may be outdated saying so, but I think I'll always love oxidized metals and chalky paint furnishings.
Maybe I just need to live in an old factory somewhere.
It would be a great place to acquire the industrial light covers used to create these. I just need to find some vellum and tea lights, and I'll be in business.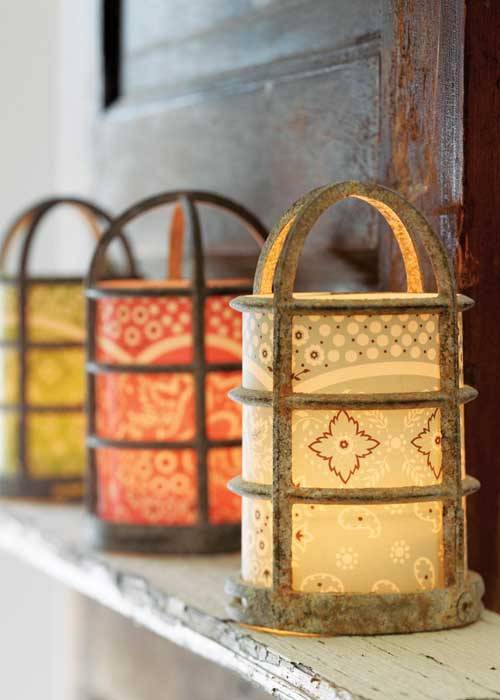 Do you remember punching holes into black paper as a child, for a picture to hang on the window?
You don't? You didn't go to that school?
Well, we're going to do it with tools and cans. Show your teachers who's having fun now by hammering holey patterns into painted cans.
Add a light, and you've made a craft out of some aggression therapy. Good job!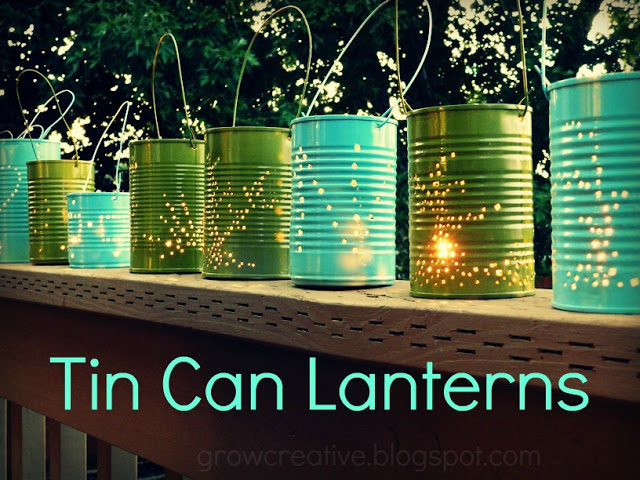 One Artsy Mama has given us another luminary idea for kids -provided you trust them around glass containers, of course.
Speaking of, if you're not fond of that fluted-top thing pictured, Mod Podge your orange tissue and Jack o'Lantern face onto a different one.
The only limit is your collection of glass jars.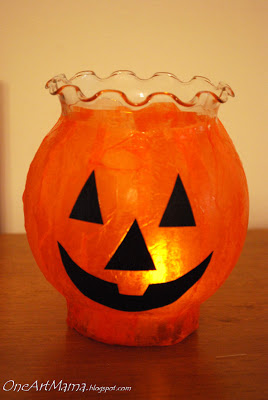 If you have a cat, or a seafood-loving family member, you now have a use for all those cans you've been racking up.
First, wash those cans really thoroughly. Otherwise, visitors will smell something fishy.
Next, glue painted paper all around, to cover up the incriminating label.
Hang, and add tea lights or battery-operated candles. Crescent and Old Lace hung hers from an angled wooden hanger.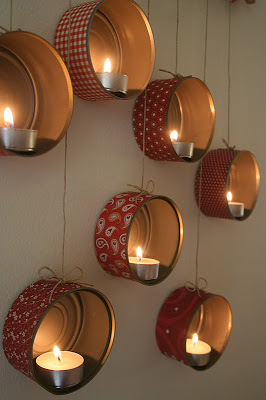 Are you looking for a good use for leftover screen? Or, maybe you found some on sale at Hardware World.
I happen to have a few family members that just hoard everything, so I'm going to go look there.
After we acquire our materials, the only other steps left to assemble these screen luminaries are jars, wire clippers, candles, and 18-gauge steel wire.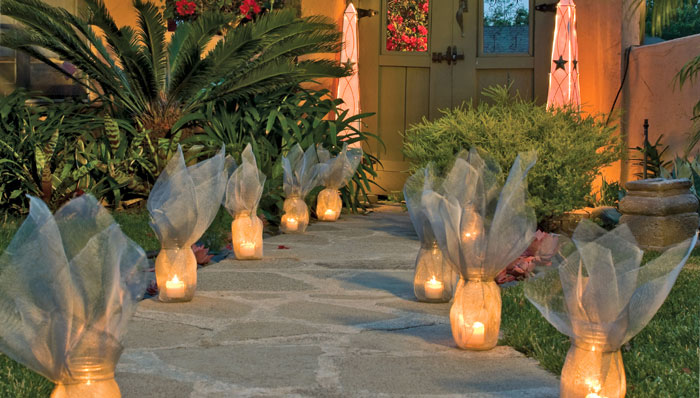 If you don't know by now, I am all about actually doable crafts.
So, The Forge has my visit with this incredibly simple glass jar luminary. Get your mason jars here!
You take some jars, tie yarn around them, and spray paint them. Once dry, you take that yarn off and light 'em up. Easy!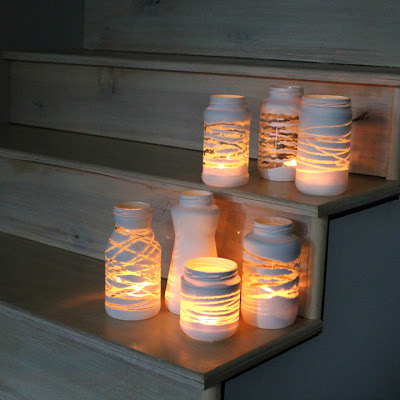 I just really love the calm, artistic look of these paper box candle holders.
They may look complicated, but they're not. These are made with the magic of waxed paper, ironed.
Pick what natural stuff you want for the sides, and you can soon be relaxing by the light of their soft glow.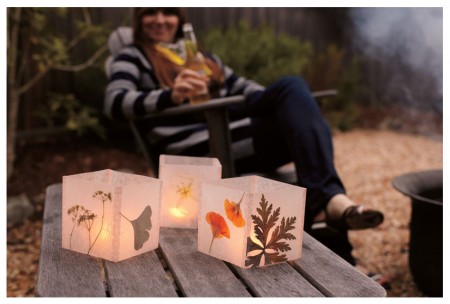 Not in the mood for paint, ironing, or pasting?
Hook chain onto the lids of Mason jars, drop in some Epsom salt (or other non-flammable materials), and a candle.
You're done, and it looks awesome.