Ruff! Ruff! Rrrrufff!
Oh, sorry. Unless you've let Fido plan his own party, I'm assuming you'll need the instructions in English.
*Ahem* It's time to party puppy style. I'm sure you've gotten your sweet little pooch Christmas gifts, may even birthday. Now you're thinking full-on party.
Why not? It's just another reason to have a doggie playdate, but with cake.
For set up, think about what you want within reach. This picture shows that the table of edibles is all dog-level, but I'm betting it didn't stay cutely decorated for long.
Put the dog toys at dog-level, and keep your cute décor a bit higher up. -Décor like those word balloons. Can U Dig It?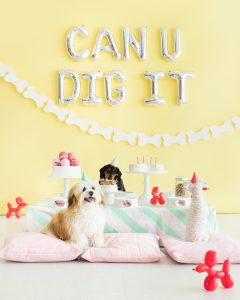 As to the invitations, they don't need to be anything fancy. I doubt your attendees have mastered reading.
For their masters, make sure to include what you expect in terms of gifts, location, and whether you want humans coming along.
I like the design of this, especially the paw prints. Another cute idea I saw was cutting them to be bone- or dog outline-shaped.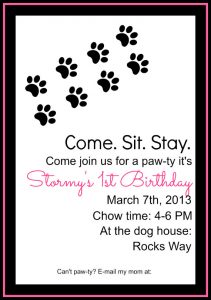 In sniffing out all the necessities of this shindig, I found a few people who made their dog a just-for-show regular cake.
Now, don't you think the birthday dog is going to want in on the action?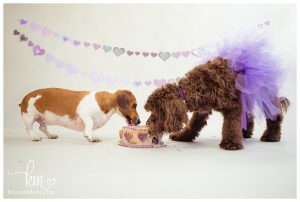 That is why I searched high and low for a dog-friendly cake.
This Milkbone-ringed model is water, canned pumpkin, egg, vanilla, peanut butter (of course), whole wheat flour, oats, baking powder, and cinnamon.
 You can make the caketop banner with some
stripey straws
, but be sure to remove them before Fluffy digs in.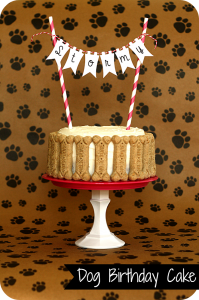 Besides the cake, what about other party decorations?
Do you love this sign as much as I do? "This way to the paw-ty" can be painted, printed, or written on invitations, a sign, or a poster.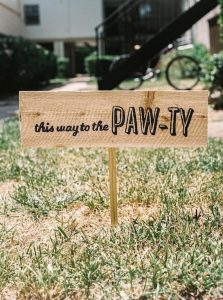 Have you been to people's houses, and they have little jars full of fluffy cotton balls or candy? Maybe you have them in your own house.
Well, this party is going to need some dog-related jar contents. Chew toys, balls, and bones all make great fillers.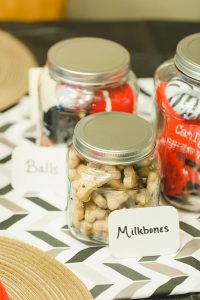 Perhaps it's my more-twisted sense of humor, but I thought the funniest people-food idea was hot dogs.
They're also cheap and easy. Plus, hot dog bars are cute and fun for guests. Everyone likes to customize his food; so include toppings like onions, condiments, jalapeños, cheese, tomatoes, relish, and chili.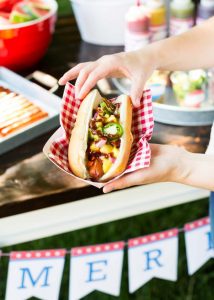 For the very hairy attendees, I've found this homemade chicken jerky. Their creator also says humans will like them.
What sane animal wouldn't enjoy the peanut butter and soy sauce marinade?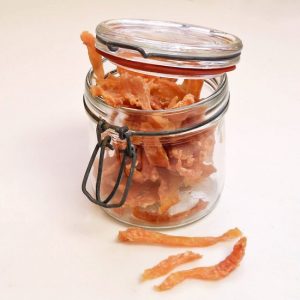 You're allowed to eat these, too, but I think you may wish to pass on these dog food lookalikes.
In case a young, human guest picks one up; you'll be happy knowing they're simply oats, peanut butter, and banana cookies.
In fact, these work just fine as a funny baked goodie for a puppy-themed human party.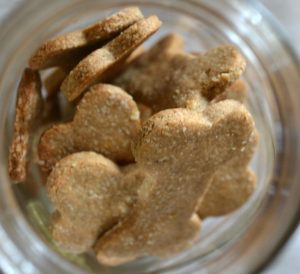 For party games, there's always "Fetch." Heck, there's Sniff-Each-Other and Destroy-All-The-Decorations.
If you want a little more organization, try this basic "hide the treat" activity.
Hide your pup's favorite snack under a tennis ball or two in a muffin pan, and have him or her sniff it out.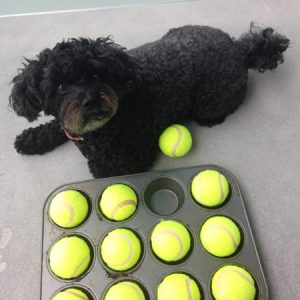 Are you going to want miniature masters playing piñata for diversion, or just dogs?
For humans, fill the bone piñata with candy. For dogs, use snacks and treats. Humans will need a bat; dogs will be fine with teeth.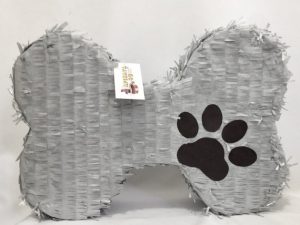 And, finally, what about a neat present for your furry friend? Check out Furhaven for some nice pet beds and toys.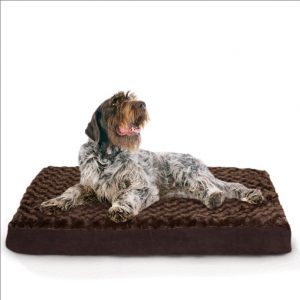 Howl would you like to get rid of that party-planning itch? Click below to read more:
1. Oh Happy Day
4. Keeping My Cents, Michael's
8. Popsugar
10. Yes Missy
12. Furhaven