Just follow along with my How-To Guide to Making Cardboard Tombstones.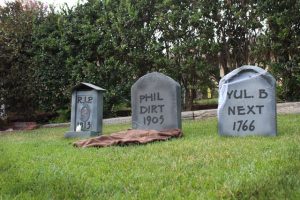 1. Materials Needed.
Cardboard, probably from boxes
Newspaper or old paper
Découpage glue
Spray paint: lots of gray; rustic umber and flat black for accents
Hot glue gun with glue sticks
Stencils for epitaphs
Ruler
Pencil or marker
Paintbrush
Box-cutter, or scissors and a capable wrist
X-ACTO Knife, or exceptionally accurate skills with scissors
Strong tape: packing or duct
Weights: rocks, old toys, sand, food storage, etc.