Anita Shovel, Pierce D. Hart I Ran with Scissors, Ima goner
Ima Frade, Kreap E. Crawley, U.R. Skerry (from Pottery Barn)

Al B. Back, Ded N. Gone, Myra Mains
M.T. Toom, Yul B. Next, Rusty Chain
Chris P. Bacon, Bea A. Fraid, Vacancy (with an arrow pointing down)
Or, go with a classic: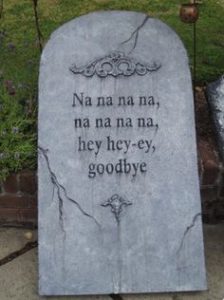 9. Epitaphs: Trace and Cut Letters
After figuring out what you're going to say on the tombstones, you'll want to actually apply those names somehow.
Using your stencils, trace out the letters you'll need into more cardboard. Use the X-ACTO Knife or mad scissors skills to cut them out.
Grab the flat black spray paint and douse the letters. You may want to border them in with scraps so they don't blow away.
Note: Letters may also be applied by drawing on the headstone with permanent marker, or printing them on a computer and cutting those out. Some DIY sites like using foam since it's easier to cut through. The cardboard lettering looks pretty cool, though.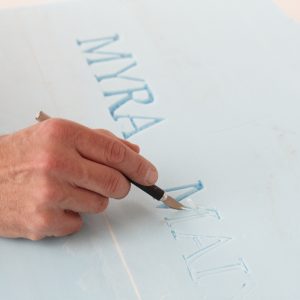 10. Paste the Letters On
Once all paint is dry, use your hot glue gun (or the one you borrowed) to apply the letters. Don't forget to put them in order of the name you're creating.
That might be awkward to have "M.T. TMOO" instead of "M.T. TOOM."
11. Add Extra Details
If your glue gun is dripping glue anyway, grab it and detail on a spiderweb pattern or two. Add some drips with it.
Also, if you've got the extra time, there is this cool stuff called faux stone effect spray paint. You can spray it on your finished product for a look like the stone pictured.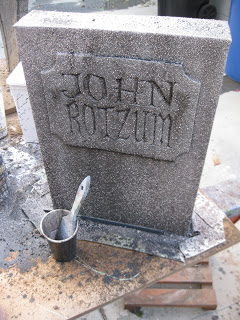 You did it! Now, go cemetery up your yard.