Easter's for toddlers, too! Just because they can't quite reach the doorknobs doesn't mean they don't enjoy eating the candy behind that pantry door.
You know and I know and they know that candy inside eggs would be even more fun.
Life doesn't always have to be out of reach, though. Eggs and candy don't need to be difficult to find.
Sometimes, I've had an Easter egg hunt for toddlers who knew exactly what was going on and were able to rush out and score some loot.
At other times, I think this brilliant idea of attaching a balloon to each prize would have been great. If you've ever tried to get a toddler to do anything, you know what I'm referring to.
Unless yours has a psychological fear of balloons, he or she would probably love the additional prize of a floating object besides candy inside a plastic one.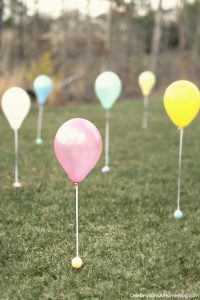 Let's face it: the easier the "hunt" is for these miniature people, the better.
For barely-mobile ones, this may mean "hiding" Easter treats inside a contained space, like a kiddie pool.
You can fill it with Easter grass, like pictured, or just the eggs. The total mess is up to you and your cleaning preferences.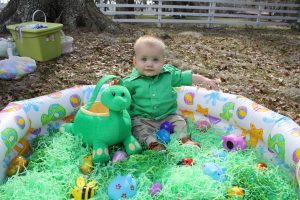 Why make a mess at all? Turn the traditional idea of tiny eggs hidden where you have to point them out into a game, instead.
I'm talking about nesting some candy inside a small egg, inside a larger egg, inside an enormous one.
You're not keen to sugar-up your toddler anyway, and he or she will be entertained for a full five minutes with this one.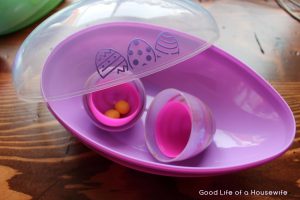 I'm going back to balloons, here. Instead of attaching helium-filled ones to eggs, however, the eggs are inside.
Again, this is definitely not a game for those kids who are terrified of popping balloons. That is because they will have to pop the balloons to get their yummy treats inside.

What about a different "treat" for Easter? What about going for slightly healthy?
Kids are huge juice box fans, not to mention getting a kick out of ones dressed up to look like bunnies.
This craft is not high on the difficult chart, either. Grab some paper and markers at Michael's, then tape little sleeves with ears around each juice box.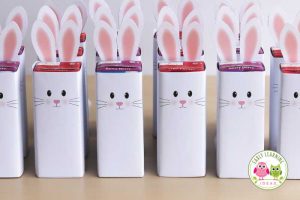 Another non-sweets idea for your Easter egg hunt is to consider small toys, stickers, games, or cute trinkets.
Don't sweat trying to squeeze something small but still not a choking hazard in, either. As we learned from the nesting eggs idea, plastic eggs come in a variety of sizes.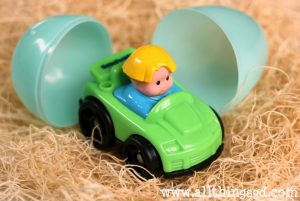 I also liked this cute lunchtime egg hunt. You don't have to always use non-edible when considering less sugar, after all.
And, this can just be a cute way to serve food on Easter, whether or not you go out hunting.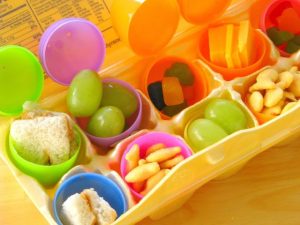 I realize this should have occurred to me way before now, but I had never thought of putting something that glows inside an egg.
I'd like to blame our cold climate, in that I've never hunted places besides houses or the backyard once the sun was up.
An inside hunt, however, is a great place to "hide" eggs filled with lighted toys.
-And that's the other thing I've just learned: there are a lot of glowing toys out there. Look on Amazon; you'll be amazed. We're talking rings, cars, stickers, stars, dinosaurs, and even already-lit eggs.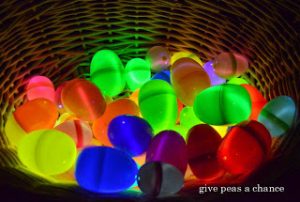 Eggs and hunts don't have to use plastic eggs and prizes.
We're talking about toddlers, here. You can go ahead and re-think anything you want since they're barely old enough for permanent memories.
I wish I had read about this idea earlier, in fact, because it's really simple and really cute. All it requires is pictures of the toddler's favorite things. These pictures can be animals, objects, and TV characters; but also family members and pets.
Those pictures are then cut into egg shapes and laid about the room for finding.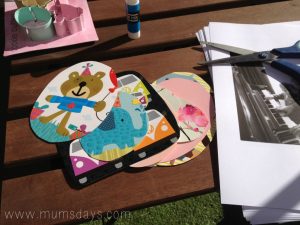 Last but the most fun are these miniature piñatas. Mini piñatas for mini people, right?
My toddler will be all over this one, but so will my other children. Now I just need several trees to hang them from.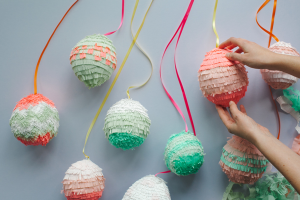 Toddle over here for more information:
2. The Road Less Traveled-The Whitehursts, Dollar Tree
3. The Good Life of a Housewife
5. Early Learning Ideas, Michael's
7. Gluesticks
9. Mumsdays
10. Oh Happy Day