All bets are in, the action's high, and you're hosting a poker night.
Need some party ideas? You can't read my poker face. Actually, all my chips are on the table with these suggestions.
For starters, a few hipster attendees might appreciate this "Keep Calm and Bluff On" sign.
Luckily for you, it's a free printable. Or, you can just steal the idea and paint your own.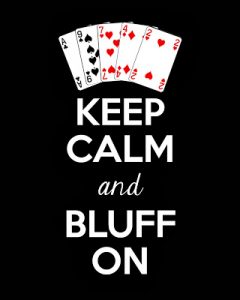 I saw a few banner ideas incorporating playing cards, but I liked this one best. There's something simple and unique in putting just the suits on the line.
Plus, a good image printout will make cutting these out a cinch. Pick up various paper colors at Michael's with some scissors, or maybe just use a cutting machine. Tape or tie them on some sturdy string, hang, and you're done.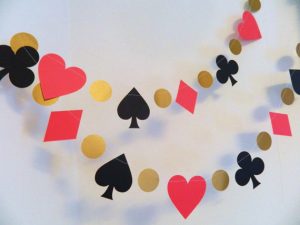 Looking for more décor? Here's an illuminating table centerpiece. It uses the red, white and black of cards, in a unique twist.
I also like how inexpensive it would be to throw together, since you can pick up dozens of dice wholesale.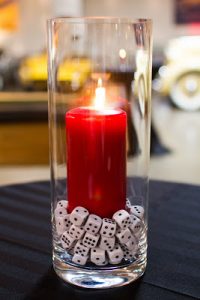 I have a friend who crafted some of these poker card flowers, and I thought it was such a neat idea! All this time, and I've only been playing with ours.
As with any craft project, some flowers are easier to put together than others. That's probably why this arrangement has some red ones thrown in there, besides a neat contrast.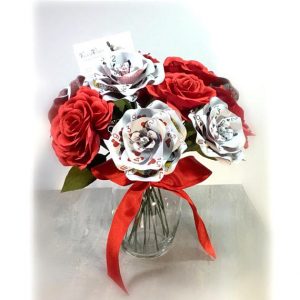 This poker chip container might be a fun way to hold those card flowers, above; food, snacks, or other decorations.
It's made about how you'd expect: gluing a bunch of poker chips around an existing cup. I like the ascending green, red, white, and black of the gluing pattern used for the picture.
If you're planning on making one, be sure you don't waste any real casino chips.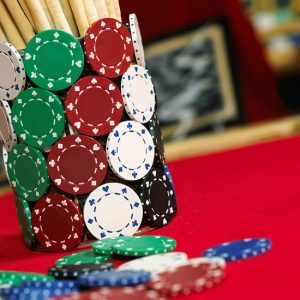 This idea definitely made me chuckle. We have white doors in our house, but the idea would also work on walls or a posterboard.
The secret is that the "A" and its diamonds are removeable decals. If you have vinyl, cut out your own.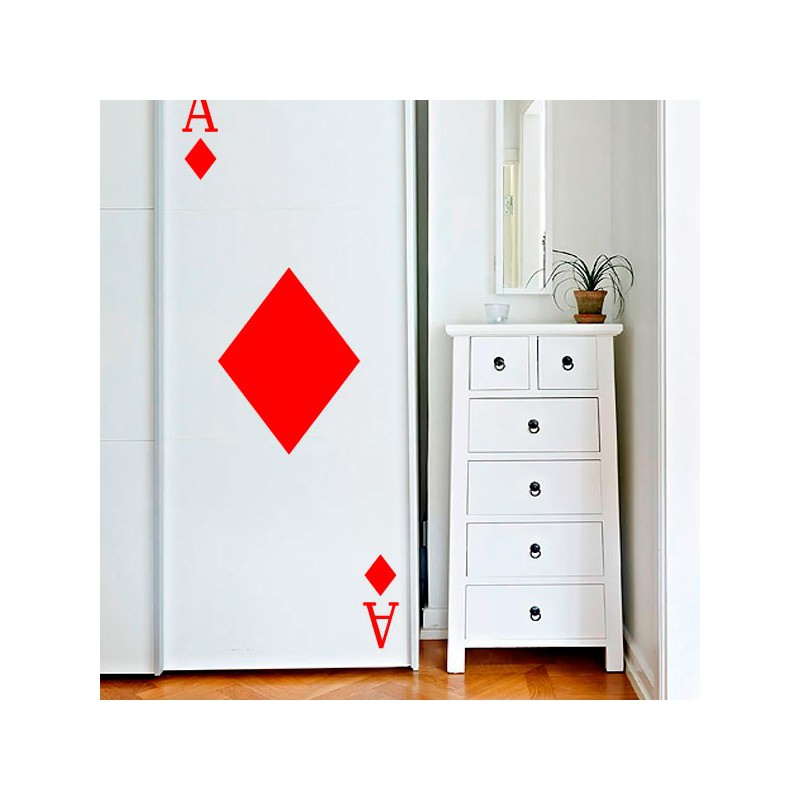 We're onto ideas with actual playing cards, starting with utensil accents.
Wrap your intended plasticware in a red napkin, then tie two playing cards on with some black ribbon. You might also want a round red plate and black square one for nice accents.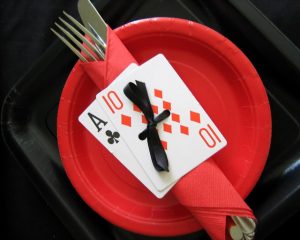 I told you the card ideas were coming. That, and we need to start planning snacks.
We'll keep the color scheme of the evening, too, with strawberries and black grapes. Who wouldn't gamble on a fruit kebab, especially when aces are wild?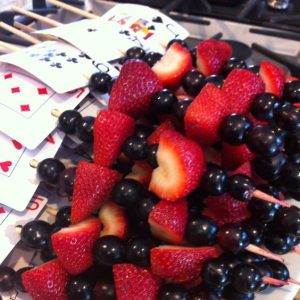 Though it's difficult for me to pick favorites from these twelve suggestions, this cheese "ball" idea is one of them. It's super simple, too.
Just buy or make a cheese ball, re-form it in die shape (the singular of "dice"), and jab olives in for the pips.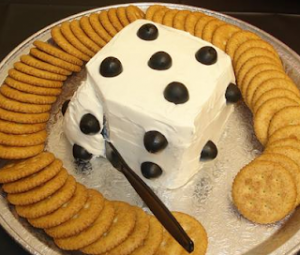 Have you heard of Jello shots? If not, I found a way to make them here.
Now that we're all on board, imagine painting white dots on, just before serving. Imagine painting those dots as pips, in a pattern people will know well.
Granted, dice aren't used in poker. We're not picky, though, especially when it comes to shots.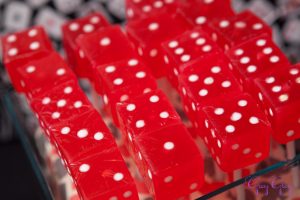 For serving the drinks that aren't in a jiggling cube, look at this clever stemware addition. Yep, they're face cards, slit to fit around the base.
You've had to cannibalize a set for those napkin holders, anyway. I've just given you a use for the rest of the 52 cards.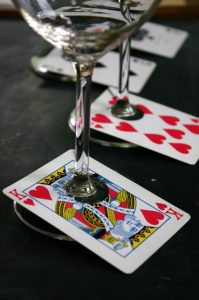 I know, I know: it's a poker night. Let's just say you wanted to mix things up a bit by adding other party games.
Mix it up a tad more by playing Shots Roulette. It's your party; spin it up, drink it up, spin again.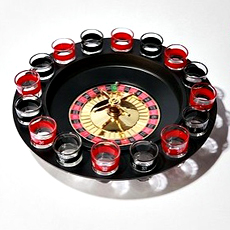 Don't leave your plans to chance! Roll your mouse over to these websites:
2. Etsy: Anyoccasionbanners, Michael's
3. Every Little Detail Event, Amazon
8. Pinterest
11. Family Chic