Since the advent of adult coloring books, I believe society has recognized that we adults want to have some creative fun, too.
You have to see these adorable Christmas crafts for adults!
I'm not talking about buying it all made from Etsy, either -though, that's not a bad idea.
I'm talking paint nights, pottery classes, and a snowman wreath.
Hey -you need a wreath for the door, right? And, did you know this one lights up?
It's a great craft, and will earn you some neighbor envy.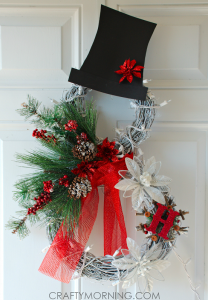 How about something decorative for the fireplace? A garland, perhaps?
Grab some coffee filters and twine, plus a way to poke a hole through each bunch.
It's super easy, inexpensive, and can be used (or, left up) for all your holidays.
This might be the simplest of all the Christmas crafts for adults.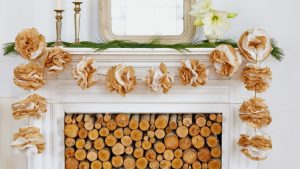 Here's a unique idea: tomato cage Christmas trees.
I'm sure you've noticed that cages have a triangular shape when upside-down. Well, this idea takes that shape and trims it up nicely.
Attach a miniature string of lights to the cage with wire, then puff sinamay between the gaps of the string. After you've encouraged the most artistic poofing possible, hang a few ornaments in any empty spaces.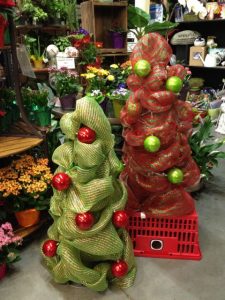 Homemade wrapping paper? That's too simple! Right?
Hey, I found this picture on Etsy. Someone is selling what you and a few paint-happy friends could make.
You'll need stencils, stamps, or raw artistic ability; paint supplies; and brown paper. It's super easy, and you all can wrap the white elephant presents in it later.
Although you may not think of this as a typical craft, this is one of those adult Christmas crafts that are sure to impress your friends and family.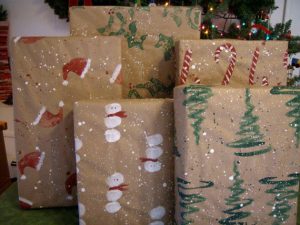 Speaking of gifts, isn't this advent calendar freaking adorable?
Kate's Creative Space hides nuts, raisins, small treats, and Christmas nativity surprises in each one.
My favorite part is she shows different ways to display the packages: in a frame, on a "tree" of branches, or simply set out.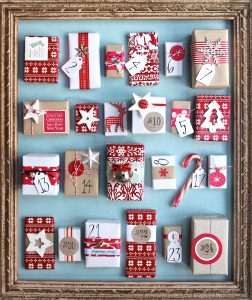 Yes, you can totally make this sign. I said so.
For one thing, the base is a preexisting light-up sign from Hobby Lobby. What smart cheaters, right?
The rest is a matter of stain, paint, and chalk marker.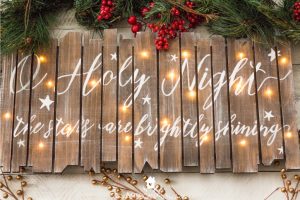 This is seriously the cutest little ornament you can make this year.
If you're out of wine corks, they're available at craft stores. Heck, so are those other things that angel's wearing.
You'll also need glue and some face-drawing skills.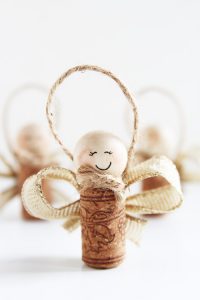 Do you like snow globes? Have you ever considered making your own?
I'm fairly certain I tried as a child. I remember something about soap flakes in water, and being confused about sudsing.
Good news: these are waterless. They're also made from inverted Mason jars.
Go get some random Christmas scenery like trees and snowmen, artificial snow, and the mighty glue gun.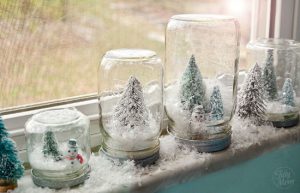 I've got another wreath idea for you.
You'll need a wreath form, wide ribbon, decorative accents like berries and pinecones, and hot glue and pins.
Try to pick out some greenery and floral stuff that match your ribbon.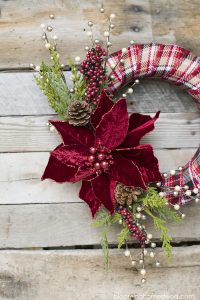 I'm not saying you have to get as fancy-pants as Ashbee Designs, but I do know it's always fun to craft up some Christmas cards.
In fact, you can just invite a friend with a Cricut, or someone who owns a lot of stamps.
Be sure to purchase enough paper and glue and whatnot. You can use them with your homemade wrapping paper from earlier.